Things I Draw When I've Had a Few
I got back from the Annecy festival a few weeks ago.. don't have any Deep Thoughts but a couple of film recommendations and some sketches.
On the whole I found the films kind of a let down (I'll never brag about having film in Annecy again.. ) but it was worth it for one film, I think the best short film I've ever seen: Skhizein, which won the audience award. Very funny for 10 minutes, then turned suddenly incredibly sad; on a rare subject, and I'm still thinking about it weeks later. Catch in on the festival circuit if you possibly can; I suppose it will come out on the 'net when it's done touring. Also excellent was the feature Peurs du Noir. Not normally much of a horror fan but really inventive graphics in this one:
Anyways we all really go to Annecy to drink and socialize and stock up on graphic novels at the fabulous comic shops, all of which activities I thoroughly covered. Having a glass of wine or ten with fellow-Narnian Caroline, I couldn't help noticing how ideal her features are for fast drawing; and then there was a random guy sitting behind her with classic French-comic-book-hero chiseled cheekbones, so I drew this: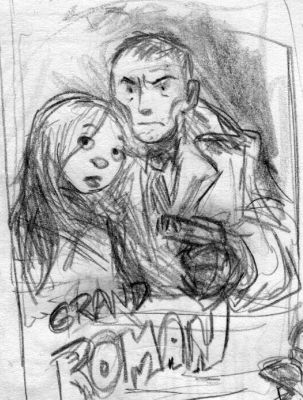 And then I thought, obviously, HOW MUCH COOLER, not to mention more French-comic-booky it would be, if Caroline was a fairy: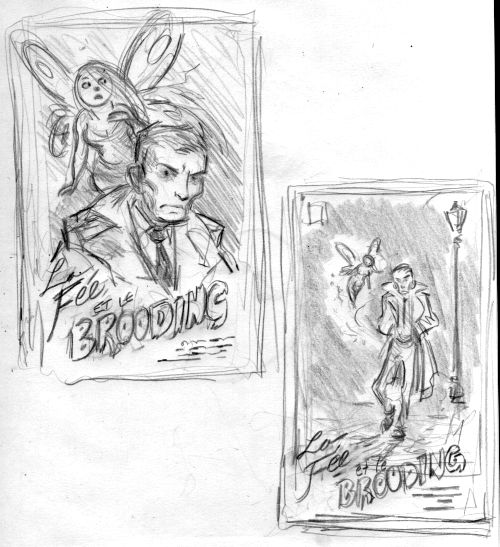 and Mr Brooding noir hero could solve crimes featuring ogres and witches, but dark! and French! and brooding! It looked pretty fantastic on a bottle and a half of cheap red and a week's all-graphic-novel-and-animation diet.
I promised Caroline I'd put it up so here it is… I was kind of fancying mocking a cover up in colour, because that's the sort of thing I waste my time on, but I'm shockingly paralyzed by the death of my Toshiba tablet. I'm a lot more dependent on Photoshop than I'd really like for polishing stuff. No one seems to make tablet PCs with decent graphics cards anymore so I'm ogling Cintiqs now, which I can't really justify as I'd mostly use it for doing things like covers for imaginary comic books.