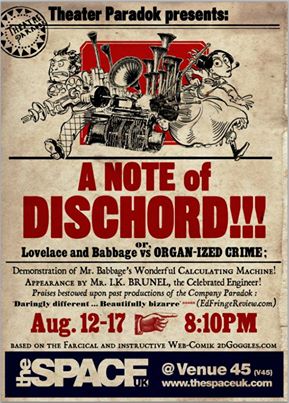 Heeeey folks it's your friendly neighbourhood masked cartoonist, still drawing feverishly on The Book, swinging by to remind you all of Lovelace and Babbage vs The Organist THE LIVE STAGE SHOW EXPERIENCE, all this week at the Edinburgh Fringe! Reviews are out, FOUR STARS! and I must say they seem to have captured the comic perfectly! 
This play was an odd mixture of being so intellectual that nobody got the jokes, and so ridiculous that it made us laugh any way.
Ahahaha I'm SO EXCITED I can't even tell you, up in Edinburgh myself this weekend to check it out, it will be EPIC!! Bring your footnotes!
While I'm here, a little interview with me on a charming website on London artists.
Ugh I'm so so sorry for the lack of comics here, hang in there!