A Little More User Experience..
Aiming for Thursday for the next Vampire Poets but some more User Experience stuff just so you guys know I'm working like a fiend on this comic, a FIEND!
George costuming: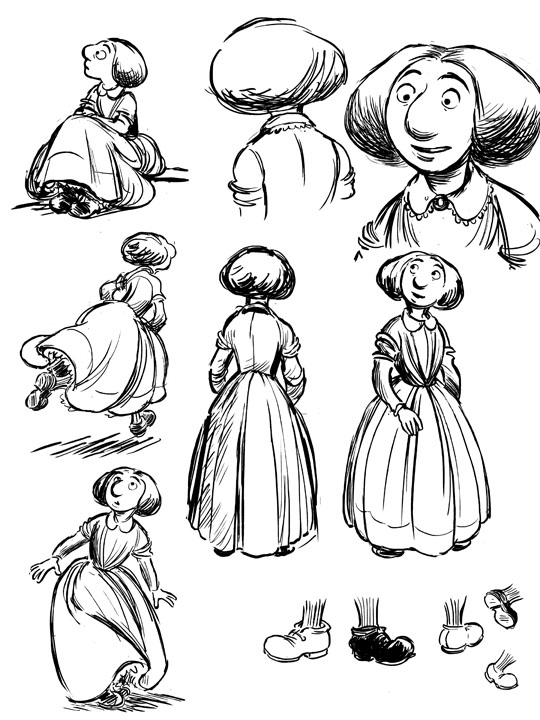 I had this crisis where I suddenly thought the Special Guest Star in User Experience ought to be Dickens, in honour of his birthday and also because obviously he was so much more marketable. Then I realised I was trying to decide which Victorian-novelist-lost-in-a-mechanical-computer scenario would make my MILLIONS and that's when I gave myself a sharp smack. I'm much too fond of George now to replace her, and anyways Dickens will have a fine walk-on part.  Much more on User Experience in the coming weeks!
For the UX notes and also for more accurate gags and also because I don't have enough projects in my life, I've started to put together an animating model of the Difference Engine-  right now it looks like this:
Ooooh Babbage you are so clever!
It's not so mysterious when you actually move it around, but it's a bit tricky to explain clearly so I'll put together an explanatory vid when I have a sec!  If you need an explanation RIGHT NOW and are good at visualising, these invaluable and beautiful clear diagrams were my source, millions of thanks both to Mr Satyam and Dan in the comments who led me to them.
Stay tuned, loyal and kindly audience! I hope it's a comfort that slow as the comics are coming at least you may rest assured that I am SUFFERING mightly: