Someone was asking me the other day for the official proportions of Lovelace, for the purposes of building a model as an excercise, which is forcing me to face the fact that are in fact no official model sheets of Lovelace at all.  A shocking business!
This whole comic thing is as you may have noticed a leeetle haphazard, and I don't in fact have proper model sheets for anybody, as I'm sure is pretty evident from the drawing!  I'm kind of enjoying drawing by the seat-of-the-pants, I have to say.  Maybe because I'm still thinking of Babbage and Lovelace as a learning excercise first and foremost– there are advantages to having gone so far without a model sheet from that aspect.  By letting the panel-to-panel needs of the comic dictate the drawing rather than the other way around I think I've found some stuff out about how I work.
High on the 'stuff I've found out' list is that I really enjoy being able to let the characters glide between levels of 'cartooniness' depending on what's going on in the story and if they're being all cool and heroic or getting up to hijinks. So there's in fact a sliding scale of proportions, so far between around 5 and 6 heads high: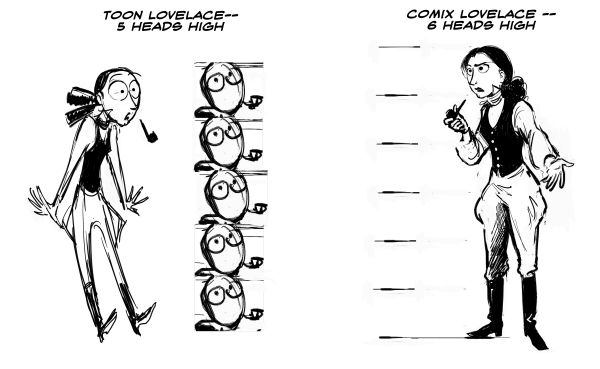 5 heads high seems to be about the size of Tintin– I've been looking at a lot of the beautiful old Fournier Spirou comics lately and I think I could probably push the proportion a bit more.  For academic interest, some comic proportions: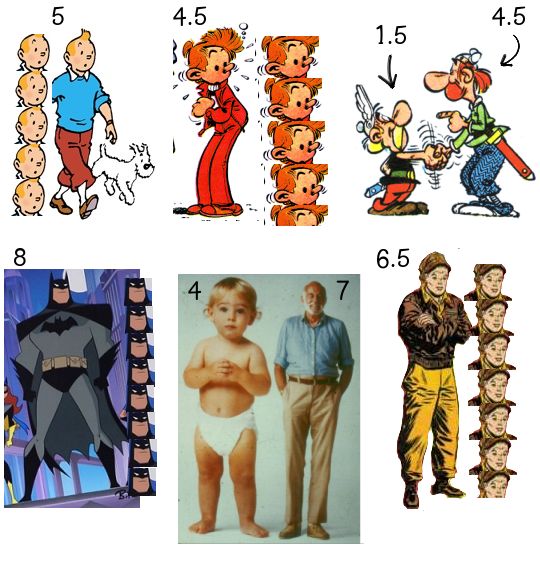 The big head obviously gives the comical, baby-like appeal, but it also makes it much easier to stage panels so you can read the body and the face at the same time.  Terry and the Pirates on the right there is my favorite 'straight' comic and Milt Caniff keeps to a very consistent real-life adult proportion; Bruce Timm's Batman on the left towers at a majestic 8 heads!  I doubt Babbage or Lovelace will ever attain these Olympian heights.  On the other I haven't gone so far as needing a Chibi Lovelace and Babbage but this was fun to draw: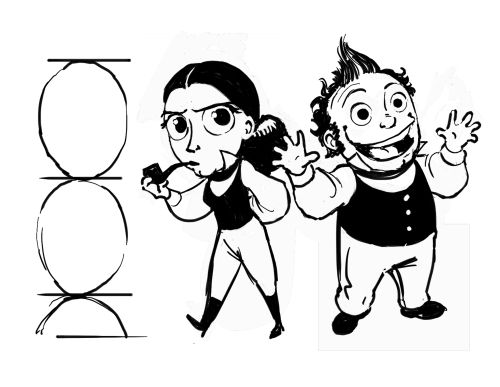 Oh, what the heck, Chibi Brunel: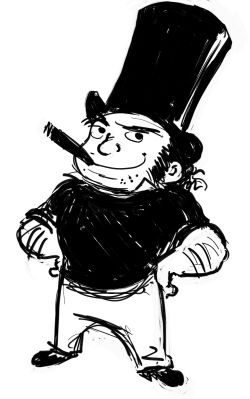 In Important Fashion News, I was visiting Bruges a little while ago and saw these boots in a little folk museum, which were so bad-ass and perfect (from the 1830s!!) that I've been basing Lovelace's whole costume around them since the moment I saw them: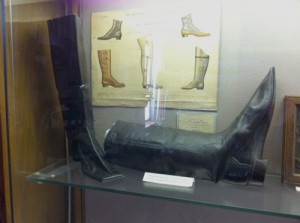 The flared breeches I've been putting her in these days are totally the wrong period for both Lovelace and her awesome boots but I like to draw them so that's just too bad.
Organist 10 (of 8) is going along but wow it's getting awfully huge so we'll see how it goes..