In Times Such As These, sometimes there's not much you can do but sit and draw comics.
I'm sorry for the recent radio silence– I've been pressed under the weight of Giant Monsters and every spare minute in the evenings I've been cleaning up some older stuff. Going over the early comics has had me thinking Deep Thoughts about character design and the shape of the comic and stuff, and for lack of actual comics here are some sketches and scattered thoughts– very disconnected I'm afraid I'm a bit short on sleep..
I've been trying to develop a visual language for this comic here and for stuff of this nature I confess I'm embarassingly fond of woo for someone about to make my debut in the Geek Calendar as Ms August! Brace yourselves for some woo-y talk about shapes.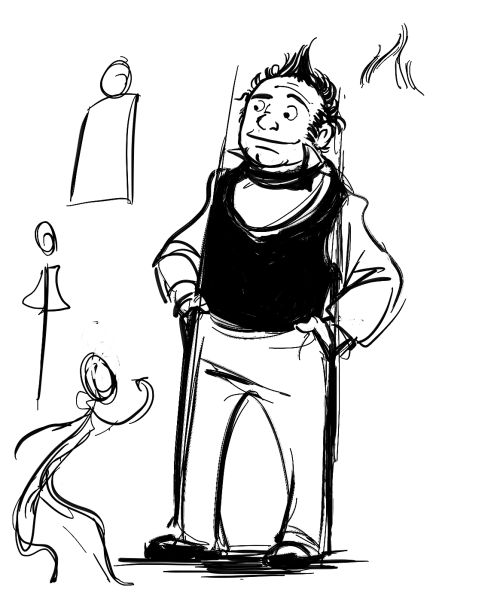 The drawing above is a stab at getting a proper model of Babbage, however he always seems to be a little off-model every time I draw him and that is no exception. I think I haven't quite nailed him in detail but I do have a very clear feel of his energy now I think (and by 'he' I mean the character in the comic!) Babbage is a very earth-and-fire sort of an element, stable, stubborn and explosive at the same time, which is pleasing on account of his fascination with volcanoes. It is VERY obliging of him to have in at least one photograph styled his hair in a shape so very suggestive of a cartoon flame, and even more obliging of the painfully pompous Lawrence portrait to inform me that he had reddish hair ('he' now being the actual person, this does get confusing..) When I pose him out I tend to draw a big block with some shapes either flickering or bursting out– very simple, straight, square and active.
Lovelace is also quite linear and active, but she has more complicated, twisted, unstable stuff roiling under the surface– I'm starting to look for more sinuous lines on her, diagonals and spirals; I'm experimenting with putting her in costumes that have more of that messiness, layers, and eccentricity to them, and I'm lucky that she had those big coils of black hair to play with. The real-life Lovelace loved flying machines and swimming and was nicknamed 'The Bird' in her family circle, which gives a great airy/watery contrast to Babbage's earth and fire.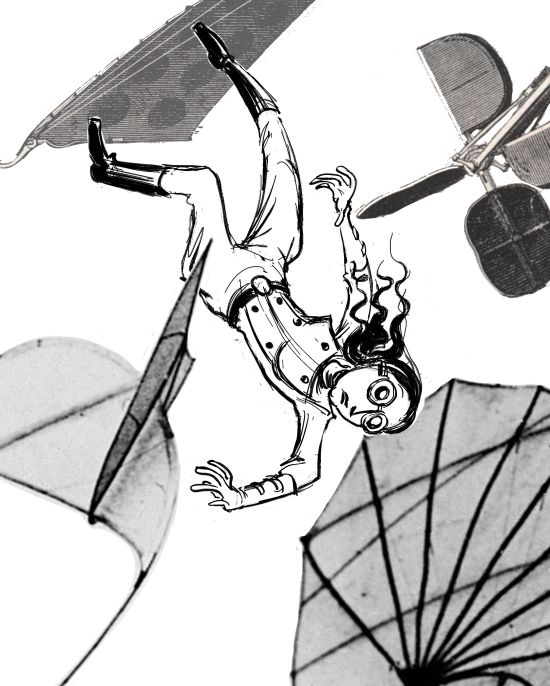 This works nicely with the hardware/software thing with the Engine, programming is a very 'air' skill to my mind and there is much to be made of the visual of the long tapes of punchcard winding and flowing through the rigid engine (much to be made, by someone with more time on their hands than myself at the moment!). The sketch above came out of some myth-y stuff I've been doing for User Experience. I talk a bit about how I use Orpheus to build The Organist here, User Experience I'm back to the useful Greeks and the obvious one for something set inside the Engine, which is Deadalus and his Labyrinth. With Labyrinths you get Ariadne and her thread winding through of course, but Lovelace also makes me think of Icarus, anyways that's where that came from.
Something I found in a pile of doodles– I can't clearly remember drawing this but you can see I'm looking at bringing the contrast in shapes into the hands here–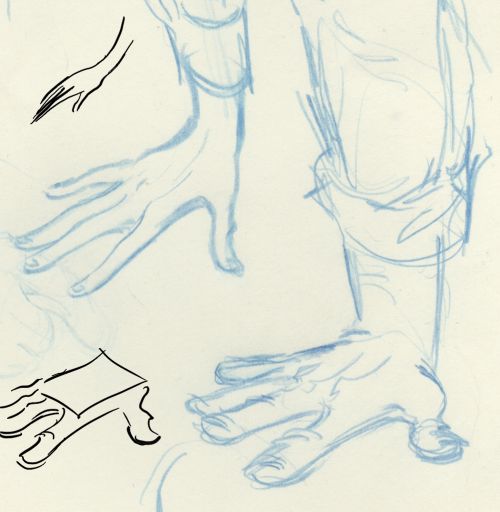 While I'm on the subject of woo, might as well put this Fact in here- Lovelace and Babbage were both born in December of Pig Year (the Year of the Pig is the very BEST year by the way), 24 years apart; Lovelace a Saggitarius and Babbage a Capricorn. I'm enchanted to see the Capricorn-Pig described as "The Merry Megalomaniac" while the Saggitarius-Pig is a wallower in shenanigans on the sly.  I'll leave the compatibility/chart/influences of Saturn to the floor.
Well that's possibly the most disconnected post I've put up here.. please bear with me only a couple of months of crunch to go and the I shall Devote Myself To My Art!