Ada Lovelace Day- Are you READY??
As I'm sure all of you know, Ada Lovelace Day is an INTERNATIONAL DAY OF BLOGGING, to celebrate women in science, technology, and engineering.  It's only a week away now, on the 24th of March, and it needs your participation!  Go on over to the pledge site, hit the button, and you pledge to put up a blog post,  or some other public-onliney hip-hoorah, all about a XX-chromosoned-person that you think deserves a little heroine-worship.  It could be a person from history, or someone you worked with, or someone who's just plain cool. Whatever!  The point is to have a day where no one is going "Where are all the women in tech?"  Right here, baby!
This is obviously going to be a pretty important day around 2dgoggles.  This whole site, after all, owes its entire existence to Ada Lovelace Day, so I'm feeling just a little bit of, you know, pressure to produce an interesting  post.  Look for stuff both here and on my personal site!
For starters though, with the help of Ace Graphic Designer Lorin O'Brien I've drawn up a tshirt: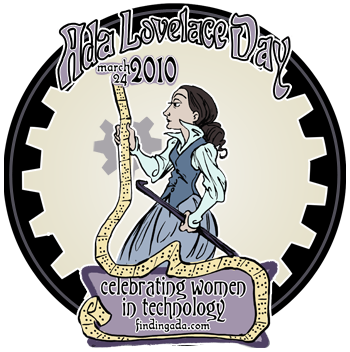 Available at the Ada Lovelace Day shop at Spreadshirt.net!  Proceeds go to hosting costs etc. for Ada Lovelace Day.
In other news, you can hear my endless ramblings on the subject of comics and Ada Lovelace miraculously condensed into a not entirely incoherent 1/2 hour at Shiftrunstop.com, the groovy tech podcast for the MIND.  I don't know if I did justice to my Very Important Opinions on Ada Lovelace there but it's a start!  Trailer with ME in Glorious Technicolour and tragically no flattering gauze over the lense.
So think about cool techie chicks  to post about and go and pledge! Who knows what might happen… your life might be taken over by an imaginary comic I dunno… this project has some pretty heavy good karma around it is all I'm sayin'.