So, you know that thing where the Large Hadron Collider keeps breaking down in improbable ways, almost undoubtedly caused by time-travelling bad-luck particles out to prevent the destruction of our universe?
Well, a similar phenomenon seems to have been out to get me last week. As we all know last year's Ada Lovelace Day post triggered a near-catastrophic disturbance in the space-time continuum resulting in the creation of a pocket universe.  To prevent a similar breach this year, bad-luck particles caused me to trip over a cricket bat, and collide into the already precariously overburdened  bookshelves, resulting in loud crashing sounds and a finger mysteriously sprained in such a way that I could hold a mouse to well enough to do my day job, but not a pencil in order to draw the comic.  Very funny, particles.  VERY FUNNY.
Well, I'll fix their wagon because I was halfway through a bunch of indecisive doodles before their interference and I'll just put them up instead shall I?
We're all about the documents here at 2dgoggles so I turned to them for inspiration.  Here's a corker:


When the Meteorological Society was formed it was decided to admit women, and four ladies were elected on the original foundation; among them the Countess of Lovelace– Byron's daugher 'Ada'.  In a little while one of these ladies, the wife of an eminent meteorologist, wrote to say that she had been told it would be injurious to the Society to have women as memebers; she, therefore, thought it her duty to resign, and she hoped the other ladies would follow her example.  One of them did so; but another, who could not be made to comprehend the necessity for mainting the scientific disabilites of women, refused to withdraw, and no one even suggested the propriety of resignation to Lady Lovelace.  But the two ladies who remained members are since dead, and no others have been elected..

I will just bet they didn't suggest it.  I'll bet they didn't have the guts.  Say what you like about Ada Lovelace, she was brave as they come and didn't mind telling people where to go, I'm fairly sure it went down like this: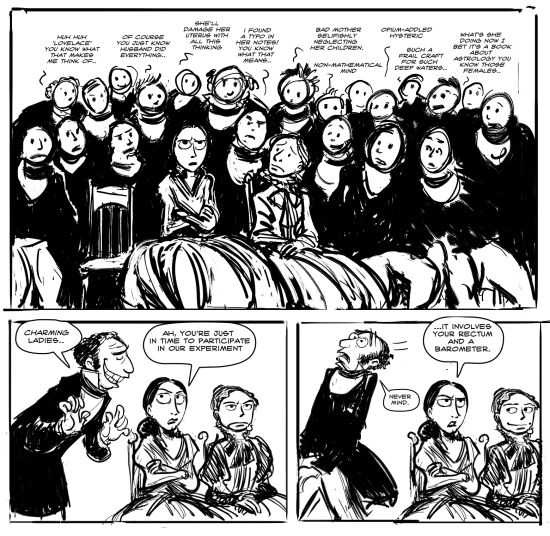 Man, sexual shaming and patronizing ridicule of women trying to pursue science was such an awful thing back in Victorian times.  It's a good thing those days are over!
(I feel incumbent on me to mention that my husband strongly objects to the word 'rectum' here.  He thinks 'ass' is less vulgar.  I think Lovelace would use the proper scientific terminology.  Discuss in the comments! ) That creeping sensation that you're Ruining Everything by your very existence is one I've felt a time or three and it's pretty horrible.  So here's to you, nameless meteorologist, on Ada Lovelace Day!  I couldn't hunt down who the lady who stayed actually was, so that drawing is based on Sarah Frances Whiting.
Sometimes I felt that comic was just liiittle bit bitter so as an alternate post I had this whole elaborate set up planned of which only one panel made it in postable form.. naturally it's a pun: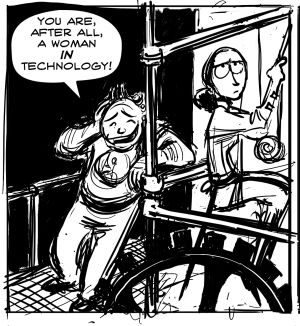 Good old Babbage! Man reading all this Victorian stuff can get you down, but he always cheers me back up again. In my book he's the reigning champion of women in science for his age– he gives a shoutout to Maria Agnesi in his autobiography; Mary Somerville was a close friend of his whom he often asked if she could give a 'a day to the engine' when he wanted to talk it over. And you can bet he'd be all over Ada Lovelace Day! I feel I just have to link to my two favorite Babbage/Lovelace primary docs online here–
Ada Lovelace is an Enchanted Math Fairy! and:
Anyways, the above setup was to lead into the introduction of this year's Ada Lovelace Day lady, Eleanor Cressy (yes they were actually called Extreme Clippers). Roughs: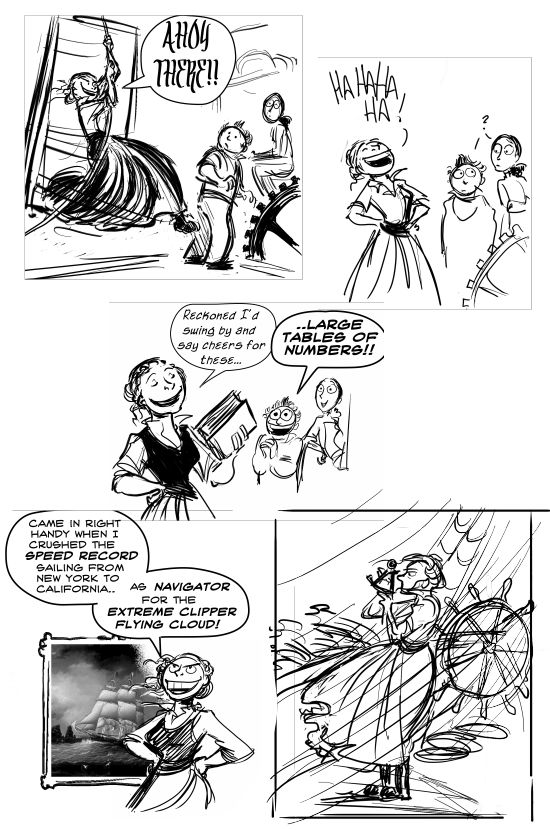 She's pretty damn cool and could be a fun character so I shall definitely bring her back if transport is required for Babbage and Lovelace.. except in the pocket universe it's airships. Definitely airships.
So that is my somewhat crippled Ada Lovelace Day post! Be sure to have a browse around all the fantastic women in tech in the slowly growing list of posts!