Couldn't do one of Babbage without doing one of Lovelace.  She's much easier to draw though, being your basic Tintin oval head.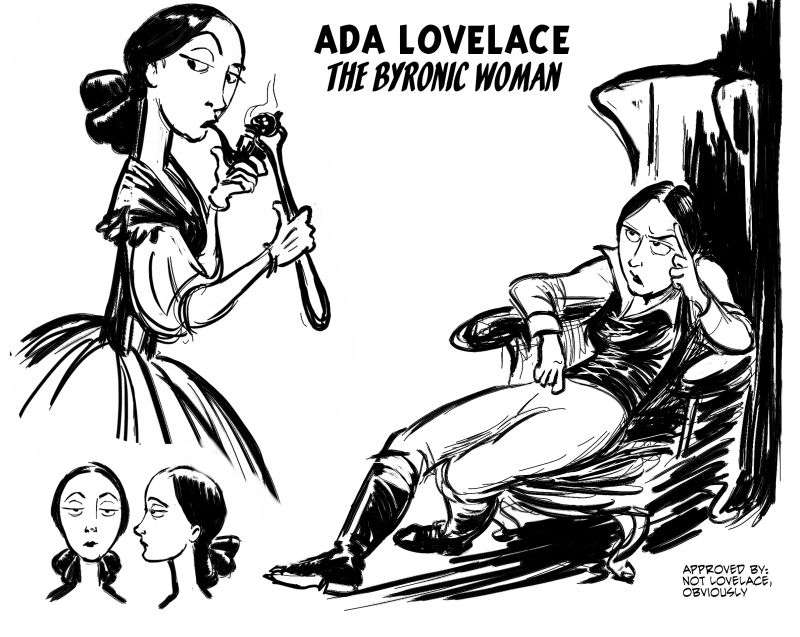 I've already done her bio! Let it merely be said that she had me from, "She's Byron's daughter and was raised by mathematicians so her volcanic passions wouldn't SPIRAL OUT OF CONTROL!" Raised by mathematicians! Like Mowgli! But that was wolves. But anyways SHE CANNOT UNDERSTAND YOUR HUMAN WAYS!!
Would that be the Byron who was like a cross between Jimmy Hendrix and Che Guevara, had they both been principally famous for lots of really messed-up sex?  Would that be Lord Byron who made his maiden speech at the House of Lords supporting the Luddites and inveighing against new technologies? Why yes. Yes it would. How awesome and crazy is that?  Oh Ada, just take the kohlinar and win my geek heart forever.  But will it be enough to purge your inherited Byronicity? Any good comic needs Angst.
What's that you say?  This doesn't actually have much to do with the real Ada Lovelace? LALALALA I CAN'T HEAR YOU!