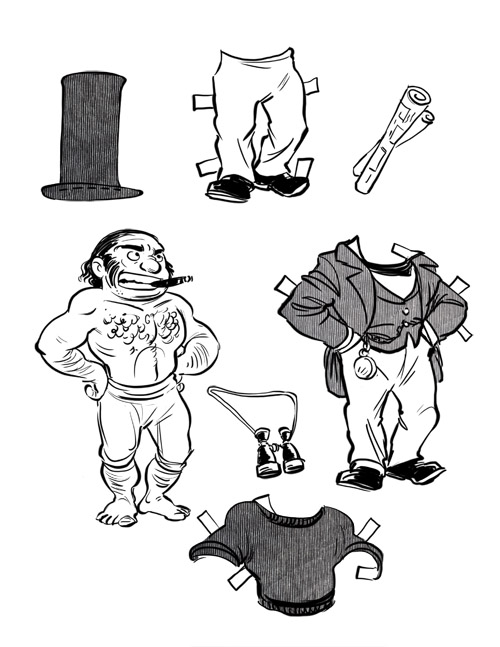 Though I am not swift, never say I am indifferent to the plaintive cries of my loyal long-suffering remaining shreds of readers! With GREAT SUFFERING and much against my inclinations, I drew you a Brunel paper doll- clicky for printable size.
To go with your paper dolls, you will of course be wanting some primary documents. Do you have the eyes of a very young eagle in peak condition? If you have, you can read heaps of Brunel in the proceedings at the tempestuous meeting of railway men in 1839, regarding whether or not to adopt broad gauge tracks– "giant gauge for giant engines!" Debate rages over whether the rails for the kingdom's infant railway network should be standardised to a puny 4 ft 8 1?2 inches apart, or a magnificent, monumental 7 ft 1?4 inches apart, for trains bigger, faster, and smoother for the comfortable consumption of coffee. Which one do you think Brunel favoured? Go on, guess!
If it's too tiny for you you can at least enjoy the marvellous title bar:

And who else was at this historic meeting? Why Charles Babbage! Speaking at great length in support of Brunel and on all sorts of subjects (hear! hear!); if you have excellent eyesight, some patience, and an obsessive interest in Charles Babbage, you can catch a real sense of his speaking style in the transcript. Here he feelingly remarks on how much easier it is to come up with an invention, that it is to raise the money for it:
And here is something quite wonderful, turned up in A Random Walk In Science, a miscellany of mild amusements from various periods in science. It includes a rather ponderously sarcastic little drama (with a musical number!) from Herapath's Railway Journal from 1845. The comedy revolves around (unfortunately justified) mockery of the practicability of Brunel's Atmospheric Railway, a plan to literally suck train cars along rails via giant pumps and hollow tubes. We join the scene after some non-Brunel jocularity; stick around at least for the killer last line.