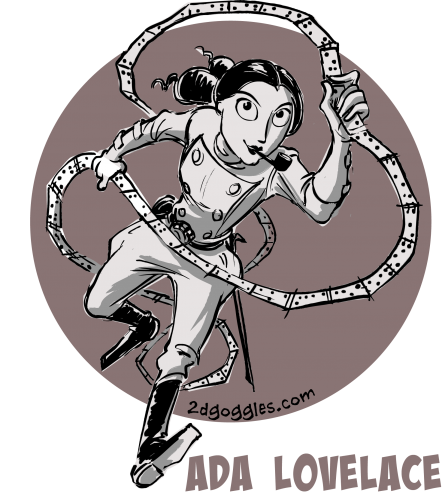 Happy Ada Lovelace Day everyone! This is by way of being a national holiday here on 2dgoggles, as it roughly marks our inauguration– this quasi-comic was born three or so years ago (Ada Lovelace Day being a moveable feast) in celebration of and remembrance of Women in Technology.
Before I get to our guest star, some housekeep announcements..
— the image above is now a tshirt by popular (well, by one comment!) demand! Let me know how it goes, if you order this one, as being an impromptu effort I haven't had a chance to test the tshirtness of this one.
— I get a fair few newcomers to the site for some reason today, so I'll plug the handy-dandy all portable! all-navigable! Lovelace and Babbage iPad app, featuring Lovelace The Origin FREE! complete with my very best primary docs. A pretty good all-round introduction to Lovelace and Babbage and the engine, if I do say so myself, and so many footnotes it has reportedly taken some conscientious readers four hours to read an eight-page comic.
And without further ado.. our special guest star! Introduced by an ALL-NEW SNEAK PREVIEW from the Lovelace and Babbage book..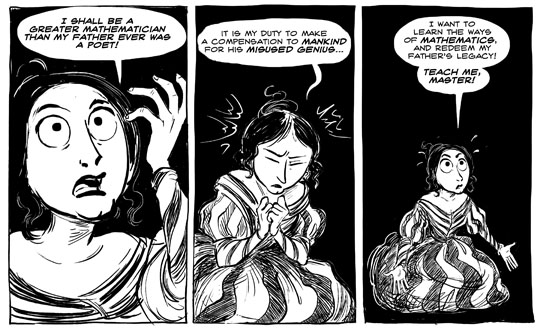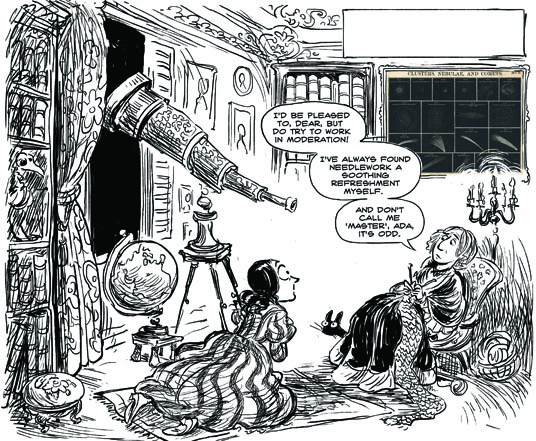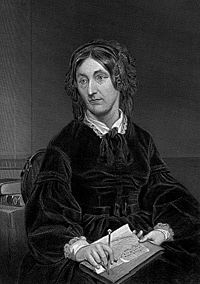 Mary Somerville, Lovelace's mentor, and namesake of the first Oxford women's college, is someone I've been wanting to work into the comic for ages, and the expanded Origin story in the book is an excellent place for her. She was the zen-calm Obi Wan to Lovelace's impatient Luke, as it were.
*EDITED TO ADD: Lovelace's dialogue above is excerpted from her actual letters, by the way, I can't write stuff that comic-booky. Except for the last panel, which is Luke Skywalker. Except he wanted to learn the ways of the Force, not mathematics. Carry on.
Her books are then as now excellent thorough introductions to Victorian science, and her autobiography is full of interest. She's particularly interesting on her clear-eyed recounting of what obstacles she faces in studying mathematics as a woman, which she only became liberated to do when she became widowed– the only common state in which a Victorian woman could control her own time and money, and buy her own books for instance.. her first husband, we learn, did not like her studying:
I was thirty-three years of age when I bought this excellent little library. I could hardly believe that I possessed such a treasure when I looked back on the day that I first saw the mysterious word "Algebra," and the long course of years in which I had persevered almost without hope. It taught me never to despair. I had now the means, and pursued my studies with increased assiduity; concealment was no longer possible, nor was it attempted. I was considered eccentric and foolish, and my conduct was highly disapproved of by many, especially by some members of my own family, as will be seen hereafter. They expected me to entertain and keep a gay house for them, and in that they were disappointed. As I was quite independent, I did not care for their criticism.
She is of particular inspiration to those coming back to math, as a lot of women I'm talking to are, after a long absence. Prevented from her father and husband from studying as a girl, she took it up in her thirties, self-teaching herself entirely from books and almost entirely alone. Then she married a great guy and moved to Italy! Now there's a role model.
And because it's nice to make chains of these things, the cites some of her own inspirational women, including this geologist:
I also took lessons in mineralogy from Mrs. Lowry, a Jewess, the wife of an eminent line engraver, who had a large collection of minerals, and in the evening Somerville and I amused ourselves with our own, which were not numerous.
Some books to peruse on an idle hour:
Mechanism of the Heavens (1831)
The Connection of the Physical Sciences (1835)
Physical Geography (1850)
On Molecular and Microscopic Science (1869– when she was almost 90!)