Happy 220th Birthday Charles Babbage!  I hope you enjoy your present, another amusing instalment of your Thrilling Adventures in…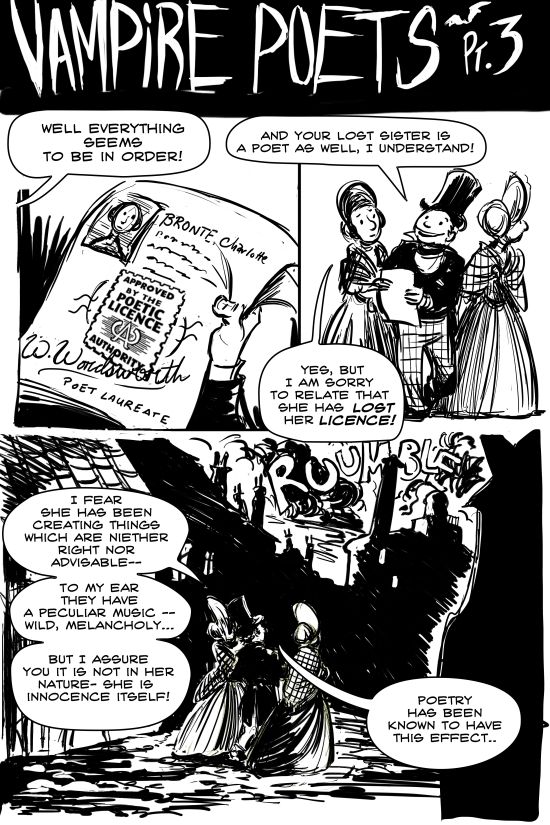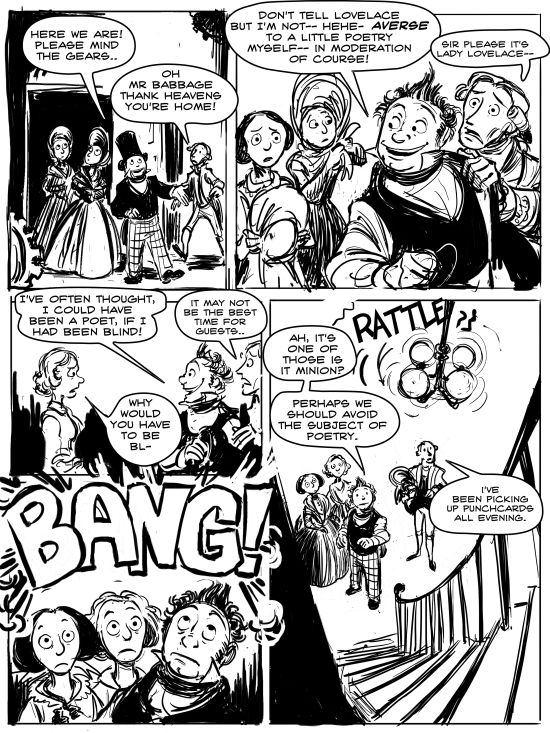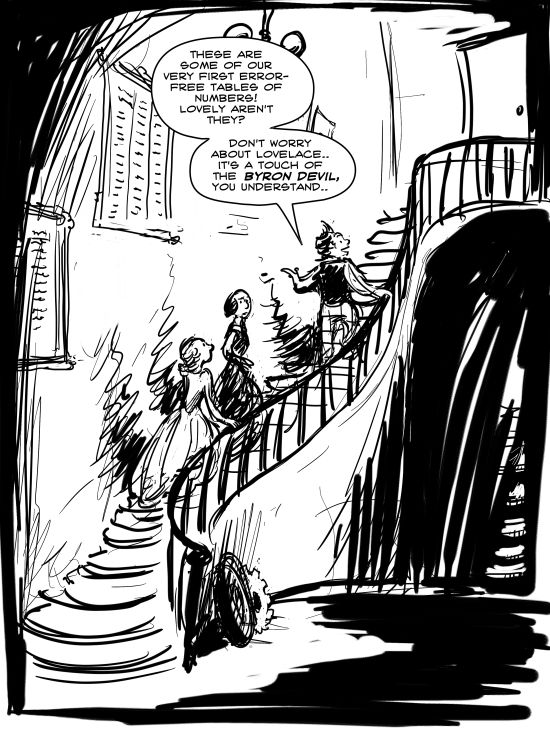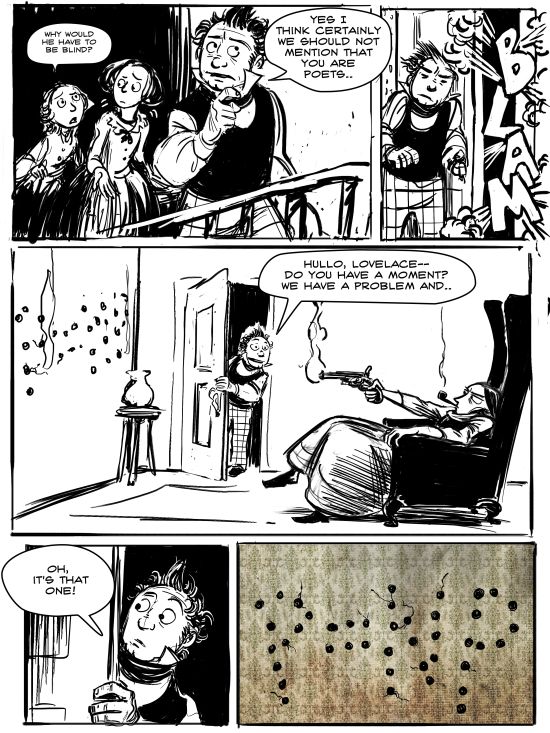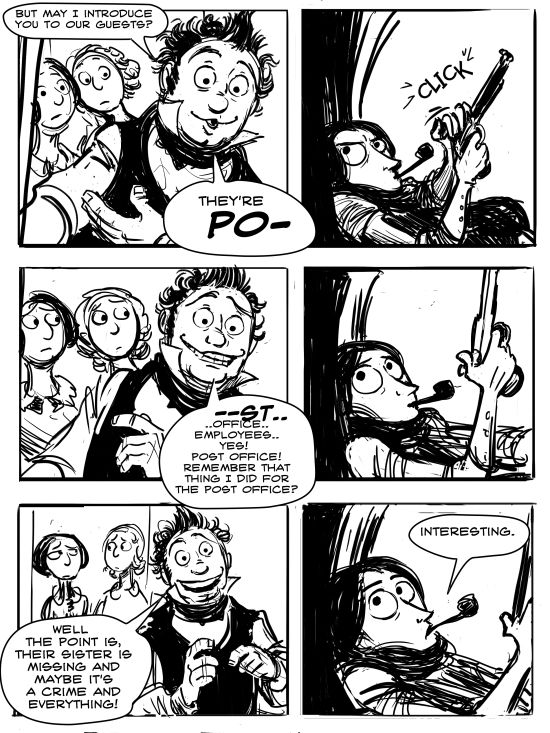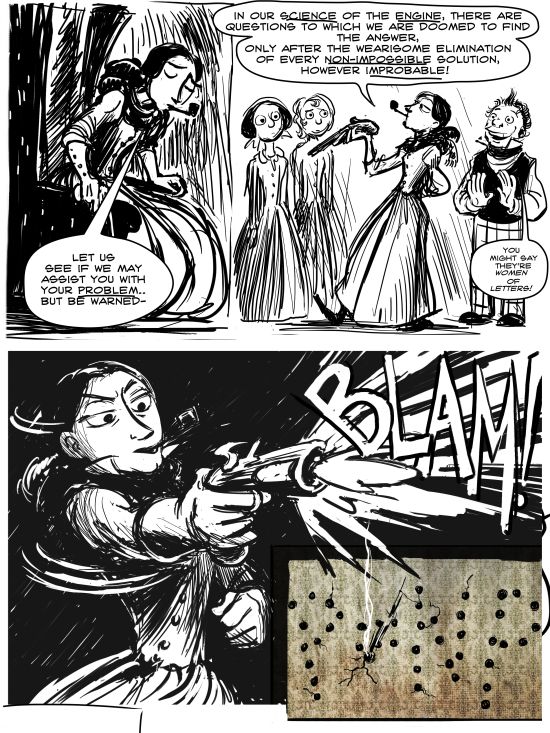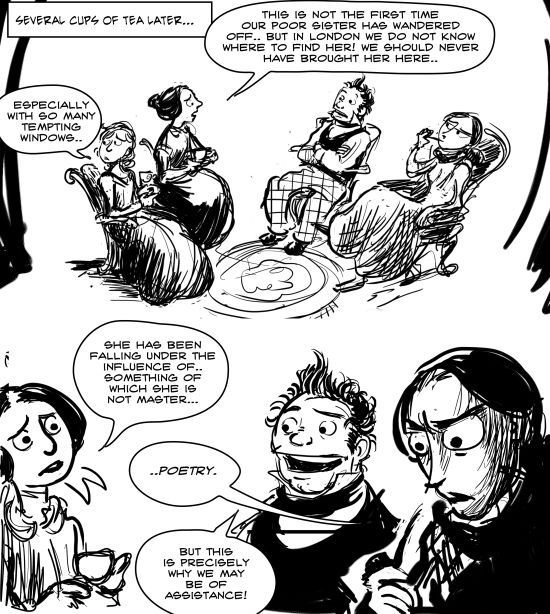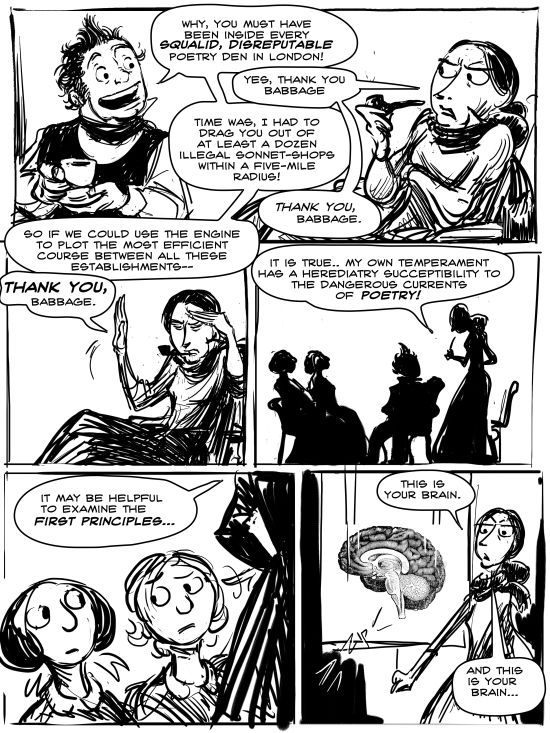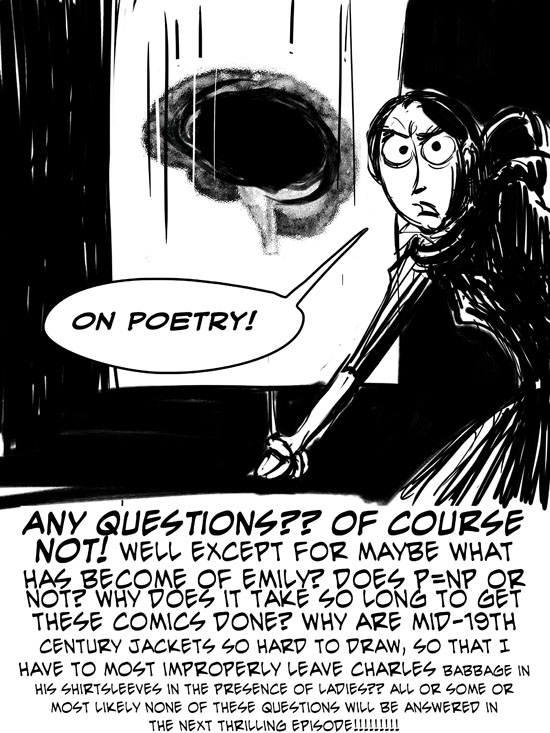 —Poetic Licences, the official stamp on the first panel, are required for poetry in the Pocket Universe; in our own so much more sensible universe, it is of course comic books.
– William Wordsworth seems the suitable person to be issuing the licences; not only was he Poet Laureate between  1843 and 1850 (during which he wrote no poetry at all), but he is also the traditional example of the post-Romantic authoritarian sell-out.
—Babbage declared that he would have been a poet if he had been blind in this charming batch of anecdotes, also featuring Lovelace. The reporter fails to secure the vital information of why exactly Babbage would have had to be blind. I guess there's some connection with Homer and Milton, blind super-genius poets, but super-genius Babbage's logic escapes me on completing this syllogism.
—The 'Byron Devil' is used to describe Lovelace possibly by Babbage in my favorite document that I never tire of linking to. It's a bit ambiguous who uses the exact words oh please oh please oh please let it be Babbage!!
—Indoor target practice was a habit of both Sherlock Holmes and Lord Byron, so it's only natural to transfer it to Lovelace. Particularly as she possibly did own a pair of duelling pistols-
"Dear Babbage. I unfortunately forgot a very principal thing I had to say to you last eve, & that can be less well explained in writing. It is to ask you if you would be so very kind as to see a gentleman (one of the Leighs) on Tuesday next at 11 o'clock,- who wants to sell me, a Rifle & a pair of Pistols which he declares to have been my father's.
History does not record whether she bought these! If you want to see them in action, there's a fellow firing a similar one here; and they don't go off backwards and blow his nose off even once!
— Did Charlotte Bronte and Ada Lovelace meet?  Can't find anything definite but they brush past each other in notable celebrities of London here.
–P=NP is the most famous unsolved problem in Computer Science. There is an excellent elucidation of it in Wikipedia and also at MIT, with some amusing comments. 
— That Thing Babbage did for the Post Office– Babbage claims for himself the concept of the Penny Post, where the mail is sent for the same price regardless of distance (making up the expense of travel in efficiency in processing), in his autobiography. It was Post-Master General (and at one point school-master to Babbage's sons) Rowland Hill who actually implemented it, writing a pamphlet advocating for it in 1837.
If you're keen on the subject, you may view the immediate effects of the penny post recorded by Mr Rowland Hill himself, in the papers of the Statistical Society.
Maybe I should work in more post-office stuff, but I feel I might be re-treading ground so excellently covered in Going Postal.  But I simply must find a place somewhere for the instructive verse at the bottom of this post by the postal museum!
Post-women can't have been unheard of, as a search for the term turns up a lot of hits; I offer this seasonal treat, For the Post-Woman at Christmas.
Whew! Happy Charles Babbage Birthday everyone, hope you are all enjoying the best of the Season!