Babbage and Lovelace in Glorious Technicolor
OH FAME THOU GAUDY BAUBLE! Charles Babbage Foresees the Future on BBC's Techlab! When they asked me to do this I read their little intro where it says it's a forum for "The World's Leading Thinkers" to speculate about the future, and I thought, if that's me, boy are we in trouble.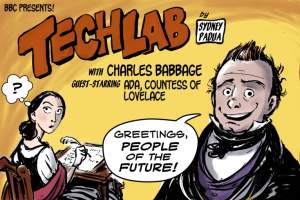 There's footnotes (of course!!) on the comic but of NOT ENOUGH FOOTNOTES FOR ME!! So–
The expression on the front page comes from this drawing (scroll down). The pose on page 2 is based on my least favorite portrait of Babbage, where he conspires with Samuel Laurence to make himself look like a pompous ass. Not that he couldn't be a pompous ass, but when I saw the 'Laurence' I momentarily thought it was Thomas Lawrence, and was like, "Geez, way to phone that one in, Lawrence!".
For the record, my favorite image of Babbage is this one. He looks downright hot there. Well, kind of. As a rule, Babbage looks way happier in photographs than he does in portraits, I guess because there's a gadget in the room.