I'm nearly done the next episode, so hang in there — in the meantime something else I've been working on is a wallpaper for Tor.com– it's called "Beam Us Up", and you can pick it up now at their Steampunk Fortnight celebration! Teaser: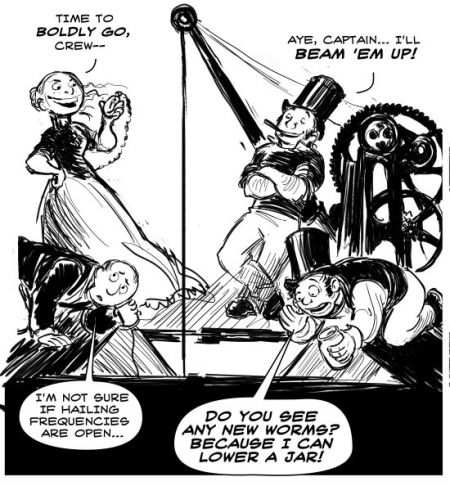 That's Darwin with the jar (I like his dorky looks of youth, without the beard), and you can't see it properly but Wheatstone (reformed) is wearing a miniskirt. I've promoted Eleanor Cressy (born on-board ship, rumour had it) from navigator to Captain, and OF COURSE there's only one possible Chief Engineer!
This was inspired by an amazing thing I saw a while back on the BBC– Airship Around The Globe!!!
It made me think of an adventure-and-intrigue packed voyage of a crew of cool geeks boldly going forth to seek out new colonies and subsume old civilizations in that Victorian way, on a giant airship kitted out with cutting edge technology… wouldn't that be fun?