Book Tour, UK Publishers, Pretty Stars, Giant Monsters!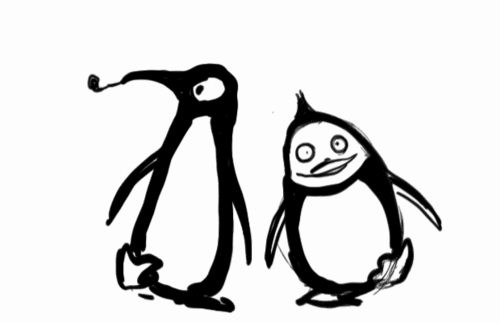 I can't recall why I made this gif of Lovelace and Babbage as penguins a while back but it seems it set some spheniscidaelian vibes into the atmosphere because The Thrilling Adventures of Lovelace and Babbage, papery edition, is now being published in the UK by Particular Books Penguin! An imprint which is officially described as: "This list is characterized by the particular, all-consuming passions of its unique authors for a whole range of subjects." Well, yeah!
This explains the recent phenomenon some of you may have experienced of having your Amazon pre-orders mysteriously cancelled then (possibly) equally mysteriously reinstated. It OUGHT to be sorted out by the power of algorithms deep in the Difference Engines at Amazon but if it's not the new and correct pre-order page for the UK is here (they might do a different cover, hence, no cover at present). Having a UK publisher is excellent news generally as not only are they lovely people but you'll be able to pick up the book at your local shop a lot more easily here now.
I've also made a nice page for the Book here, please admire my pretty stars from the early reviews from Kirkus ("A prodigious feat of historically based fantasy that engages on a number of levels") and Publisher's Weekly ("…a must-have for anyone who enjoys getting lost in a story as brilliant in execution as conception… permeated by delightful illustrations, obsessive foot- and endnotes, and a spirit of genuine inventiveness, it's an early candidate for the year's best.") which I am informed are VERY RARE AND COVETED STARS so yay! I have to say when one has spent years of one life doing a comic which in sober retrospect seems like an extremely weird exercise in idiosyncratic obsession, not having it instantly savaged is to put it mildly a bit of a relief.
In other news, Ye Olde Book Tour for the US is coming together for the beginning of May, currently featuring the computery towns of Seattle, San Francisco, Boston, and New York– Pantheon has the details down way more clearly than I do. There's a few more places to follow I think. UK talks etc I dunno, I will talk to the Penguins. They will say "awk! awk awk!" and I will come back to you if this means I'm doing any talks.
In other OTHER news, Giant Monster (aka Day Job) intensity is unexpectedly freakishly high, which is why I haven't dived back into comics now the the book is done and also why I have a slightly hysterical aspect to my person at the moment. It should clear soonish. Hectic times hectic times!