Here at 2dGoggles we are always On The Alert for the very latest Babbage facts, especially facts as awesomely cool as these.. via Bruce Sterling at Beyond the Beyond: Charles Babbage, the Secret Police Reports!!
"The known Fortunato Prandi of Camerana, arrived here from Lyon during the 10th day of the present month in the company of a certain Mr. Babbage, an English mechanician, and he lodged in the Penzione Svizzera.
The following day, he rented two furnished rooms in the Arcade of the River Po, on the second floor of No. 22, a house of the Hospital for the Poor, and he moved in with the above-mentioned Englishman, to whom he is the interpreter. The Englishman has the intention of presenting shortly to the Scientific Congress an engine of his invention, which facilitates mathematical calculations."
This would be Babbage's lecture trip to Italy, from which Frederico Menabrea wrote his Sketch of the Analytical Engine, which Lovelace was to translate the next year.
So I know what we're all thinking…
EPISODE!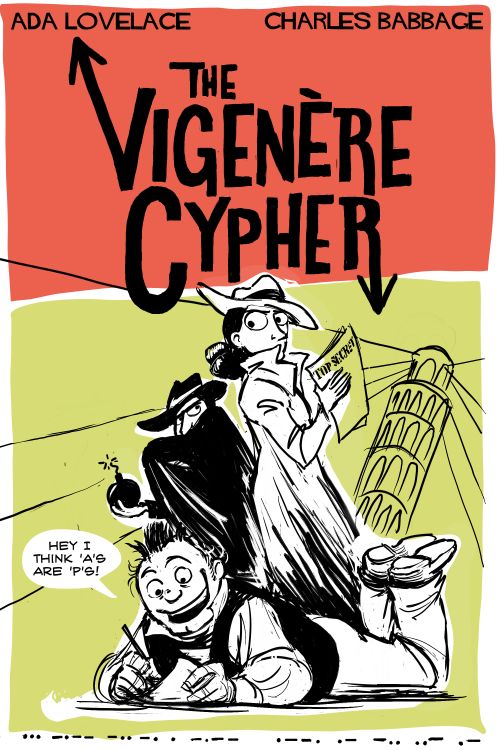 Title: The Vigenere cipher (I drink a lot more wine than I break codes, so my brain insists on pronouncing it, the Vioginer cypher) was the supposedly unbreakable code secretly broken by Babbage in the late 1840s by means of, as Simon Singh puts it in his great The Code Book, 'sheer cunning'.
Materials:  The Experimental Carriage (aka the Mystery Mobile, to be equipped with oil-slick and missile launchers etc), spy-vs-spy, James Bond, The Man Who Knew Too Much, Charade, codes and cyphers, my vast knowledge of 19th century Italian secret police drawn from 'Tosca'. Poss. Menabrea could appear.. was he Entertaining? Might make plausible Tintin-esque military Dictator type?
Method: haphazard
Hypothesis: (this is my husband's theory, which is is very keen on Sharing for the World's Edification) That the 17,000 pounds the British government put towards the Difference Engine, was ACTUALLY for the Black Ops project of Babbage's code breaking.  I counter that Babbage's open, dare I say, transparent personality was not exactly suited for espionage.  Why, he'd be giving away his secrets in his widely-read autobiography, where he enthuses about his deciphering project that involved the copying out of 26 separate dictionaries broken up by letter count and frequency! Babbage had that most enviable of gifts, viz. huge piles of personal cash, but would he be spending his own money on stuff like this?  Hmmmmmmm…..
Anyways.. what was I supposed to be doing? Oh yeah, The Organist! Next episode.. uh.. soonish. Really!