So here's a little tale for you.  As it features ME, it is of course a gripping, hair-raising story of FUN and COOL and… okay, it's a tale of.. LIBRARIES.
So I've been tromping all over London in search of a few bits and bobs of books on Babbage, and a public library catalogue search for "The Mathematical Work of Charles Babbage" took me down to the fine Upper Norwood Public Library (additional  geek note: I have a map of London in my head that consists of locations of Sherlock Holmes stories).
I couldn't find the book on the shelves, so I asked the librarians; and one of them went down into the basement to see if it might be there.  The other librarian told me they used to have quite a few Babbage books there because he was born right around the corner, and had I seen the plaque?
I had not seen the plaque, so I ran out and looked at the Blue Plaque (it was blue! and a plaque!) and when I came back the librarian was emerging from the basement looking downcast and apologetic.  "I'm really sorry– I can't find the books you're looking for; we must have cleared them out.  This is the only book we have on Charles Babbage."  And she hands me this: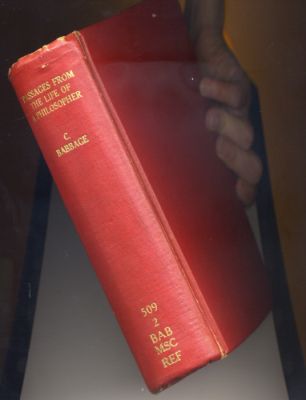 "Huh!"  I said, "It's Babbage's autobiography, Passages From the Life of a Philosopher! I had no idea there was a modern reprint!"  So I start flipping through it and then I say "Waaaaiit a minute.. I don't think this IS a modern reprint.."
Call me crazy, but I think this is a first edition: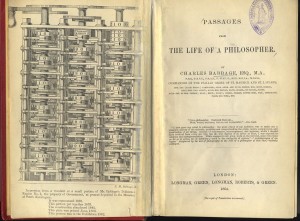 Click for larger, and to read the wildly inappropriate quotation from Byron's "Don Juan".
I could be wrong of course, but it certainly feels old, and there's no other copyright in there.  Hilariously, inside that criminal modern binding it's got the traditional little library flag with all the stamps.  It was last let out in 1972.
So I grabbed it and fled to Panama!
No no, of course not, I checked it out like a civilized person and THEN I fled to Panama.
Actually, it's probably not worth THAT much, even if it is the real thing– copies in fair condition still in the original binding go for around 2000 pounds, so this one is… I dunno, a few hundred?  It's pretty beat up, sadly. Anyways I figure if it IS a first edition, and if the library is cool with it, I might take a little whip-round here on the site and see if I can get it re-bound properly and maybe put on display or something, I don't know… it seems wrong to just put it back in the basement.
addendum for those burning with anxiety: I did finally track down The Mathematical Work of Charles Babbage in another libarary.. so far I haven't gotten even one good gag out of it, can you believe it!