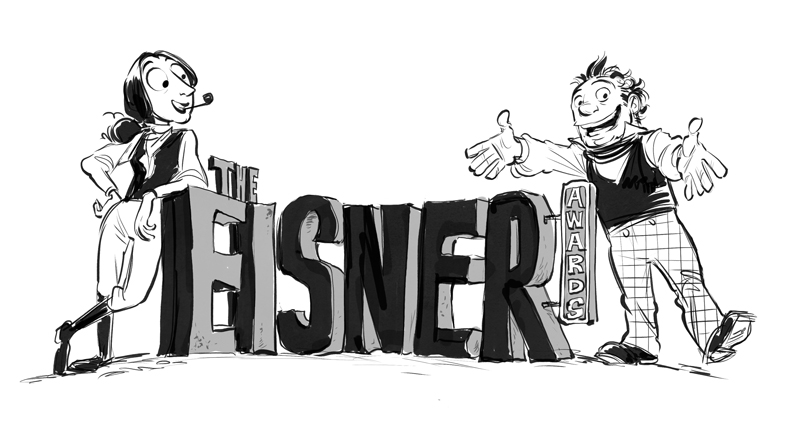 Today (assuming I write this post quickly enough, Greenwich Mean Time) is the one-year anniversary of the publication of The Thrilling Adventures of Lovelace and Babbage. So it is extra-gobsmackingly amazing to be able to announce that is has been nominated for two Eisner Awards: Best New Graphic Album and Best Writer/Artist.
It's fairly obvious that much of the way the comic is drawn is a shameless rip-off adoring tribute to the work of Will Eisner; I'm pretty much out of words to express how honoured, delighted, and astonished I am by this. This is a fairly good result for an imaginary comic I wasn't really drawing… I feel like I threw myself at the ground and missed and am now soaring through the air.
In other news, Lovelace and Babbage will soon be available in Spanish!  I'll be in Barcelona next weekend for a launch at legendary comic emporium Gigamesh at 6pm on Saturday the 30th of April.
I'll also be in the somewhat less Mediterranean environs of Sheffield on Tuesday the 3rd of May ; Cambridge on the 11th of May, and Oxford on the 18th of May.
My latest Giant Monster work can be seen in cinemas by the way, if you were wondering why the silence was so pervasive on this here website it's partly on account of that was a heck of a lot of work!