Happy 200th Birthday George Boole!
In honour of Boole's 200th, here's his episode in the Thrilling Adventures!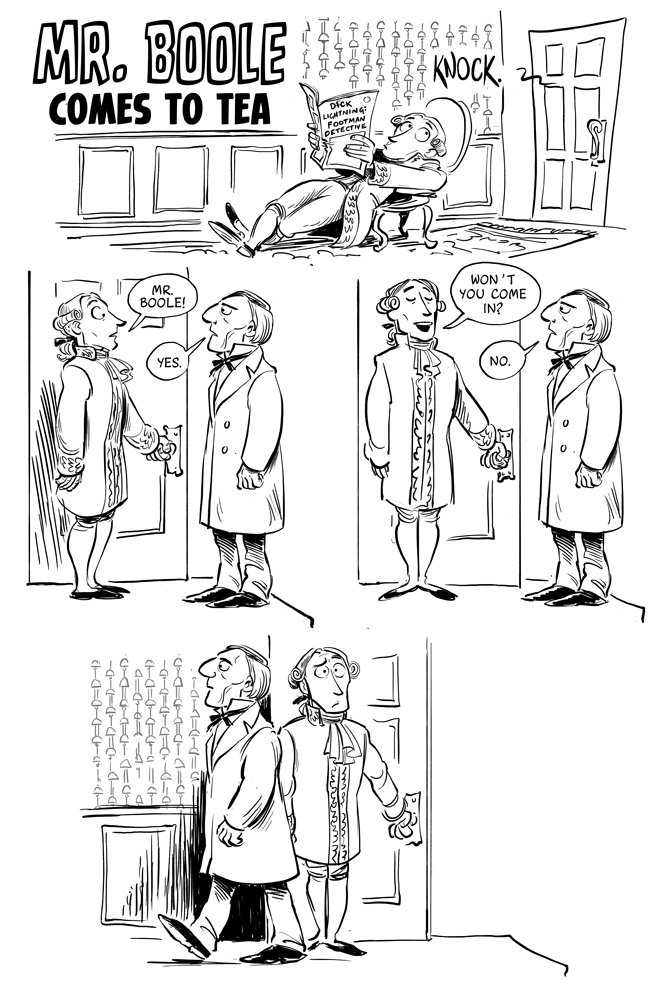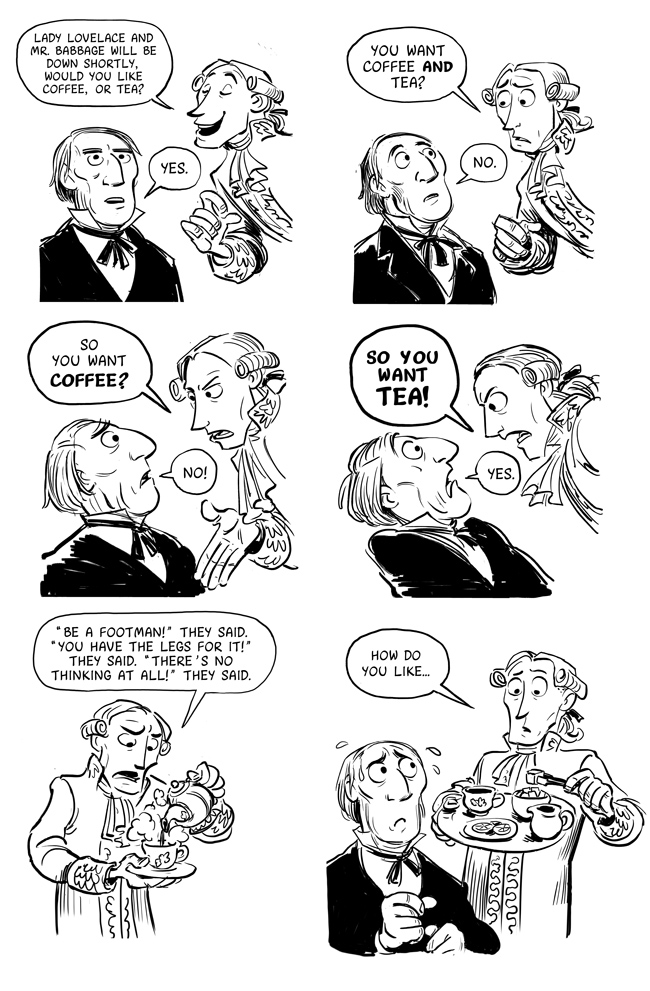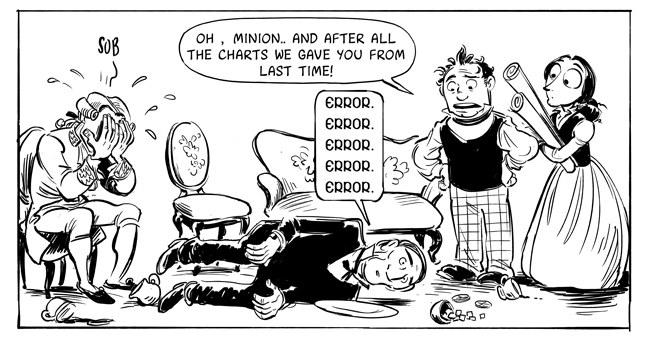 1. Boole is someone I've shamefully neglected making fun of in this comic. He was a rather obscure professor of mathematics in Cork, Ireland, son of a housemaid and a cobbler, with a pleasant story of self-made modest success. He was born the same year as Lovelace, and outlived her by a bit over a decade; he did some boring but useful work in differential calculus. He also laid down the foundations for the logic that makes modern computers possible in a medium-sized book, dense with equations, called An Investigation of the Laws of Thought [full text at Project Gutenberg].
Ada Lovelace's tutor Augustus de Morgan had been working in the 1830s and '40s towards a mathematical system of logic, to replace the Aristotelean verbal propositions that had been taught to schoolboys for two thousand years. Boole took this idea and ran with it to an extreme of obsessive simplicity. He reduced all possible logical conditions down to two states: true or false, yes or no– expressed as 0 and 1*; and three relationships: AND (multiplication), OR (addition), NOT (negation). A sample from his book serves to show how extremely weird this must have seemed to a Victorian reader:

2. Boole's answers to Minion's three questions in the comic demonstrate NOT (No, I will not not come in), OR (Yes, I would like [coffee or tea]), and AND (No, I do not want both). Boole developed his algebra of logic not for machinery but as a theory of how the human mind worked­­ "to collect from the various elements of truth brought to view in the course of these inquiries some probable intimations concerning the nature and constitution of the human mind." We have scarcely more of an idea of how the human mind is constituted now than in Boole's day, but the radical simplicity of Boole's system made it ideal for mechanisation— making Lovelace's vision of an Analytical Engine run on logic a practical possibility. Lovelace, alas, was two years dead when Laws of Thought was published in 1854. Babbage did own a copy, and he wrote 'This man is a real thinker' on the flyleaf.**
Babbage and Boole met once briefly, at the Great Exhibition of 1862; Babbage suggested Boole read Lovelace's paper. A bystander gives a dazzling glimpse of what must have been one of the most extraordinary conversations of the 19th century: "As Boole had discovered that means of reasoning might be conducted by a mathematical process, and Babbage had invented a machine for the performance of mathematical work, the two great men together seemed to have taken steps towards the construction of that great prodigy a Thinking Machine." [the amazing letter describing their meeting!]
This notion was first picked up by William Stanley Jevons, an economist who was, like Lovelace, a student of Augustus de Morgan. Jevons became obsessed with making a machine from Boole's work, to which end he built a "Logic Piano" in the 1860s. This little wooden box slid labelled slats to which the user would assign propositions and relationships by pressing keys. Jevons' own example of the sort of thing the Logic Piano could work out was:
Iron is a metal
Metal is an element
Iron=metal
Metal=element
Therefore
Iron=element
Which goes to show you that logic isn't everything. [more on the Logic Piano, with pictures!].
* Boole's system is actually considerably more complicated– he viewed 0 and 1 as the extremes between which the mind assigns a probability. So "Do I want tea?" might be 0 if you loathe tea and 1 if you're panting for a cup, but usually something like 0.54 if you're wondering if it's worth getting up to boil the kettle. Boolean logic as used by computers uses only pure 0 and 1 however, and most of Boole's own work treats it this way also.
**I have this beautiful little fact from my favourite book on Babbage, Mr. Babbage's Secret; The Tale of Cypher­­ and APL, by Danish computer engineer Ole Franksen.
And some bonus Booles: