Lovelace and Babbage: The App!
Heigh ho, Loyal Readership!  As I drag my exhausted form over the desert wastes of the last three weeks of film production, a glimmer on the horizon.  Is it… a mirage?  Or could it be…
Lovelace and Babbage: The App!
You may recall my mentioning some time ago that these lovely mad folks were making an iPad app of the comic– well, we've been working like dogs, dogs I tell you and it's nearly ready for release!
The first release is free, it's 'Lovelace The Origin' that we all know and love and it looks awfully snazzy if I do say so myself! Screencap: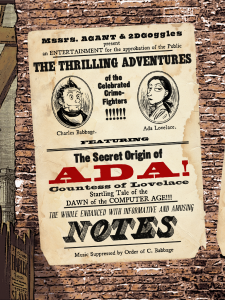 As well as The Origin (freeeee!!) we've included The Client (not free! we're charging, I dunno, a pound or something, haven't decided), which I've gone over and done a bunch of cleanup on, because man some of those drawings were gnarly. Why the Client? The Organist was too long and The Economy too hideous for the time I had available to clean up the drawing (i.e., none), so the Client it is!  The others will follow along presently.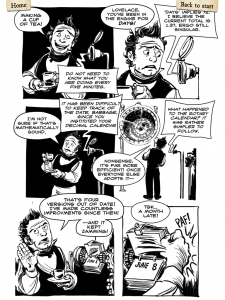 It wouldn't be 2dgoggles without the footnotes of course!!  Plenty of footnote action in there, revealed through the magic of iPad Rotate-O-Vision!!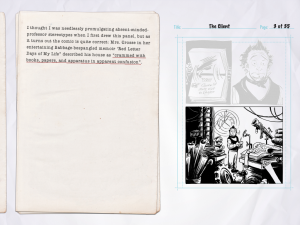 The footnotes are way whizzy, they'll have zoomable images and snazzy primary document embeds and the whole of Babbage's autobiography is in there and they've worked super-hard on them over at Agant.  I think it looks fantastic.
All this magic will be up on the iTunes app store on October 7th for Ada Lovelace Day, so I hope at least a couple of you have iPads otherwise that's a lot of weekends I could have slept in.  Alternately there may be people out there with iPads who haven't read the comic, if such a thing is conceivable, so if you know such a person you might want to say, "I say!  You should download the Lovelace and Babbage app!"
For the Loom-Smashers
If you don't have an iPad, fear not, Citizens!! Because now that I've spent all this time cleaning up The Client I've got all this nice cleanish artwork on my hands and at such times a young comic artist's fancy lightly turns to thought of PRINT.  PRINT I TELL YOU!  I'll tell you something about print thought:  it is a hella work.  They take whole forests and chop them down and mash them up and flatten them out and then your lousy comic is sprayed onto it with LASER BEAMS!  So it's kind of an operation.  Will keep you posted on the whole print thing.
And if that's not enough to worry about there's also…
User Experience
Ripped from the headlines!  The latest dispatches from the WAR on ERROR!  When it's not falling off my wall it looks like this: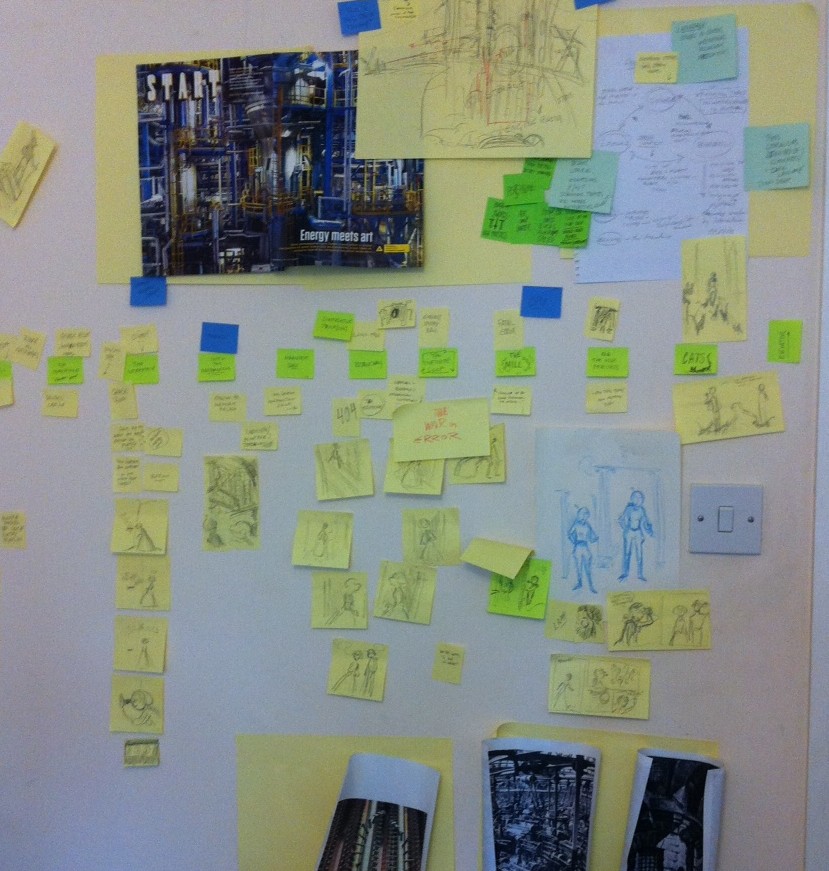 And Finally…Rare Public Appearance By Recluse Author!
What with all this work and excitement I could sure use a dry martini, hence my appearance this coming Tuesday the Hendrick's Lectures, where there will be Monster Hunters!  and Beautiful Clothes! and the fine fine Steampunk Bible! And if anyone wants me to deface their copy  I will be on hand.  It's on Tuesday the 6th of September  at 11 Mare Street, E8 4RP in Fashionable Hoxton, doors open at 6 pm, show begins at 7pm.
Anyways a million apologies all for the long long wait between comics this time around.  I am well aware the The Mysterious Forces of the Universe have given me a great responsibility in this here comic; a responsibility my craven addiction to making a living has caused me to let down lately.  But much is happening below the surface and soon my mole army will burst out of the earth.  As it were. In the meantime hold tight.  Listen to the Goon Show or something.  Yehti!!!