Lovelace and Babbage vs The Economy, Part 3
To understand this comic, you need to bear in mind that Charles Babbage invented both the cowcatcher, and the form. The form! Charles Babbage stop being so amazing I can't fit it all in the comic!!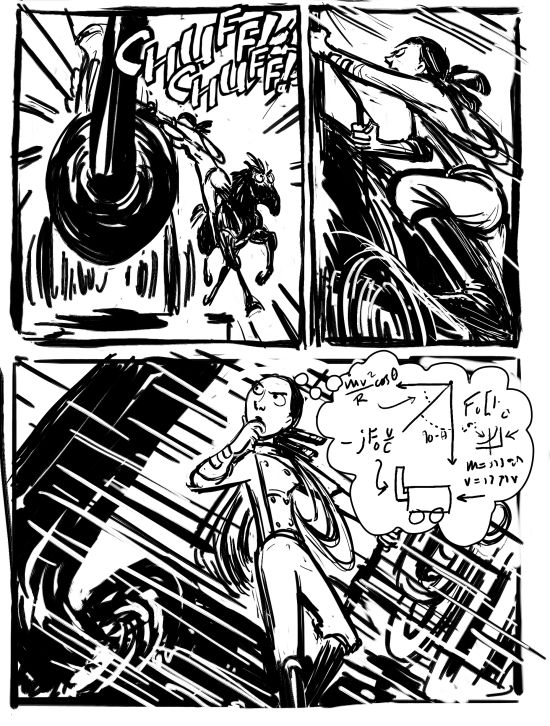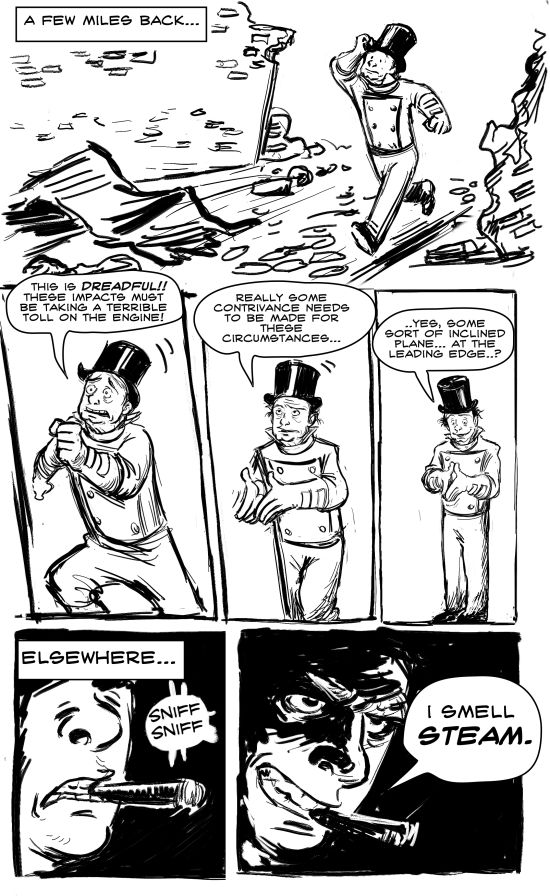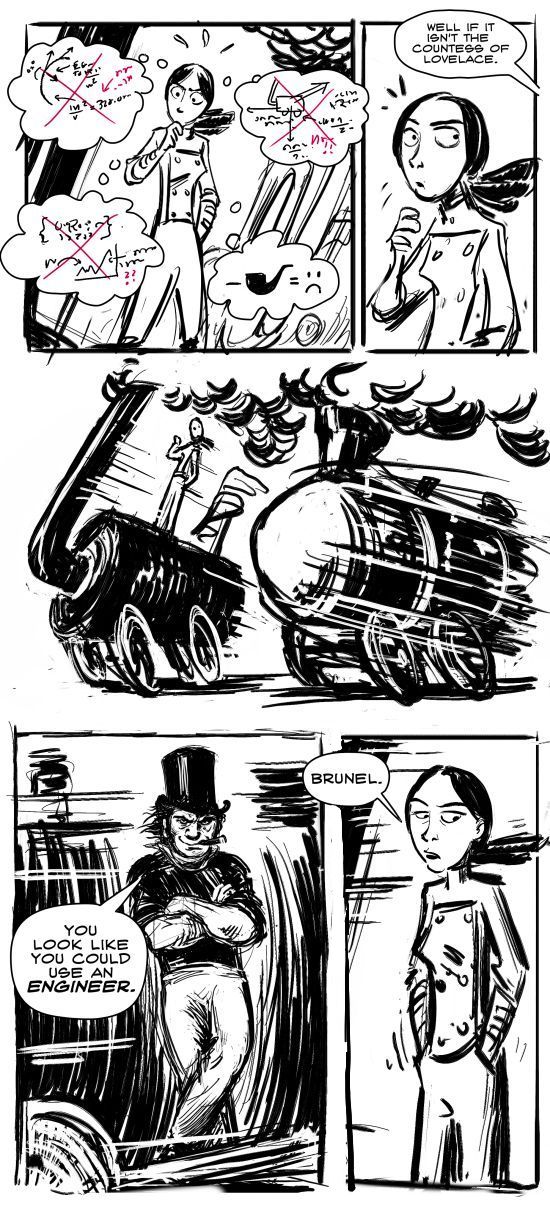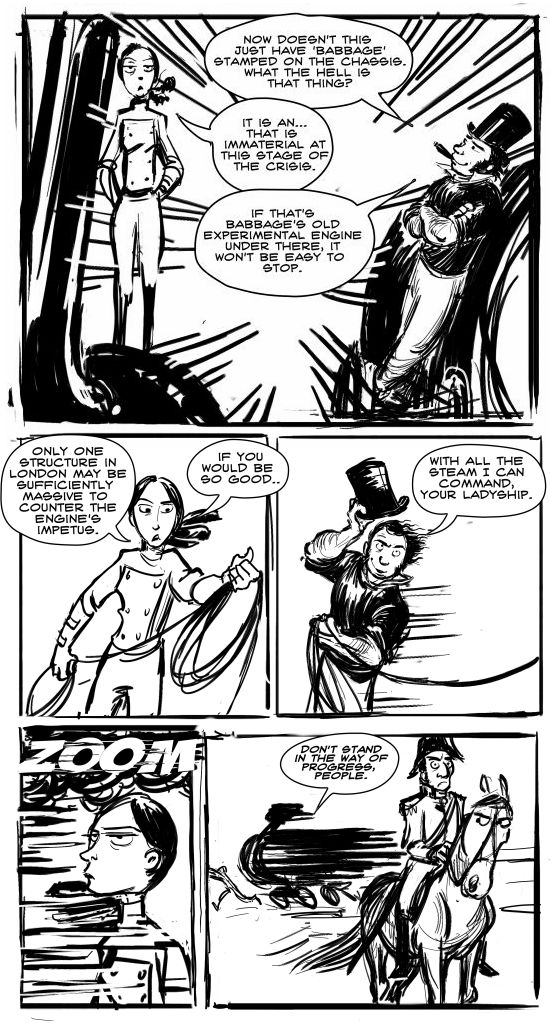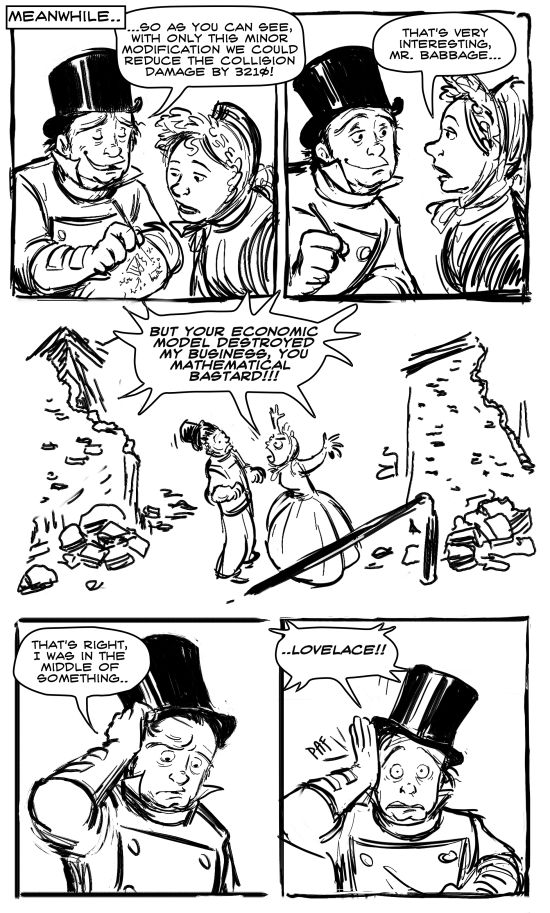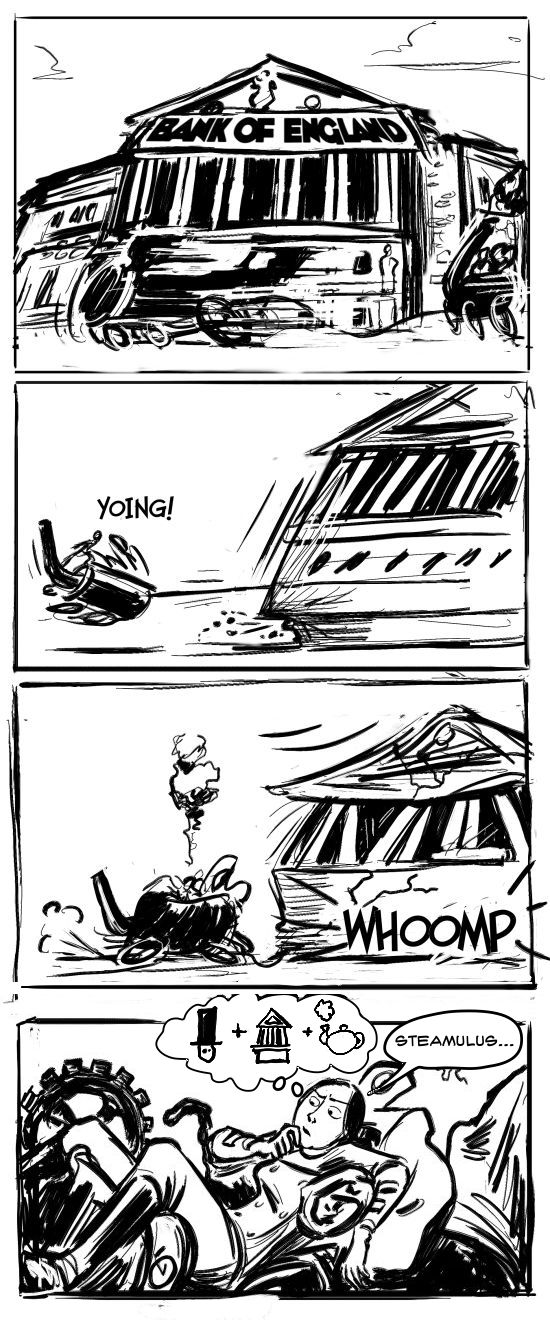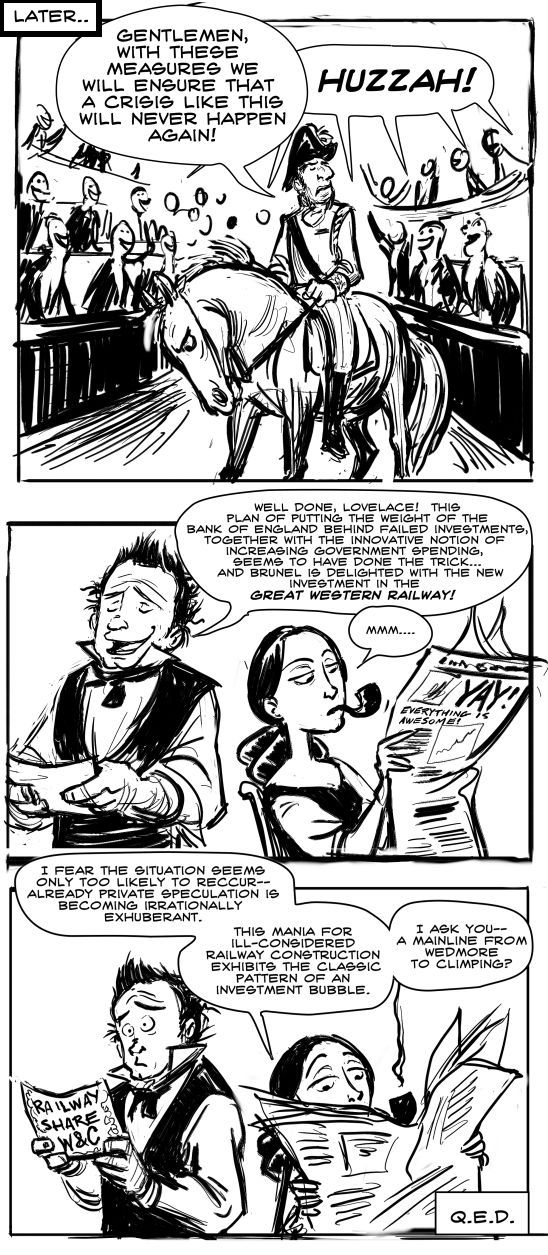 Historical Notes:
The Bank of England has been throwing its weight against out-of-control economic models for a very long time– though not as long as the US government which pretty much started out with a bank bail-out. Here's a cartoon from 1890 showing the 'Old Grey Lady' bailing out some bankers, by Alice-in-Wonderland illustrator John Tenniel. If you can't read it the caption is, "Old Lady of Threadneedle Street, "You've got yourselves in a nice mess with your precious 'speculation!' Well– I'll help you out of it, — for this once!!""

The bank being bailed out there is none other than Barings! which went about another hundred years before before its cataclysmic collapse in 1995, an event from which banking learnt, as usual, precisely nothing.
Sorry if it's kind of fuzzy, it's a picture I took on an Important Research Expedition to the pretty nifty Bank of England Museum. Incidentally if you go at the moment you can see not only "Banknotes Come Alive!" (false advertising- they totally don't) but a whole interactive exhibit on Inflation featuring this gadget after my own heart: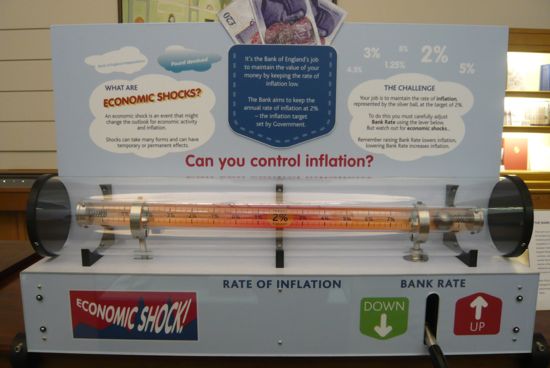 Lovelace's notion of stimulus infrastructure spending is about 100 years ahead of its time– the true originator is of course John Maynard Keynes. He's been in the news a lot for some reason.
The railway bubble of the 1840s neatly proves this economic hypothesis.
What else… Babbage's 'experimental engine' is mentioned in his autobiography, although I can't find any description of it anywhere so I'm going to assume it was insane–CORRECTION- Duh, it's right there! There is no engine, by his 'train' he was referring to the experimental carriage. So, there was no point to this whole episode actually.– Typically, although he designed the first cowcatcher there is no indication that it was ever built. In the fabulous anecdote where the experimental engine appears (it's only a page.. read it. READ IT!!!), Brunel actually says he will 'put on all the steam he can command' (in theory). He can get away with saying cheesy things like that because he's ISAMBARD KINGDOM BRUNEL, pal. He narrowly missed out on being voted the Greatest Briton to a last-minute Winston Churchill counterattack, to the great resentment of the Brunel Museum. The guys there will helpfully snigger with you about his Wapping Shaft. Don't tell them I sent you.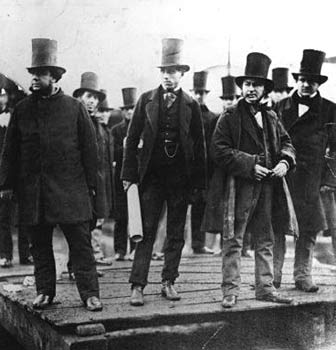 Hahaha look at him, he's all, "Alpha Dog, gentlemen." The reason this episode took so long is because he didn't originally appear in it but suddenly I had to draw him for some reason.
I have no idea whether Brunel and Lady Lovelace ever met, although I guess probably they did, as they would have gone to a lot of the same parties assuming Brunel ever did anything but eat, sleep, and engineer. Their relationship in the comic is an allusion to the traditional antipathy between mathematicians and engineers, and in fact this whole episode could just be a really, really long-winded way of telling this joke. If you put an animator in that joke they would say, "Hey, you know what would be funnier…"
Did you know that the whole internet was invented in order to distribute mathematician vs engineer jokes?
Anyways, this concludes my 'difficult second album' phase. Lessons learnt: I will never again start a comic without having some notion of how I intend to end it.