Lovelace and Babbage Vs The Organist Pt 10
As promised, an Amusing Epilogue..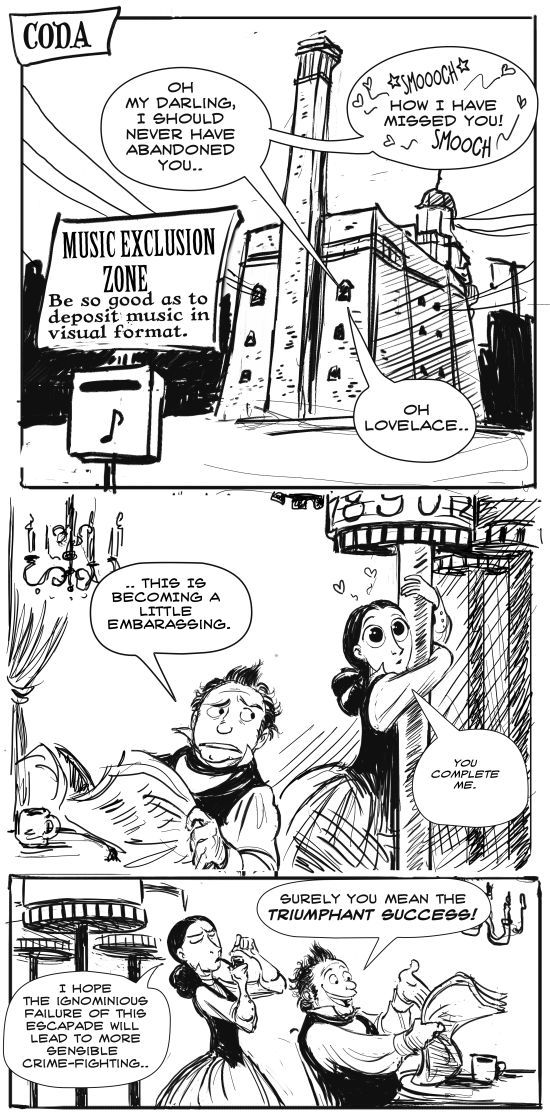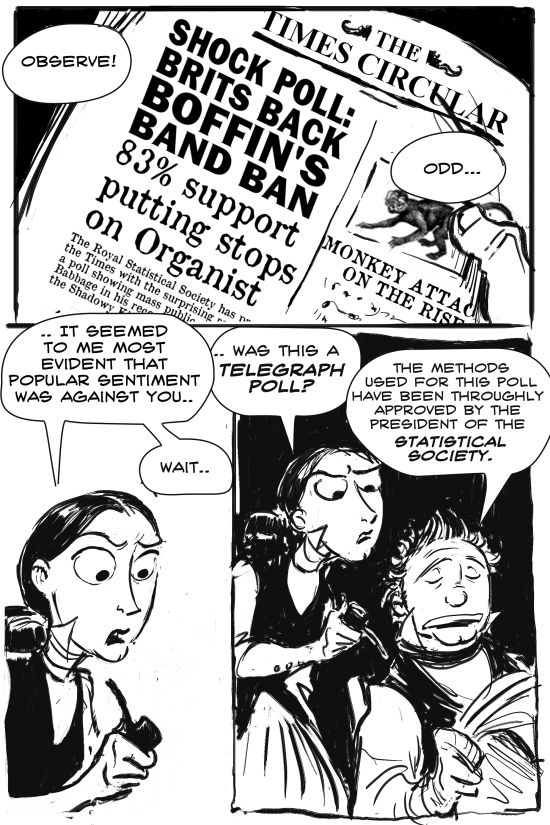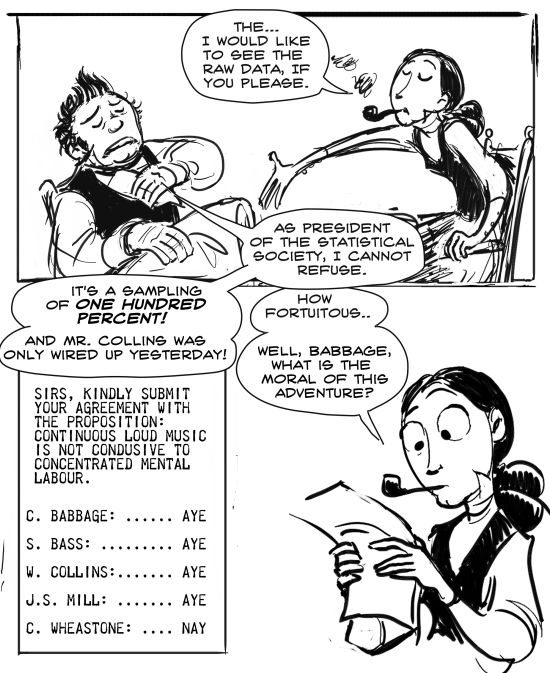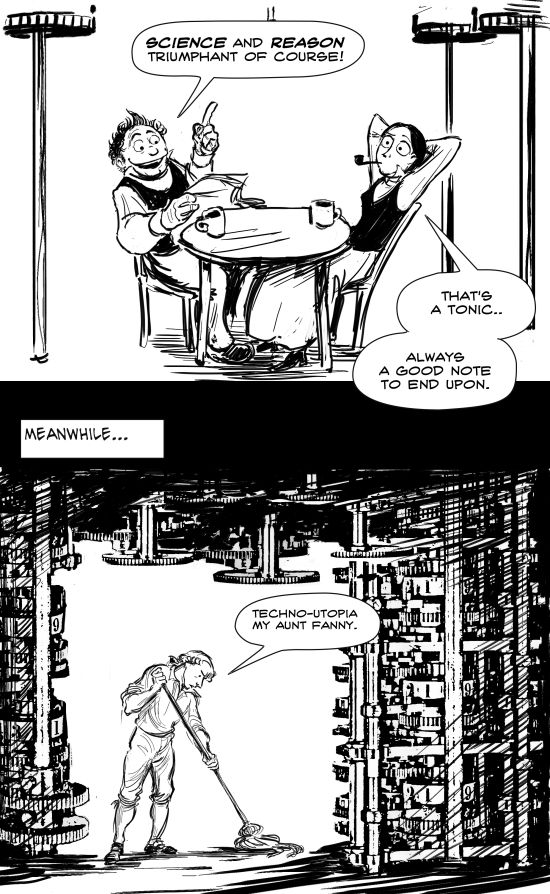 –EDITED TO ADD: That's Minion, still coping with the monkey aftermath.. come on people, he had a whole panel five months ago!– also, I usually treat typos with devil-may-care insouciance, but those were BAD, man. I need sleep.
Now that really IS the end! There aren't really any notes for this one, except that John Stuart Mill and Wilkie Collins were amongst the signatories of the petition to regulate street music. The Musical World weighs in:
But Babbage, Bentinick, and Bass have a special plea; "the public," we are told, "really want the nuisance to be abated;" and in proof hereof we are favoured with selected facts. Sundry eminent individuals, with highly sensitive nervous organisations, are pressed into the witness-box.

*****
So that's The Organist! Believe it or not it comes in at over 100 pages.. D: !!! and could have easily been much longer. I confess by the last couple of episodes (I'm not very happy with those) I was slashing material with abandon… like the giant dance number! The Organist's big number is mean to be this one, you can imagine the mass-mersmeric-musical-multimedia extravangaza to this irresistible beat:
I'm also sorry that I ran out of energy for the groovy cymatics episode. And the huge subplot with Lovelace's mother, not to mention the stereoscopic sequence! These are the perils of free-associative storytelling.
Personally I've learned many Moral Lessons from The Organist, the main one of which is, Stick to Your Rules! I think the last couple of episodes would have been stronger if I'd been firmer of purpose in keeping to the outline of the story, which (for those of you who made it all the way through my lecture) is based on the Orpheus myth. I was too lazy to stage my way around the critical point that Lovelace (the Orpheus figure) not look at Babbage until the very end of the story. Partly it's just really tricky to stage that sort of thing, and also I didn't want to lose the gag, "You've been reading poetry! I can see it in your eyes!" Only now has it struck me how much funnier "You've been reading poetry! I can tell from the back of your head!" is. Anyways it would have really helped keep the tension in the relationship there if I'd stuck to my guns.
With these melancholy reflections it is a comfort to tell myself that what I'm doing here is a first draft of something. I'm often asked, in those comments I guiltily stare at and procrastinate on answering, whether I intend to do a book at any point. I understand that authors become either WEALTHY and CELEBRATED, or STARVE in BOXES, and I'm much disinclined to the latter. At some point though I think I'll be unable to resist the urge to go back and clean stuff up, though this is probably still a ways away. I'm at a point now where I could either make the existing comics fit for human consumption, or Press Onwards, and I'm in a pressing onwards spirit.
When I started these shenaningans there were really only two stories I had in mind, one was The Organist and the other was Vampire Poets, but that's even longer than The Organist if you can imagine such a thing. We need to regather our energies here at 2dGoggles Emalgamated Comic Industries SO, I'm putting Vampire Poets to one side to simmer and the next series is (GOD I HOPE) much shorter and will be in a bit of a different format. It's called 'User Experience' and I'm pretty excited about it. BUT what with the Giant Monsters on the rampage and so forth it will take some time before I can get it drawn up.
For the next month or so I'll put up some more worky-in-progressy sketches and stuff if you don't mind. I'd also like to try to stick to a bit more a schedule. You may think the life of an imaginary comics artist is a sunlit field of lighthearted caperings and irresponsible outbursts of creativity, but actually it's riven with constant low-level anxiety. Any free moment is one in which you really ought to be drawing comics. It's been suggested that I try for shorter, more frequent comics, but that's not really how I roll. However I do have a ton of exploratory material I can put up so I'm going to aim for some sort of post every other week on Monday, with proper comics posts probably monthly, I don't think I can promise anything more frequent than that what with all the giant monster attacks these days.
Anyways I hope you all enjoyed The Organist even if it WAS a bit too long and disorganised! User Experience takes us more into the Difference Engine and its denizens, same bat-time, same bat-channel, which is to say, sporadically here at 2dgoggles.