Lovelace and Babbage vs The Organist, Part 7
I have dragged myself up from the floor, and with quivering pen have managed to scratch out the following almost-illegible CRY FOR HELP. The Organist! Part 7! AKA, Act II part 1, because I totally have this whole thing planned out. Really!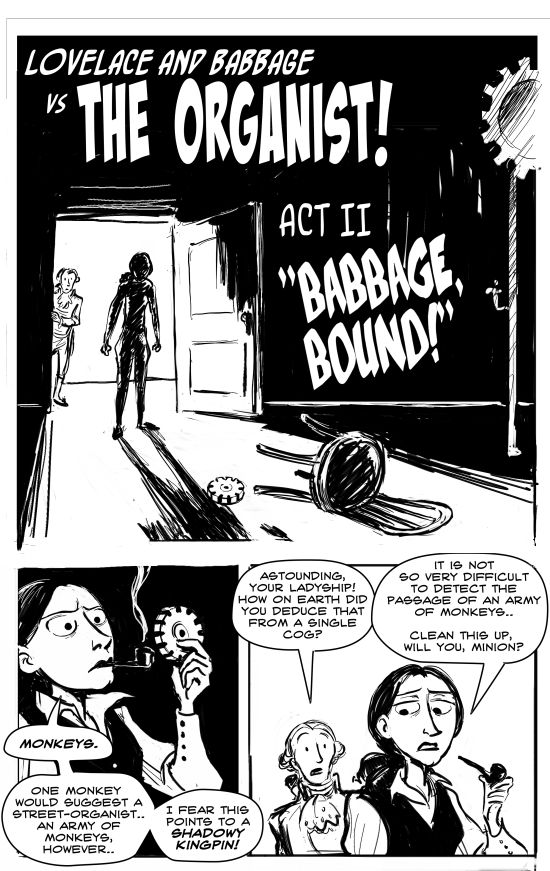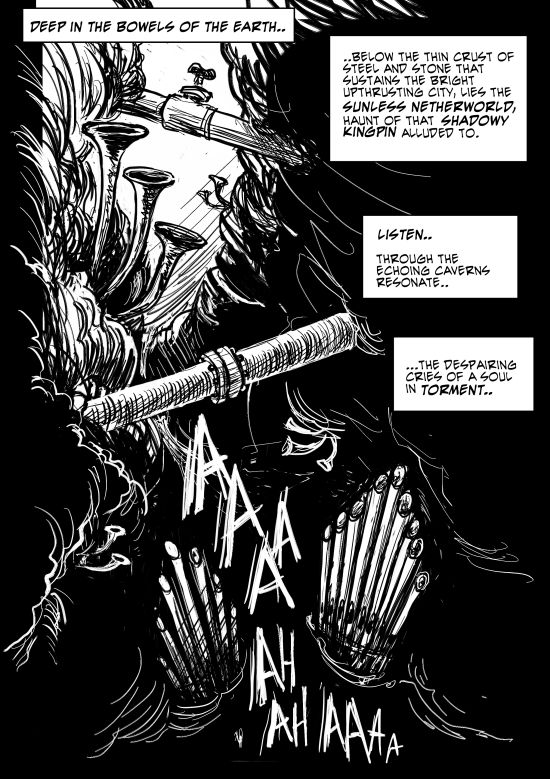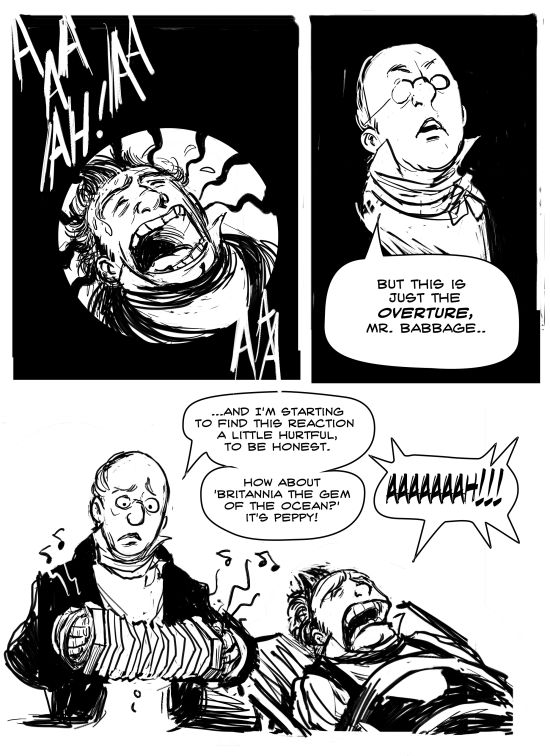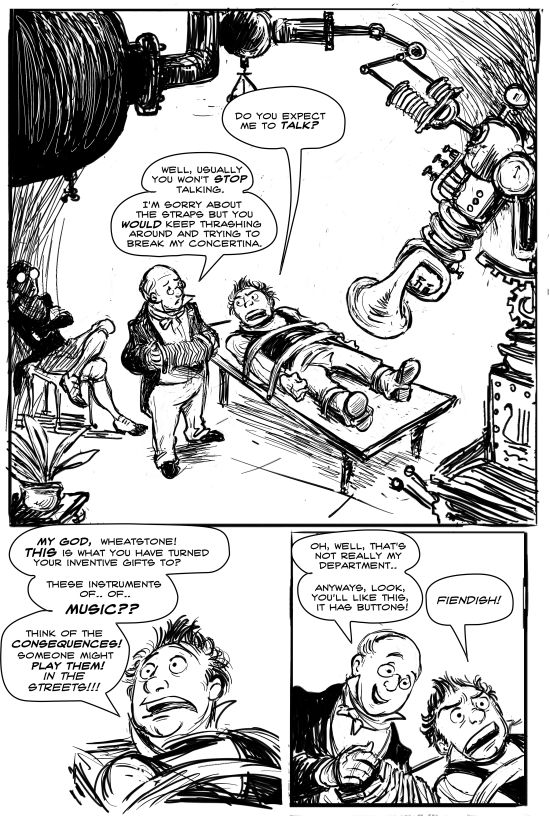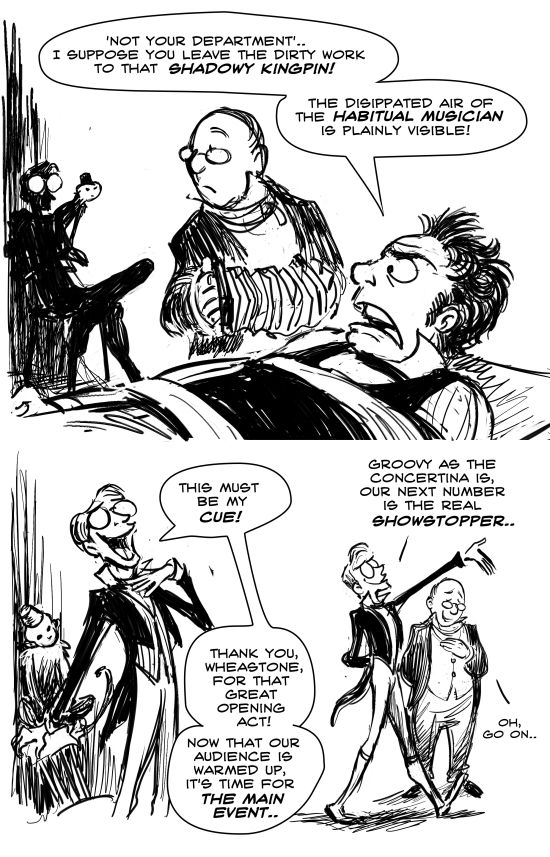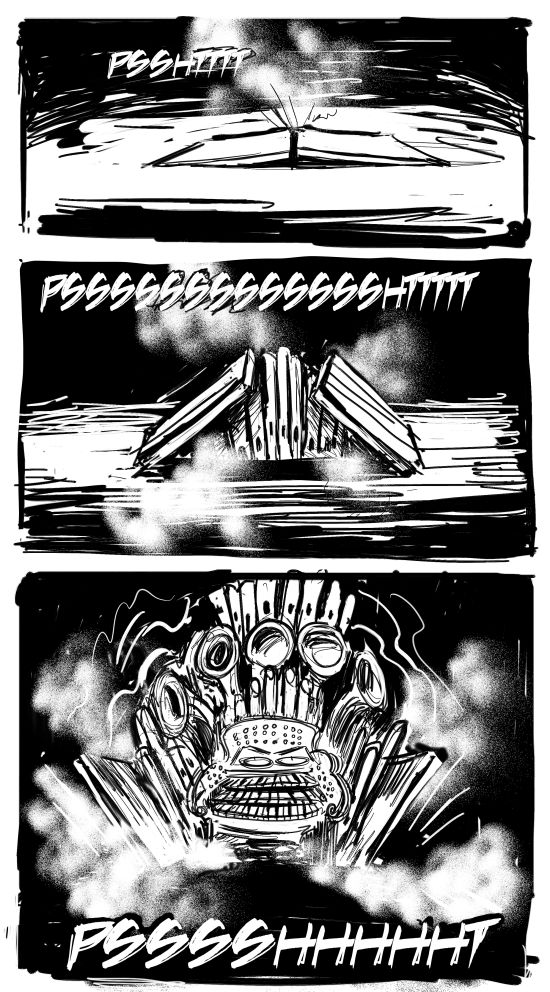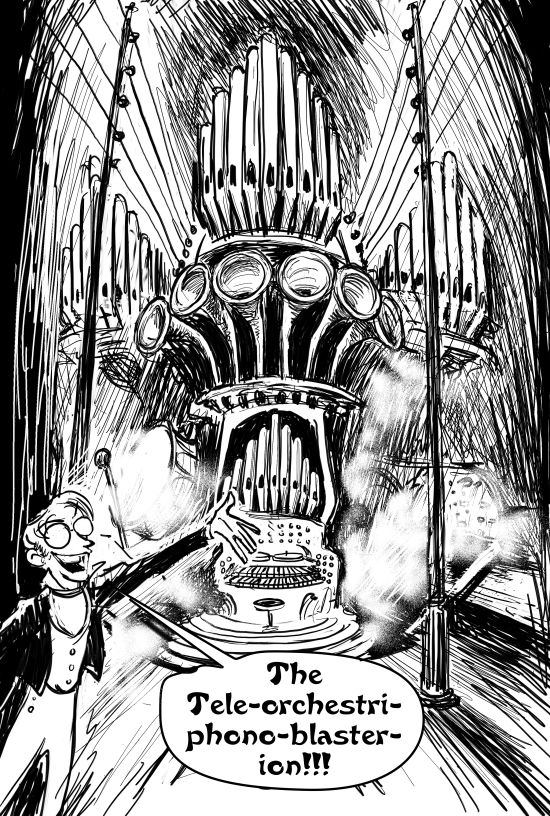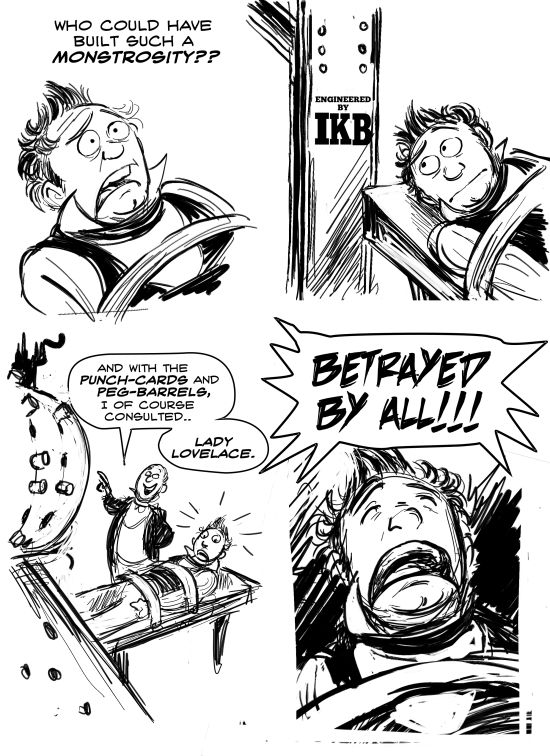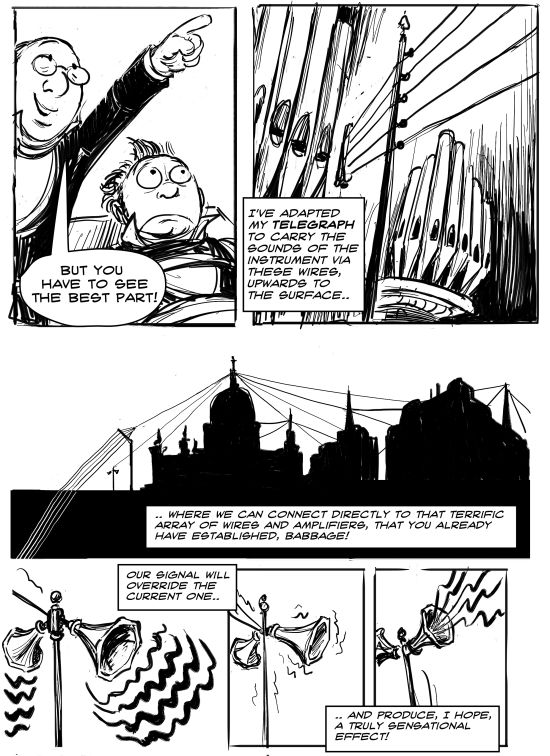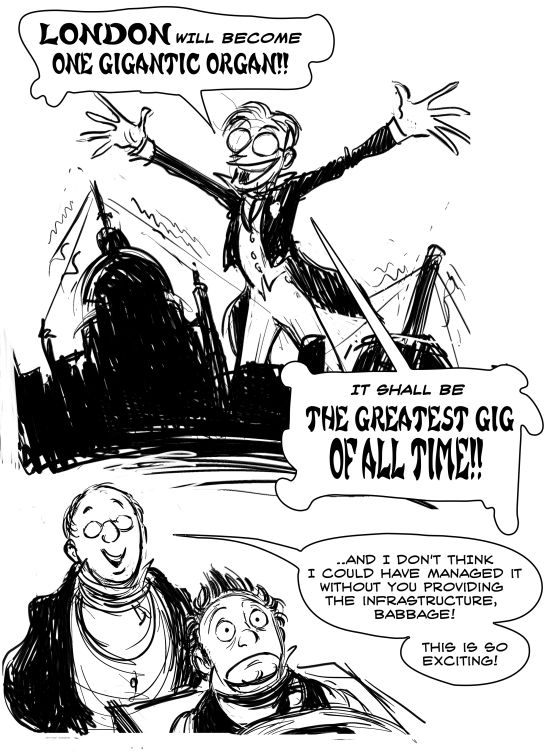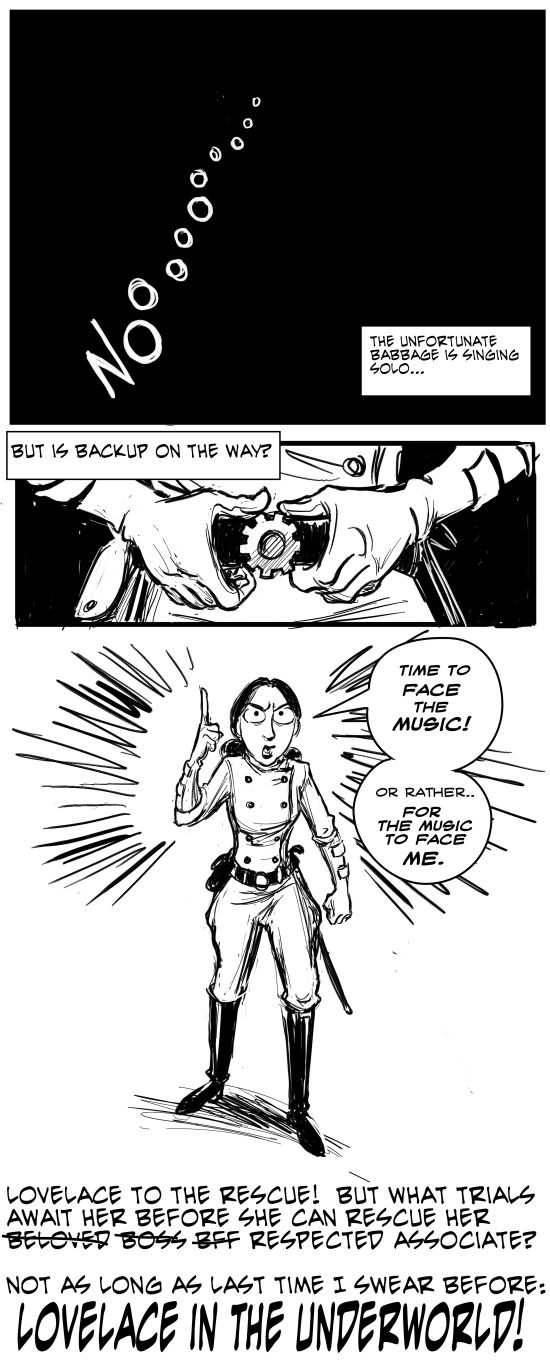 A heaping' spoonful of NOTES:
— All the concertina primary documents I KNOW you are craving! Patents! Price lists! Evil plans! I'm still finding Wheatstone a bit slippery as a character.. I'm going for a Bunsen Honeydew/Werner Von Braun thing at the moment. Speak to me, Wheatstone! What's it all about?
— I have to record in these notes, the uncomfortable fact that Charles Babbage did die under torture, of a sort– his mortal enemies the street musicians played continually under the window of his death-bed room, while his poor son unavailingly begged them to stop. Evil of this variety does not thrive in the Pocket Universe I'm happy to say.
— After that, I'm sure we would all be cheered up by a Wurlitzer rising up out of the ground:
–Things I DO NOT MAKE UP: The TELHARMONIUM.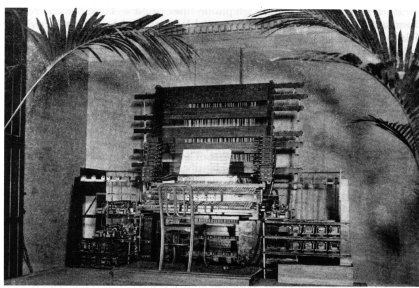 "The Organist" was going to be a wee short cute episode, until the Helpful Bryce (who himself openly admits to studing the organ!) sent me a missive alerting me to the existence of a turn-of-the-20th century, 200-ton electric organ that broadcast over the telephone wires. What is a girl to do with this information? I ASK YOU? Hence, this monstrous epic that you see unfolding before you.
— Scientific American on the Telharmonium.
A Telharmonium documentary, if you have 20 minutes or so. Part 2. Featuring Mark Twain: " The trouble about these beautiful, novel things is that they interfere so with one's arrangements. Every time I see or hear a new wonder like this I have to postpone my death right off. I couldn't possibly leave the world until I have heard this again and again." Sadly there is no recording of the no doubt celestial harmonies of the Telharmonium, I am informed it would resemble a Hammond Organ:
The Telharmonium proper is too electronic for this comic, though it does feature pleasantly steampunky cogs (and overalls! and child labour!):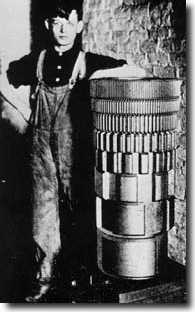 What with this high technology of telephone wires and paper cones, and I was highly concerned that this is edging out of what may properly be considered the technological scope of this comic until I found:
– Music By Telegraph! Yankee Doodle, carried by lightning! The Tele-orchestri-phono-blater-ion thus can theoretically be brought back to the 1860s, give or take. If you're interested in that sort of thing, this notion led to the Harmonic Telegraph, which led to the Telephone.
— On the properly period front, here's a lovely Orchestrion for you. Put it on a loop and crank the volume!
Oh what the heck, here's another. You know you want more!
You'll get a new one every episode now. Collect them all!
— The Correspondents have absolutely nothing to do with this comic. This Shadowy Kingpin does bear a striking resemblance to The Organist, but I'm sure he is PERFECTLY INNOCENT:
Let us hope the Organist's plan does not succeed and fill London with such MUSIC! Because that would be TERRIBLE!!
As usual, no eta's for the next episode, but now I have been Flung Out Into The Streets* I have little more time for these Frivolities, in between the health-giving country-pub walks I intend to do as soon as it stops raining. Comments are always welcomed, I know I'm ponderously slow at responding but I really do love getting them!
*don't worry I am routinely Flung Out at the end of movie, and tend to find myself Flung Back In Again in fairly short order, which is why my hair is always such a mess.