Lovelace and Babbage vs the Organist, Pt 6
As the ancient saying goes, "Audiences are like monkeys.  Give them a grape a day, not a whole bucket of bananas at once!" Sadly I am so constructed that buckets of bananas are my natural production unit.  And they don't get much more bananas than this here.   It's been a while, GOD KNOWS, so a summary of how we have reached our present state: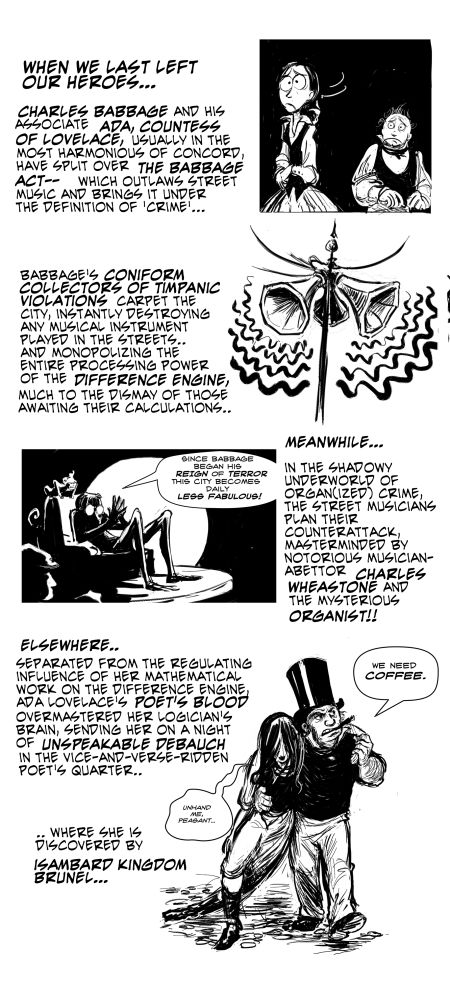 NOTES NOTES NOTES! PIPING HOT NOTES!
–Isambard Kingdom Brunel.  Engineer. Genius.  Coffee connoisseur and Master of Sarcasm:
Brunel to the Swindon rail station coffee shop proprietor, who had heard Mr Brunel had a complaint:
Dear Sir,
I assure you that Mr Player was wrong in supposing that I thought you purchased inferior coffee. I thought I said to him that I was surprised you should buy such bad roasted corn. I did not believe you had coffee in the place: I am certain that I never tasted any. I have long ceased to make complaints at Swindon. I avoid taking anything there when I can help it.
Brunel also gave as a principal reason for his pursuance of the broad-gauge rail the smoothness of the ride enabling him to drink his coffee.  I'm guessing caffine had a part to play in his only sleeping four hours a night.  I'm trying to figure out how he had a hand free to draw, seeing as he was BOTH continually smoking cigars and continually drinking coffee.
— The Coffee House was a fixture of both high and low Victorian London, ever as much as it is today.  Finding decent coffee was notoriously difficult; if you find yourself wandering around Victorian London looking for a cup, you may consult this excellent guide.
— Every once in a while, a piece of evidence is found which utterly overturns the foundations of an understanding we once thought unshakably sound;  evidence which forces a humble confession of the inability of our puny constructions to hold up before the awesome weight and complexity of Truth.  Such  epoch-birthing evidence is found in this painting, from which I drew the coffee shop interior– before you click I warn you– it contains a SHOCKING IMAGE.
They are all wearing hats.  INSIDE.
My inside/outside no-hat/hat paradigm is utterly shattered.  Is it because there are no ladies?  As usual with everything cool in Victorian England, women were not admitted to Respectable Coffeshops… in any case I need to go and lie down for a while before I recover from this shock.
— I honestly have no idea at all what impact an actually Analytical Engine would have had on the course of Victorian Science.  They did pretty good without it!
— Here is a period Organ Grinder and monkey: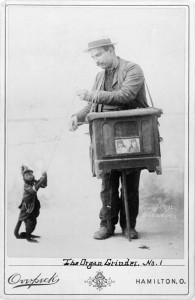 — Although we pride ourselves on our meticulous research here at 2dgoggles, there is no evidence that Charles Babbage was ever kidnapped by an army of capuchin monkeys.  He did have troubles with mobs, sadly, as can be found in the following anecdote (warning:  in this anecdote, the human race kind of sucks):
A German band was in the habit of annexing a position before his house, and treating him to its music. .. Babbage got tired of this sort of thing, and ordered them go and play somewhere else.  They refused, and he, worn out by their music, left his study to seek a policeman and have them moved on.  Like Carlyle, he dressed quaintly, and moreover, at the moment, he was bareheaded… Babbage's dispute with the band soon collected a small crowd, eager to witness the fun.
Hatless!  In the streets!  At least some things I KNOW are wrong.