Many Happy Returns of the Day, Mr. Dickens!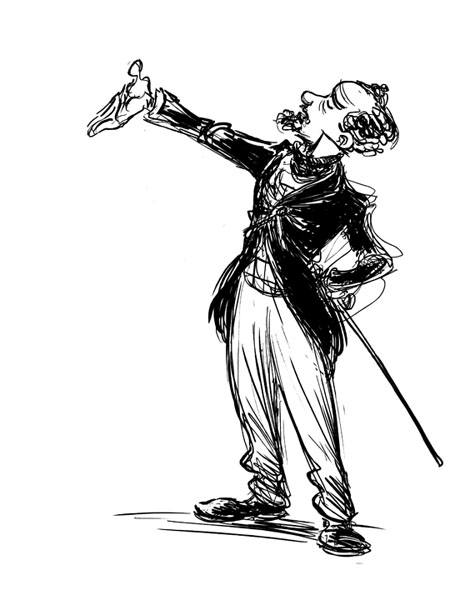 Many happy returns of the day, Mr. Dickens! I am sure we are all spending this bicentenary eating gruel, fitfully walking the streets at midnight, drinking punch, speaking in thousand-word paragraphs interrupted by semi-colons; constructing elaborate book-length metaphors winding like dark trash-strewn rivers through a metropolis of words; enduring unspeakable losses and delighting in the simple pleasures of life, encountering more silly pretty females than one quite likes, and generally marvelling that one pen could produce such a torrent of ink.
Mr Dickens has a small part in User Experience so I have some doodles for him– he's good fun, I'll have to bring him back!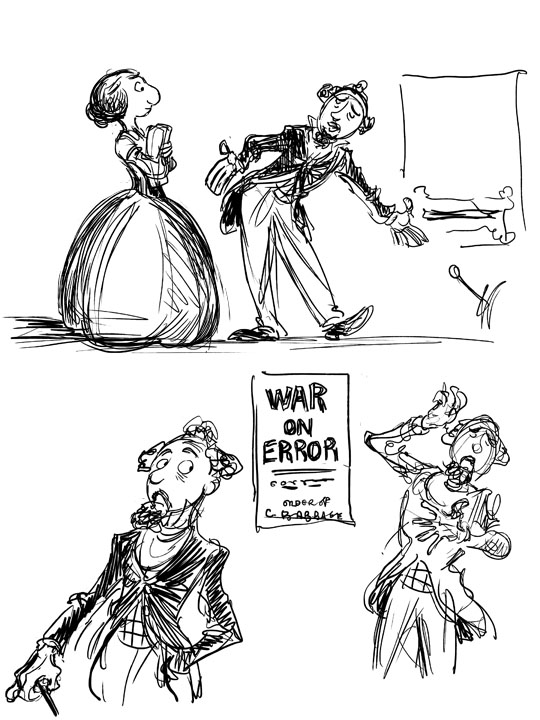 I'm basing his body attitude on another Charlie, with whom he had so much in common–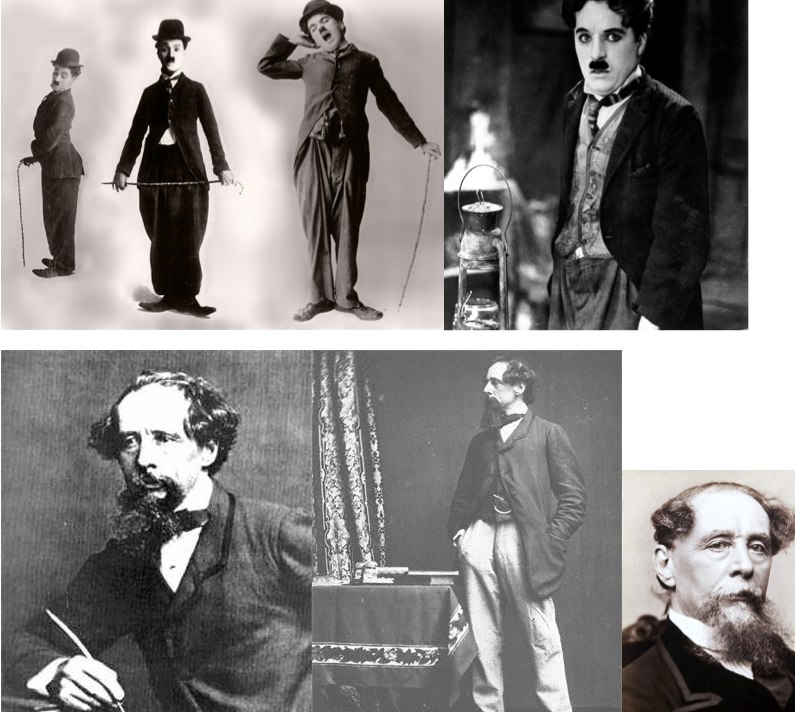 One hardly knows where to start with Dickens primary docs, so I will give you his very own birthday reflections.
As a celebrated genius and man-about-town Dickens knew both our protagonists very well. I'll start with Lovelace though I warn you it's depressing as hell:

On a cheerier note, Babbage turns up with some frequency in Household Words; but though these two egomaniacs were good friends I'm short of anything really juicy. Google Books will dangle this in front of me for the sole purpose of making me imagine it full of golden nuggets of character and historical revelation, whereas lets face it it's almost certainly all two-line dinner invitations.
I went to see the Dickens show at the Museum of London a few weeks ago, where they were showing a film that had readings of his "Night Walks" over scenes of modern London.  At one point the reader intoned:
This is a reference to the Bridgewater Treatise, and I refrained from screaming "BABBAGE" aloud, merely squealing it under my breath.
My own pen as possibly you may have noticed has not been notably prolific, at least on this website. User Experience, which you are no doubt sick of hearing about, is taking up most of my time, along with cleaning up Economic Model, a few commissions, worrying and dithering, building my virtual difference engine, and a couple of projects I can't talk about. More than anything I'm discovering that it is one thing to animate all day and then draw comics all night; and quite another to draw comics all day and then draw MORE comics at night. The end result was that poor Vampire Poets, which I'd intended as my Relaxing Fun Outlet project, was starting to feel a lot like Work. Not that I'm not a great believer in Work! but I think this peculiar deadness was starting to sneak into the comic… I don't worry about stuff being too weird or rough for the website but I had drawn almost all of the next episode and then realised that it was, in fact, dead, where it ought obviously to be UNdead. So I've torn it all up and I'm re-attacking it.. the only thing I can promise is to stop making promises! Fear not Citizens, even if it HAS seemed quiet around here it is only the prelude to a veritable torrent of stuff in a little while!
I'll leave you with Dickens' London Locations Map, by the matchless Victorian London