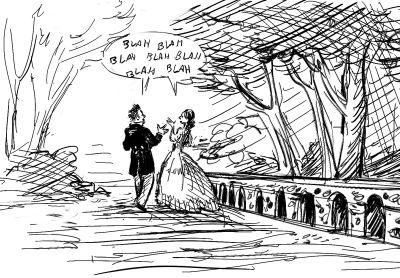 Long renders and an itchy Google finger turn up a strange, sudden little window into the past:
So, what DID Babbage talk about when he talked about Ada? WHOA.
I found that little story amazing for a few reasons-
-I'm kind of staggered by the fact that Babbage is telling this stuff to a complete stranger, less than two years, I think it would be, after Ada's death.
– Mere interrelated symbols in the form of 'words' are insufficient to convey how madly I love that Babbage thought Lovelace was the too-logical one. Through the comic I am Channeling the Higher Truths of the Universe!!
– Oh God, the image of Babbage teasing Lovelace with shaggy-dog stories is so overwhelmingly adorable it's kind of choking me up a little.
I have a policy here of linking only to primary sources, and mainly stuff that's funny; this automatically means I can link to pretty much nothing about Lovelace. She lived in the realm of private letters and private gossip, lots of which is contradictory and none of which is online. She herself had a personality that I still find, after reading her collected letters and three four! different biographies, incredibly opaque (certainly compared to Babbage!). Frankly Babbage's view of her- a little over-thinkie, a little gullible, and with a lot of the 'Byron Devil'- accords the closest to mine!
Ghu. Too much history! This is supposed to be my 'learning comics' blog!
So I think my main issue from the last episode was, as usual, panel flow.  I think I'll have to drop Victoria's font, or find a more legible substitute, because it's massively disrupting the pacing is my feeling. The other big difficulty I ran into here was juggling so many characters and keeping a clear sense of space. Probably I should have staged this shot differently: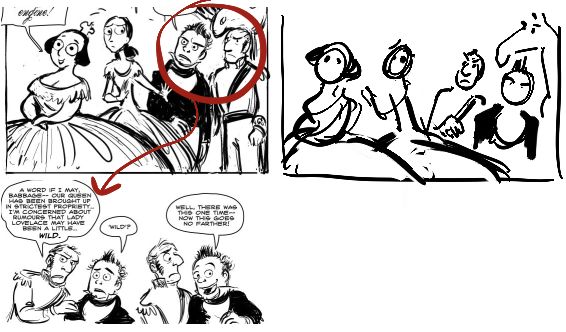 If I had Babbage on the far side of Wellington to begin with, that cut would work better I think. I'm slowly figuring out that comics are different from storyboards in that you can effectively collapse several actions into one panel- my instinct, coming from film, is to think I need to draw all kinds of stuff that isn't necessary– you can go from point A to point C without drawing in B, provided you compose A and C correctly.
Still depressed over Ada so to end on a lighter note:
You know you've arrived when some random sports mag calls somone "the Babbage of coursing writers".
OMG BLACKWOOD'S MAGAZINE STOP STEALING MY GAGS!! I mean, I like my jokes to be extensively safety-tested, but a giant, crashy Difference Engine in 1851?! Now I'm worried about this material being fatigued…