Model Sheet: How to Waste Time On Timewasting Activities
Last part of Economic Model should be up in a couple of days. In the meantime, it was driving me nuts that I couldn't draw Babbage consistently so I drew a model sheet (click for larger if you like):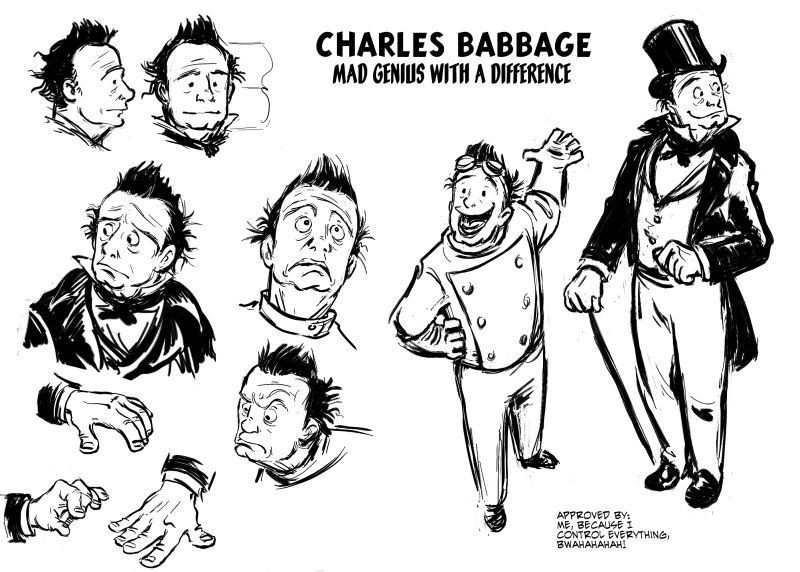 I don't know if it's good or bad to have so much visual reference for this guy, all of it slightly different. And drawing those horrible 1830's jackets is going to be a constant struggle. But you can bet that is no ordinary walking stick! I have no idea what it does yet but we're talking about a man who hacked his carriage to include a folding bed and egg-cooking-device. Note to Babbage: if I were going to go around the Crowned Heads of Europe showing off cutting-edge British tech, I would have gone for something other than the stomach-pump.
Babbage! I'm a little bit madly in love with this guy. What a completely bizarre and wonderful brain he had! I may be drawing him a little cuter than he was in life, I dunno. If you notice a resemblance to Bill Murray this is due to me going, "wow, Babbage looks just like Bill Murray!" and then using YouTube clips to get certain head angles right. He can play him in the movie.

I could easily bore you all day with Facts About Charles Babbage. He invented not only the computer but also the actuarial table; he was a man for whom nothing could be more exciting than a large error-free table of numbers, and who in his time was primarily a kind of efficiency expert, advising the Post Office, for instance, to charge a flat fee rather than metering per mile. From this one would imagine a dull automaton of a man who makes someone's life a misery in a screwball comedy. Nothing could possibly be further from what you get when you read Babbage's books– full of wonder and excitement at technology, he was warm-hearted, gregarious, and disarmingly naive, following beggars home to see if he could give further assistance, throwing large parties and telling rambling anecdotes with non-sequiteur punch-lines. In his autobiography he wonders why people alway assume he knows everything:
"I have frequently been mortified by having the utterly-undeserved reputation of knowing everything[…] The most frequent symptom was an address of this kind:– "Now Mr. Babbage, will you, who know everything, kindly explain to me —-." Perhaps the thing whose explanation was required might be the metre of some ancient Chinese poem or whether there were any large rivers on the planet Mercury."
I don't know Babbage– maybe if this snippet wasn't sandwiched between the whole rest of the book, where you explain everything about everything? Like the bit where you talk about telegraphy and thunderstorms with the King Of Sardinia? Remember that bit?
Some of Babbage's other accomplishments: invented the speedometer (for trains), the cowcatcher (also for trains– he worked on the Great Western Railway, and tells a story about Brunel THAT I COULD NOT HAVE MADE UP); invented the skeleton key as well as an unpickable lock; broke impossible codes as a hobby; invented signal-lights– he used to have one on the top floor of his house where he would send short messages to friends– CHARLES BABBAGE INVENTED TWITTER!!! Oh god, and then there was the time he ran for parliament and devastated his opponent with obscure mathematical put-downs (he lost). What am I supposed to do with all this material people??!
And this was all before he spent the last decades of his life locked in a titanic struggle to the death with the street musicians of England; something for which he became so famous that it's in the first paragraph of his Times obit (and other places as well!). Obviously Babbage vs The Organist will have to be the epic season finale of this comic, not that there is a comic you understand.