Monsters, Monsters, You Know the Drill
So this is what the scenario is, folks: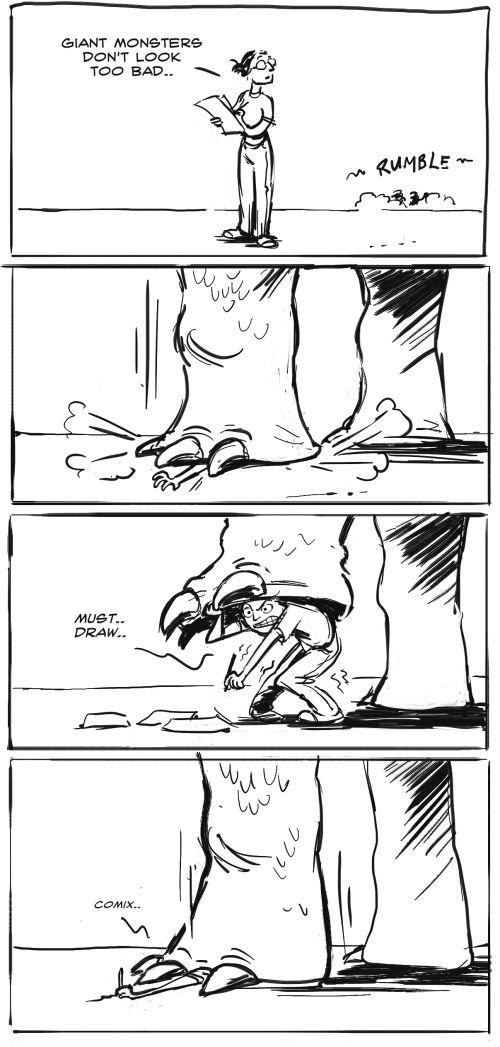 To everyone I owe an email to– man, I'm SO sorry. Not that I'm the world's swiftest correspondents at the best of times. Especially to those folks so generous as to make a donation, I owe each and every one of you an apology for not writing you something straight away. I WILL get to you!!
HOWEVER rest assured that when I'm not being ground into the Martian desert by the all-too-multiple limbs of the Barsoomians, I am using every available instant to move forward on "User Experience". I'm more excited about this story than any I've done, especially as I'm using a rare and mysterious technique known as 'planning'. To this end I am deploying the power of post-it notes-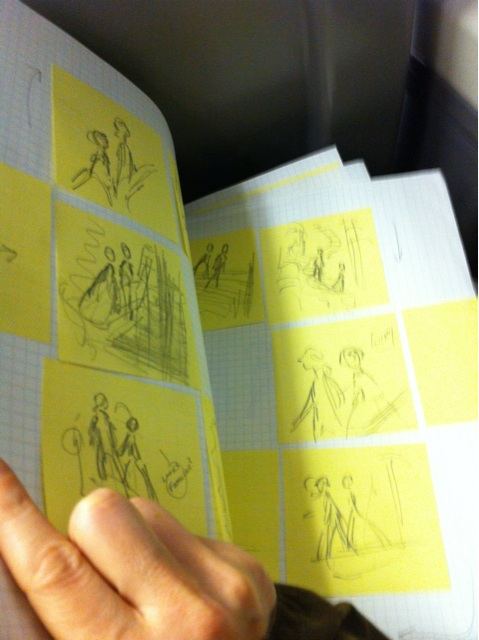 Highly recommended system!
Especially fun about User Experience is that I'm teaming up with some very clever folks at Agant to do a special edition iPad version, where we'll be playing with some narrative-bending cutting edge super post-modern storytelling techniques. Also, shiny gizmos! Don't worry, it'll appear as always here at 2dgoggles as well– an experiment, this is! A pretty darn nifty experiment though if you ask me..
Speaking of Technology–would there be any interest in a kindle-ized version of the Story So Far? Still the First Draft version I'm afraid, but it might make it easier to read.
What else.. if you guys are craving some more Brunel, Babbage, and Lovelace, and I KNOW you are (at least Brunel!) some book recommendations:
First up, James Gleick's The Information, available as an excellent audiobook which is a huge boon to the hard-working monster-toe animator. It's got a whole giant chapter on Babbage and Lovelace, which I confess I listened to with a bit of trepidation.. it's hard not to start feeling just a little proprietary about those two crazy kids! Happily not only did I not need to start yelling, "No it wasn't like that at all!!", but I even got a new Fact. Ready? Here it is: Babbage's allowance from his hated father, during the period of his dependence, was £300 per annum. By an odd coincidence, this is exactly the sum of Lovelace's allowance from her resented husband; with the added sting that it was her own dowry that was being dripped out to her.
Okay possibly I'm a little bit running out of really great Facts…
Anyways it's a fantastic book, recommended to anybody especially if you're kind of interested in the history of this stuff but aren't sure where to start.
The other book you should all run out and buy immediately is The Intemperate Engineer, the journals and letters of that other Giant Ball of Awesome, Isambard Kingdom Brunel. Crammed with personality and engineering, with terrific opinionated commentary by the author Adrian Vaughan, if you read one book about any of the 2dgoggles characters it should be this one. Contains every possible way of IKB being surprised by the incompetence of everyone around him ("…I do not believe a workman would have thought of using it in the most contemptible worst managed shop in England.." "…I am compelled to believe that the delay arises from the greatest apathy and negligence and a total disregard for my orders.." — I found these by opening to a random page). Also, absolutely fascinating stuff about early railways, etc etc. — and, words to the wise, to a friend considering giving up his day job to be an Artist:
If you give up the school let me entreat of you to slave. To compel yourself to complete certain things by certain times– and let me entreat of you also to produce somehow or other more in quantity each year whether for commission or not — what I dread is the effect of your being left without any irksome compulsory duty– nothing induces more time spending (I must not call it idle) habit than the absence of compulsion…
Brunel demands MORE COMICSl!!! Now back to my irksome compulsory duty..