Belated, but (somewhat) more sober notes on the Organist 10.
.
Wheatstone
– "Wheastone has given me some very striking counsels. I did not think the little man had such depth in him. I can't write it all to you, or even a small part, but I know you will agree fully, with him when you do hear it." — Lovelace writes this to her husband, in regards to Wheastone's schemes for Lovelace's scientific writing career, or else it's about the world domination plans. We may never know!
.
The Organist
– Here is some visual reference of that Shadowy Kingpin The Organist being EEEEEVIL:
.
Machines that have absolutely nothing to do with each other that coincidentally use similar mechanisms to perform operations to pre-defined patterns
– This enchanting little machine is a serinette or 'bird-organ':
These machines go back to the early 18th century, and I'm told the purpose of them was to teach canaries to sing (though surely it would be starlings that can learn tunes?). Ada Lovelace was an enthusiastic keeper of birds- she and Babbage were both big animal-lovers– isn't it nice to think of her having demonstrating one to Babbage? It's not very loud and he could have watched the mechanism!
– Babbage's Analytical Engine used both peg-barrels and punchcards. The punchcard roller from which our heroes are fleeing is of this kind:
.
– The Genius/Music chart–
Babbage gives us a single data point on this issue:
This is simply not enough information from which to construct an accurate chart, so I you should know the Genius vs Music Exposure graph in the comic should not be used in any citations. I thought of just having a simple linear progression, or else maybe the effect only really sets in under severe exposure? However given the unending cliffhangers of this storyline and the extreme levels of music to which pocket-universe Babbage is subjected the inevitable convergence on zero was too dire to contemplate. So I went with a tapering slow-in and slow out of the effect:

In actuality it could actually be anything really– I mean it could be a bell curve where at some point the effect reverses: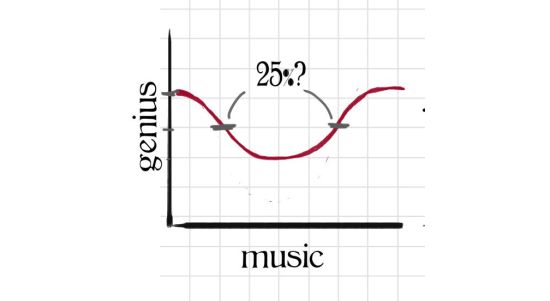 But that would just be silly.
.
IN OTHER NEWS..
I am reentering Gainful Employment in a couple of weeks, this is what I'm doing: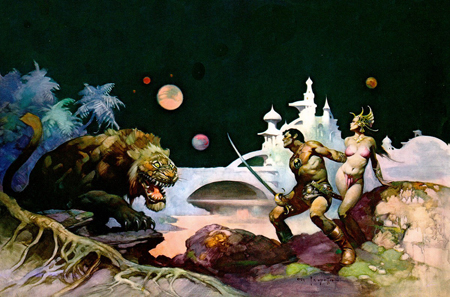 I spent all weekend trying on metal bikinis and turns out they want me to play the Giant Monster! Oh well. Fear not for the continued life of the comic however! Perusing the history of postings to this site I'm surprised to see that I'm producing very nearly as much comics when I'm on a film as when I'm not.. I think when I have too much time on my hands the comic becomes more of a 'job' and loses the all-important feeling of skiving off that is so essential to creativity.
Sorry to be so late on replying to comments, I'm several months late at this point I believe. At some point I will compose replies, no doubt long after the original commenter has forgotten they ever read the comic. Please believe that I love each and every comment I get and my only difficulty is in making an adequate reply.