The Copenhagen Interpretation, Part One!
It has been observed in a vacuum, that comics spontaneously and randomly disappear, and then equally inexplicably reappear. Please enjoy the following fluctuation.
Ladies and gentlemen,the graphical web post you are about to read was not photographed in a studio.


There are 8,674,256 stories in the naked city now, and this hasn't even been one of them! Part two of three? Probably? Don't believe it until you see it!
Hey remember when this comic had NOTES all over the bottom half? Do you feel young again?
— The population of the naked city in 1851 from here (is Lovelace and Babbage's jurisdiction inner London or greater London? I'm using greater London.. more London, more naked stories). The population of the city had an annual growth rate of 1.9% on average over the century.
— Babbage gives the rate of increase of humanity in general as a positively explosive 6.7% a minute in his justly famous correction to Tennyson:
"In your otherwise beautiful poem one verse reads,

"Every minute dies a man, Every minute one is born;"

I need hardly point out to you that this calculation would tend to keep the sum total of the world's population in a state of perpetual equipoise, whereas it is a well-known fact that the said sum total is constantly on the increase. I would therefore take the liberty of suggesting that in the next edition of your excellent poem the erroneous calculation to which I refer should be corrected as follows: "Every moment dies a man, And one and a sixteenth is born." I may add that the exact figures are 1.067, but something must, of course, be conceded to the laws of metre.
(at some point I will make it a mission to discover if this is an actual letter- transcriptions of it differ distressingly on small details. The furthest back I can trace it, at least without having to get up from the couch, is a footnote in an 1910 edition of Tennyson's poems).
— Babbage of course was a founder of the statistical society and a maniacal keeper of statistics of all kinds. Including of course CRIME! He is the 'eminent statistician' here:

— the demographics of the average criminal was the work of the french mathematician Adolphe Quetelet, with whom Babbage had a mutual admiration society. You can read all about him in Tales of Statisticians, including his theory of the "normal man". His 1842 crime statistics are fascinating and can be read here in A Treatise on Man.
— Babbage the determinist was a common Victorian trope, there's even a bit poetry about it:


This is on account of his spectacularly weird and brilliant Ninth Bridgewater Treatise, from which some of his dialogue above is taken. You can enjoy the whole thing here, or better still read the reviews— even the Babbage-boosters at Mechanics Magazine sum it up with: "Some chapters have no end; many more have no beginning; one at least may be fairly said to have neither beginning, middle, nor end."
— Victorian police were commonly known as "Peelers", being founded by Prime Minister Robert Peel; as Lovelace and Babbage were installed by Wellington they are respectfully known as "Wellies"
— my amazing comics working method: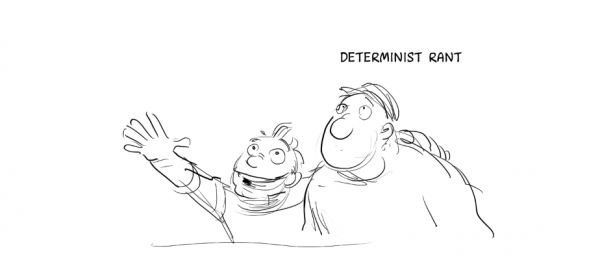 — This comic was drawn because I'm not supposed to be drawing Lovelace and Babbage comics right now, which appears to be the optimal frame of mind for drawing Lovelace and Babbage comics.