The Marvellous Analytical Engine- How It Works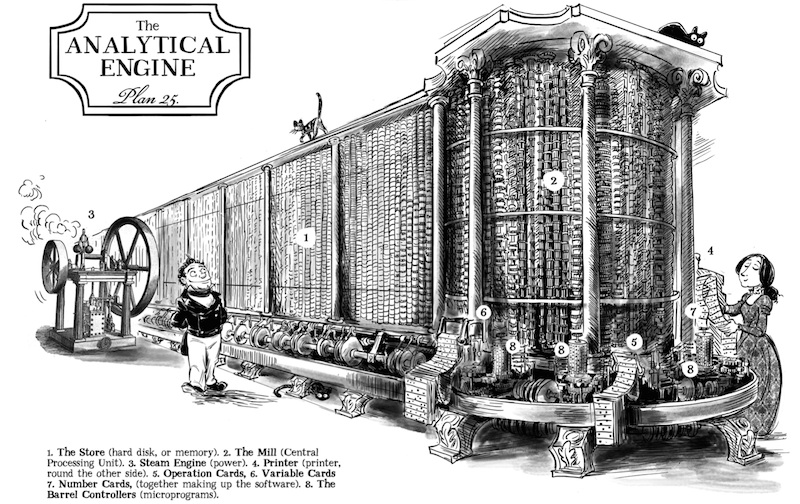 Hi All! As promised: Babbage's Analytical Engine, how the heck did it work?
If you're new to this website, you may be only dimly aware of Charles Babbage's marvellous yet mysterious Analytical Engine, the first design for a real computer, from the 1840s. It had programs, memory, cycles, loops, and all sorts of computery things despite being constructed entirely out of brass gears and powered by a steam engine. When I started this comic I was extremely frustrated by the vagueness of nearly every single description of it. Eventually I had to build my own,  in computer-generated form (how meta!). I found out that it's not only a delightfully beautiful machine jam-packed with ingenious devices, it's also considerably easier to understand than a modern computer. How the heck do those things work?
The Thrilling Adventures has an appendix with many diagrams and explanations of how the Analytical Engine worked and how it relates to modern computers, but I think despite the pleasures of print the broad operation of the Engine is most clearly explained by animation. I hope this video makes it clearer– I should stress that a) this is a super-simplified, cartoon, stripped-down version, and b) this is the best of my understanding, gleaned from the papers of the late Allan Bromely (lent to me by John Graham-Cumming, thanks John and I'm totally returning them I swear!!) who wrote I think the most complete modern descriptions of the Engine. I could be SO TOTALLY WRONG on a lot of stuff. So that said, here we go (I um and er a lot less after the first couple of minutes I promise…):
Historical note: I had a moment of sisterhood with Ada Lovelace when I was writing out how the Engine worked. In her correspondence with Babbage while writing her famous Notes on the Sketch of the Analytical Engine, there's a little exchange between them that neatly displays their personalities. Babbage writes:
There is still one triffling misapprehension about the Variable cards—A Variable card may order any number of Variables to receive the same number upon theirs at the same instant of time—But a Variable card never can be directed to order more than one Variable to be given off at once because the mill could not receive it and the mechanism would not permit it. All this was impossible for you to know by intuition and the more I read your Notes the more surprised I am at them and regret not having earlier explored so rich a vein of the noblest metal.
To which Lovelace replies with the harassed tone familiar to someone buried under piles Analytical Engine diagrams:
I cannot imagine what you mean about the Variable-Cards; since I never either supposed in my own mind that one Variable-card could give off more than one Variable at a time; nor have (as far as I can make out) expressed such an idea in any passage whatsoever.
This is the sort of thing one glances blandly at when reading historical correspondence, until one finds oneself writing: "The Variable Cards then read off the numbers on the addresses into the Mill".. and then scrupulously adding "ONE AT A TIME" as the ghost of Charles Babbage hovers anxiously over one's shoulder…
Anyways if you are super keen on this stuff and want to see specifics of some of the thousands of little levers, here is the video on the anticipating carriage for carrying the ones (that still by the way leaves out some bits). Babbage would be beside himself with delight that the first question asked a talk I gave on the comic at Google was how he planned to carry the ones! This part of the Engine was Babbage's proudest achievement, he called it 'teaching the Engine to foresee, and to act on that foresight'.
(I have a few more videos on the Engine on YouTube, though they have less explanation, which you may consider a feature.)
ALSO- by popular demand, you can now buy prints of the Analytical Engine visualisation in glorious Technicolor! (a previous post explained why the colours I chose to paint the Engine are so.. festive). I have some new tshirt designs and a couple of more prints on the way, as soon as I have a half a second which I currently don't.
Many are asking, will there be more Lovelace and Babbage? The answer is YES! But you'll have to hold on a YET couple of more months. As some of you may know, I am only a fearless comic-drawer by night; by day I battle giant monsters in the glamorous yet terrifying colosseum of visual effects animation.
In the meantime you can feast your eyes and ears on my flyaway hair and become thoroughly sick of my insufferable squeaky voice on several interviews (not a complete list.. more to come!), legacy of my Book Tour of Doom which I must tell you all about sometime when I have a sec. Also, I'm relieved to report that after being braced for brickbats and jeering if not total baffled silence, there's a whole bunch of great reviews out for The Thrilling Adventures of Lovelace and Babbage– links to a bunch at the bottom of this page.
AND FINALLY.. if you are around London this coming weekend you can catch me at the Stoke Newington Literary Festival on the comics panel on Sunday.