So although I finished up on the virtual Giant Monsters a couple of weeks ago, I still had to face ACTUAL Giant Monsters in the form of a live audience at The Story last Friday. A great time was had by all, including even me when I emerged from my haze of terror!
I've assembled a slideshow of my talk– with the warning that THIS POWERPOINT CONTAINS SPOILERS FOR THE ORGANSIT! It's about 15 minutes long; that incoherent high-pitched squeaking you hear is me erming and ahing and forgetting all my brilliant punchlines.
I believe you can see it a bit bigger onsite at myplick.
I also did a little comic for their handout newspaper thingie (click for larger):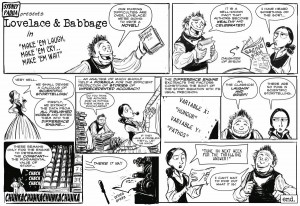 Footnotes to the comic!
–"Make 'em laugh, make 'em cry, make 'em wait" was the motto of Wilkie Collins; he was pretty good at it, as anyone kept up until 3 in the morning by the last chapters of "No Name" can attest. Personally I've nailed the 'Make 'Em Wait' part.
–Charles Babbage did indeed propose writing a three-volume novel, as he describes in his autobiography: "solely for the purpose of making money to assist me in completing the Analytical Engine." On consulting with a poet friend, he received the dispiriting news that it was likely to cost him more to publish a novel than he would ever earn back from it.
–The Classics gag (Latin and Greek) is shamelessly robbed from Alice in Wonderland; Laughing and Grief are amongst the subjects (along with Drawling, Stretching, and Fainting in Coils) included in the excellent education of the Mock Turtle.
–In her Notes on the Analytical Engine, Ada Lovelace speculates that the Engine could potentially "compose elaborate and scientific pieces of music of any degree of complexity or extent."– that is, " supposing that the fundamental relations of pitched sounds in the science of harmony and of musical composition were susceptible of such expression and adaptations". Computer-composed music has been achieved; the world still awaits scientific storytelling.
AND, if that's not enough crazy overexposure, I'm going to be on the ShiftRunStop podcast this week, where they have inexplicably asked me to appear despite having heard my Smooth Dulcet Tones at The Story.
This entry has been heroically posted inbetween hockey periods.