The Thrilling Adventures of Lovelace and Babbage- BOOK!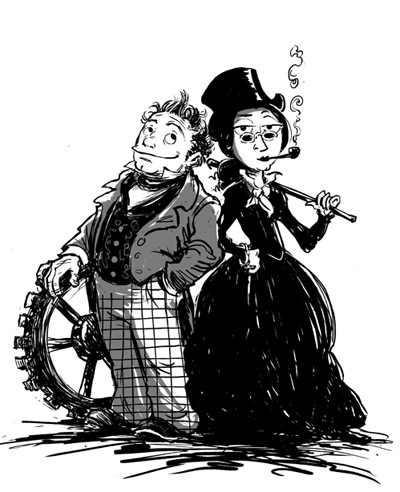 This week (well, last week) marks the three-year anniversary of The Thrilling Adventures of Lovelace and Babbage.
I hardly know whether it feels as though I've been drawing these forever, or if it's impossible that I've been drawing them so long. What started as a punchline to a one-shot comic– hey, wouldn't it be hilarious if there was a comic about Ada Lovelace and Charles Babbage fighting crime? –has evolved into… well, a really really long punchline. With footnotes!
Now it my great pleasure to announce that this humble comic has been elevated to the PANTHEON one might say, actually, one would definitely say, because Pantheon Books has heard your pleas (a lot more effectively than I have it seems) and we are going to do Lovelace and Babbage: The Papery Thing with Ink On!
Pantheon is the legendary publisher of Very Important Graphic Novels Maus, Persepolis, and Habibi, so, you know, NO PRESSURE. As you may imagine I've spent the last couple of months alternating between lurking in Gosh Comics muttering, "Do you have any idea who I am?" and hiding under the bed. Not to mention, quivering with the need to tell someone!
Fair warning: if you start queuing now outside your local bookstore bring a lot of jerky and evaporated soup as it's going to take me a year of hard drawing to get this thing done! Now I know what you're asking yourself: 'What does this mean for ME, the long-suffering 2dgoggles Comics Consumer, the very incarnation of Patience on a Monument? Have I not gone without Lovelace and Babbage LONG ENOUGH??"
FEAR NOT Citizens! Mine has not been the blank, barren silence of the indolent layabout, but rather the expectant, the pregnant silence of Feverish Labour behind the scenes!
USER EXPERIENCE, my bells-and-whistles experimental extravaganza has endured some delay, as I was in the throes of negotiating with Pantheon. As it turns out they are awesome and totally cool with me putting it up here for your enjoyment. As a great deal of it is drawn already expect a sudden sharp shocking increase in the usual pace of things around here. So stand by for that!
Poor Vampire Poets, of which I am so very very fond, continues to be under a Mysterious Curse and will have to endure another several months in the coffin, I'm afraid.
Anyways..
I would like to thank all you wonderful readers for being so supportive of this odd comic-shaped pocket universe. I was not setting out to do a graphic novel; as far as I can recall, I don't think I was setting out to do anything but enjoy myself, advance my craft, and avoid working on the stuff I was supposed to be working on. It has cost me much labour and not a little stress but your kind comments, enthusiasm, and patience have kept me doodling away. Lovelace and Babbage have not only been excellent company themselves, they have been my means of introduction to so many wonderful, fascinating people. So thank you all! and many many more comics soon!