The Usual Grovelling; Brunel Beefcake; Musical Tortures; Thaumatrope, and Caption!
I know everyone is used to the blistering pace we usually set around here at 2dGoggles Amalgamated Comic Industries, but apologies for the long pause.  Get used to it, loyal fan base, as day job is entering the phase technically known in the VFX business as AAAAAAAAAAAH!!!!!
Throwing a chunk of hunky red meat to you baying hounds at my heels, here's some Brunel beefcake I mysteriously found time to draw: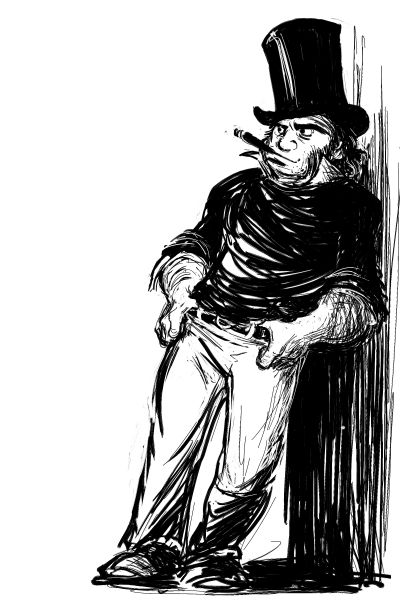 This was actually very necessary preparatory groundwork, as there's a lot of Brunel, and coffee, in next episode.  I've also devoted some time to an exhaustive search for the all-important Brunel theme song.. SORTED:
I always like to have a soundtrack for every project I work on.. heck, I have individual soundtracks for every character, or sometimes every shot. Funny that way. The nifty 8tracks.com thru the magic of computing and the even more mysterious magic of copyright law naviagation allows me at last to present a Selection of Musical Stylings from my internal 2dgoggles sountrack:
Tracks are:
A Drop Filled With Memories x Susumu Hirasawa
Album: Paprika (Original Soundtrack)
The Calculation x Regina Spektor
Album: Far
Texas Eagle x Steve Earle & The Del McCoury Band
Album: The Mountain
Enterprising Young Men x Michel Giacchino
Album: Star Trek
M79 x Vampire Weekend
Album: Vampire Weekend
Humpty Dumpty x Aimee Mann
Album: Lost In Space
Discombobulate x Hans Zimmer
Album: Sherlock Holmes
Extraordinary Machine x Fiona Apple
Album: Extraordinary Machine (John Brion)
Human x The Killers
Album: Day and Age
"Texas Eagle" is the alternative Brunel song because it's cool and train-y; 'Enterprising Young Men' I kept listening to over and over when I drew the Difference Engine interiors that open Economic Model pt 2. "Humpty Dumpty" is a painfully appropriate Ada song for her descent into Poetry addiction.
What else… a few weeks ago I was doing some clearout of the Old Homestead and came across this:

Made at some indeterminate point in my Youth. A most serendipitous find, as not only is it Alice-related, that, my friends, is a Thaumatrope, the invention of which is sometimes credited to none other than Charles Babbage! Of course it's also sometimes credited to Roget, of Thesaurus fame, and Herschel, of astronomy fame, and a few other random guys in waistcoats. Nobody assigns it to Wheatstone, whose optical toy invention was the stereoscope– I've been trying to come up with a cut-out-and-keep stereoscope but it's not QUITE so simple as I would like. Nothing could be simpler than a Thaumatrope however so here is one for you Kids to Make at Home. Get a responsible adult to help you with the scissors, and if you can find a responsible adult, congratulations! and be sure to file the sighting with the RSPB. Click the image for the PDF.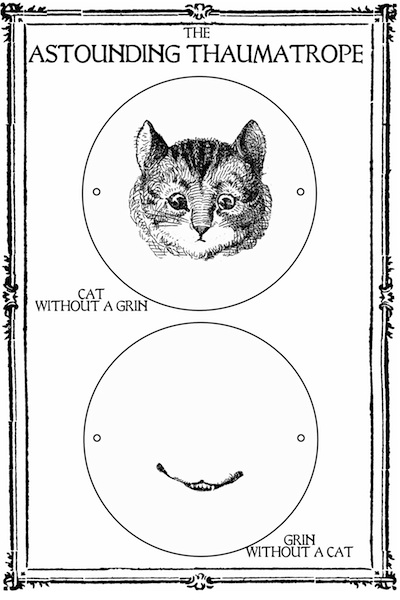 In other news, I'll be making an appearance — my VERY FIRST comic con appearance! of any kind! — at Caption in Oxford on the 31st of July and 1st of August. Not quite sure yet what this will involve, I guess I'll be on display on some sort of slowly revolving platform, with a small placard describing my History and Features. Please do not climb on the exhibit.
Anyways, that should keep y'all busy, Organist 6 should be up in a couple of days.. coffee! monkeys! Inspiration Speeches! Top hat conundrums!