Welcome to new Curious Onlookers sent hither by the divine Kate Beaton, cheers Kate!
I hope no one's put off by what will be a fairly long string of random meandering sorts of work-in-progress posts; User Experience will take me a while to put together and it's sort of one big blob that's hard to serialise.. you'll see what I mean, eventually.
An unexpected tax refund and the film industry's continued interest in Giant-Monster-strewn spectaculars resulted my profligate purchase of a 21″ Cintiq, which I got mainly for the large box it comes in in case I decide to do that book and have to move into it. The comic up until now has been drawn on a perfectly capable little 12″ model– if you're not into these sorts of gadgets, a Cintiq is a computer screen you can drawn on, like an ipad I suppose but you use a stylus and it's super-pressure-sensitive, so that it's very much like drawing on paper, except with 'Undo'. The drawing surface of the old one when you factor in the menus etc is about the size of a paperback book; the new one on the other hand is quite shockingly massive, as big as the big kind of animation paper and it dwarfs my laptop with isn't small: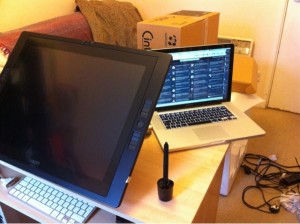 Aside from *yawn* actual work reasons, the main thing I had in mind for the bigger screen was backgrounds for the comic. Now I don't know if you've looked closely at the comic at all (I advise against it) but behind those sloppy awkward characters gurning in the foreground are a few straggly lines that are meant to represent The Wider World they inhabit. Not that I'm much of a hand at landscapes anyways but for sure the small drawing area is more hampering there than it is for the characters. First experiments on the new screen:
Room for improvement to be sure, but it would have been much harder to put that kind of detail on the little screen! Reference photos of London of this era I got from the gorgeous book Lost London, and this astounding post from Spitalfields Life (a great source of London lore in general).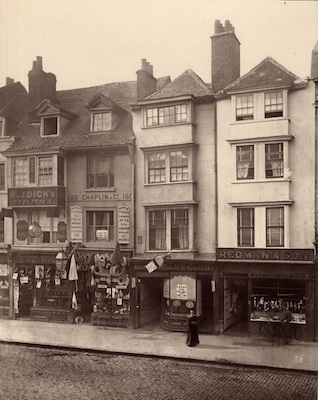 This is the 1840-50s London of Lovelace and Babbage, demolished with gleeful abandon by the modernising Victorians and their railways and thoroughfares! Oooh I need to have somewhere Brunel smashing through these lovely old piles with a wrecking ball.. progress, people! While rickety and drafty and infested with mice, these buildings have one great advantage, viz, that there isn't a straight line in them so it makes them much easier to draw.
The great problem now that the Wide World of Backgrounds is opening up to me, is that it's tempting me sorely to abandon my commitment to black-and-white. Here at 2dGoggles we live in a binary world of pure good in the form of Science, pure evil in the form of the Humanities, and two states, black and white, which admit of no messy ambiguities. In some ways life is smoother lived this way, except when it comes to drawing backgrounds where it is a bit of a pain in the ass to be absolutely honest. If you look at the first drawing up there even if my perspective WAS correct, which it isn't, it could never convey the same same sense of depth that two lazy minutes of throwing some grey washes on does: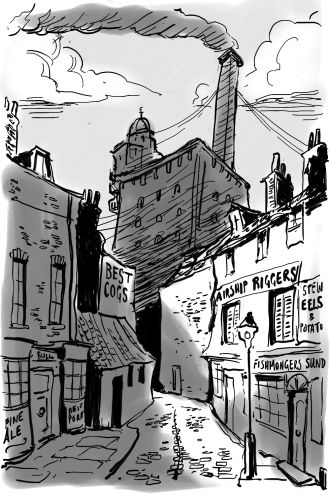 I could appeal to the Deity for guidance, by whom I mean Will Eisner..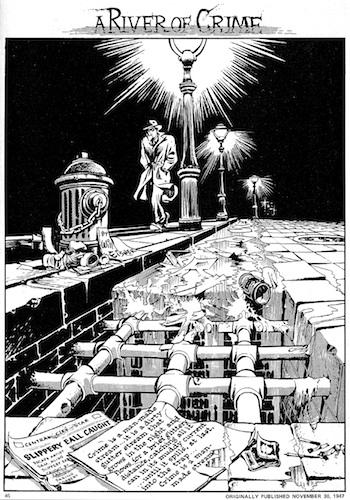 .. but even he used grey washes SOMETIMES! I shall experiment. Most of User Experience is set inside the Engine, which presents a host of difficulties, but maybe not ones of atmospheric perspective. We shall see.
Oh by the way the Difference Engine building is based on two structures at the south side of Tower Bridge stacked on top of each other; in the geography of the comic it's located in roughly the same place, without Tower Bridge of course which is too late period-wise, maybe a little further east down the river on the swampy, warehousey bit of Rotherhithe… Brunel's tunnel isn't far from there.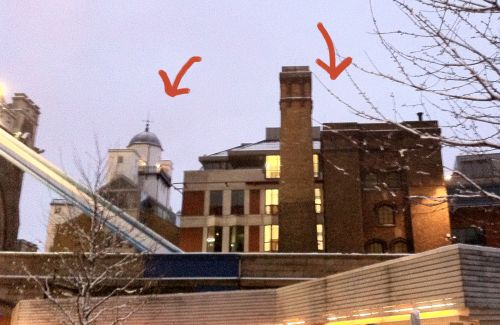 Each of these buildings is completely nutty in its own way, which is what makes them so very perfect for Babbage and Lovelace to inhabit.