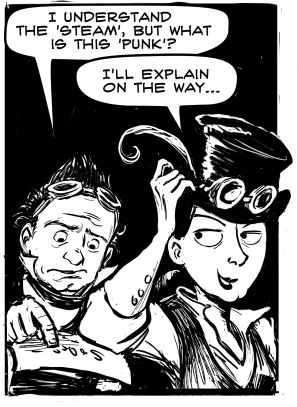 Despite the blog silence I have been drawing comics!!   The Museum of the History of Science Steampunk Exhibit opens on the 13th of October– the comic is  a 2-page insert for the Broadsheet . Thoroughly intimidated by the epic lineup of actual artists…
Giant monster conditions:  severe.  Comic output will continue sporadic.
Waiting-for-renders activity:  cataloging the gazillions of bookmarks on Lovelace and Babbage I've amassed.  Watching Google Books settlement with anxiety.. just don't take down my 19th century periodicals!!
Hampered by being unable to choose between "Vampire Poets" (The Vampire Menace combated with STATISTICS! It's Gothic! It's Horrible!  It's Gothic Horrible!) and "The Organist" (which I thought I knew where it was going, until I went to the Museum of Self-Operating Musical Instruments, and now I have a million new ideas for fiendish tortures).
Suddenly, someday, when you are least expecting it, the next Lovelace and Babbage episode will appear, and then you'll all be, like, "oh that's so 150 years ago".