So, Giant Monsters, wrestled!  And I don't mind telling you, I am KNACKERED. This is how it went down: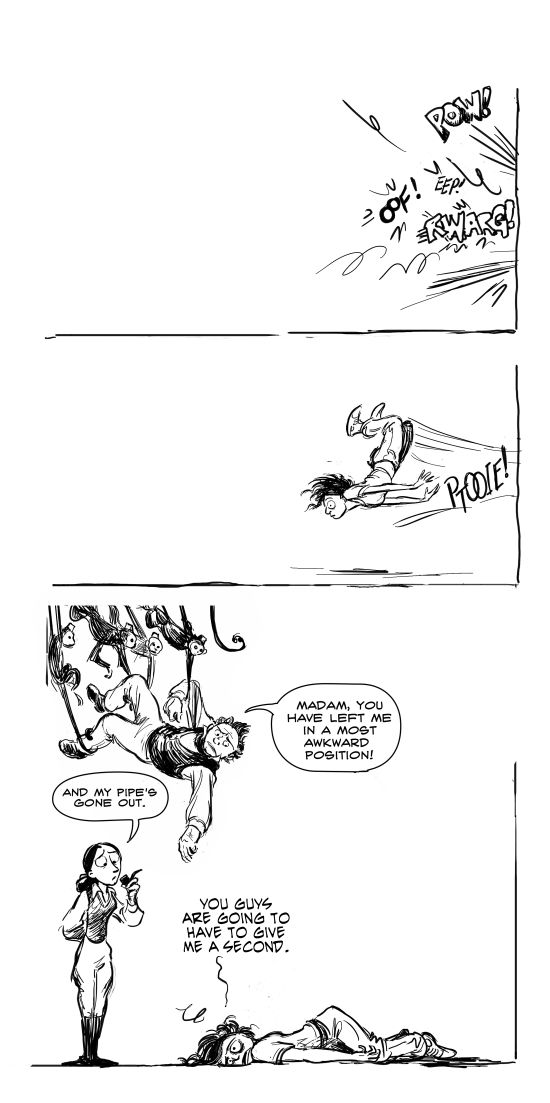 Your Intrepid Correspondent will need a small period of convalescence to recover her energies.  But fear not!!  There is no greater Balm To the Soul and Restorer of Animal Vigour than the Healing Power of DRAWING COMICS, so I'm aiming for Part 7 of the Organist to appear around the beginning of September.
A few small news items:
-The Amazing and Stupendous GEEK CALENDAR, starring a bunch of really cool people, and, for some reason, ME, is now available for pre-order.  No I'm not naked.  Why does everybody ask that?  It's to support libel reform in the UK, a subject of anxious interest to cartoonists and to all who value the basic human, and, indeed, simian! Right to Point and Laugh.   Early Birds will be put in the draw for Fabulous Prizes, including this drawing!
-I'm spending today cleaning up the sole page of the Salamander People quasi-episode for Steampunk Reloaded.  I'm disconcerted by the Borgesian metaphysics surrounding the unfinished, and even un-started 'Salamander People'– suspended somewhere between Being and Non-Being… does an Imaginary Story exist, or not exist?  Anyways this does give me an excuse to look at pictures of Giant Salamanders. Bet you thought I made those up, didn't you?
– On the Primary Documents front, check out this adorable engraving of Charles Babbage!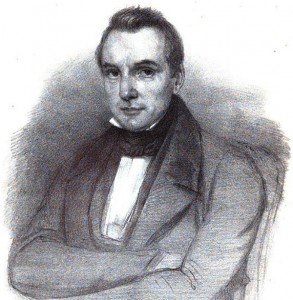 That's him in 1841, around the time he fought the Salamander People, or at least went to Mount Vesuvius.  Found via Google Books, in the Portraits and Biographies of Thirty-Six LIVING SCIENTISTS, if you read Italian there's a nice, if unsurprising biography following on that. I would like everyone to take careful note of how closely the top part of his hair accords with the comic, though I'm disappointed to see that he combed the sides for the occasion of having his portrait taken (and they've given him a regrettable, and inaccurate, Victorian-ized cupid-bow mouth). Don't you just want to hug him?