Babbage and Lovelace Vs The Client
Took me a while but.. prepare for A TALE OF TERROR! DRAWN FROM LIFE!!!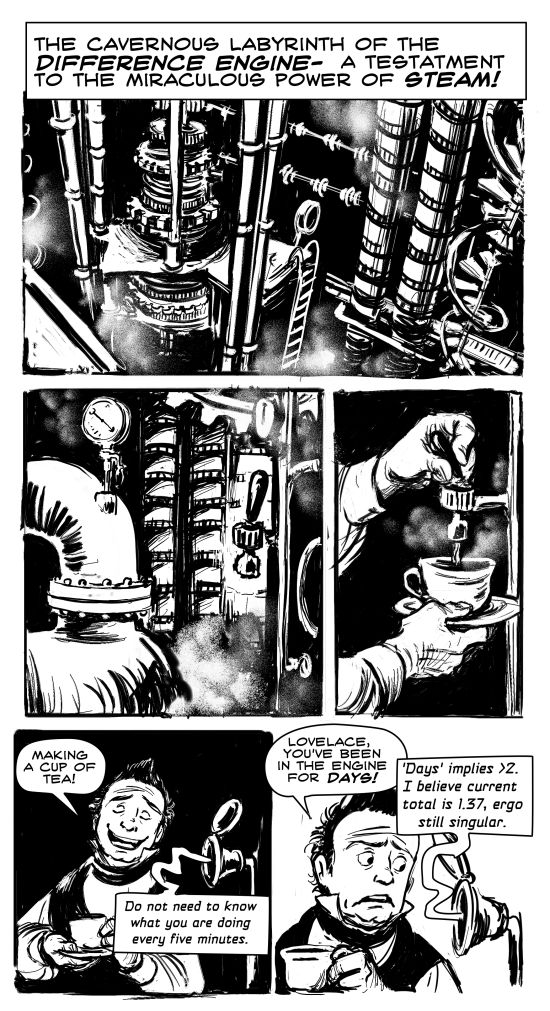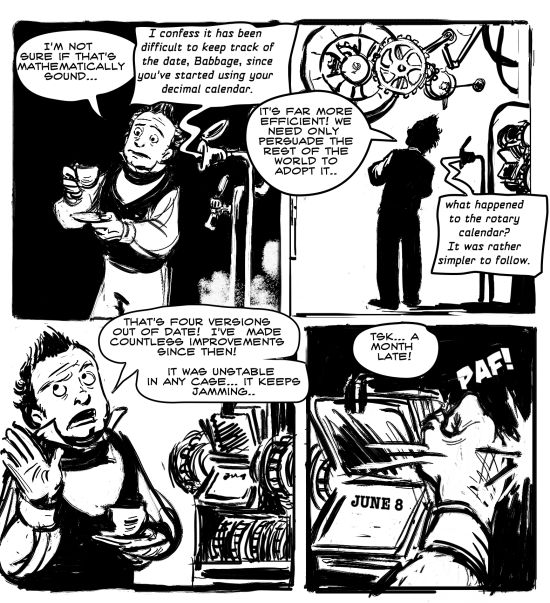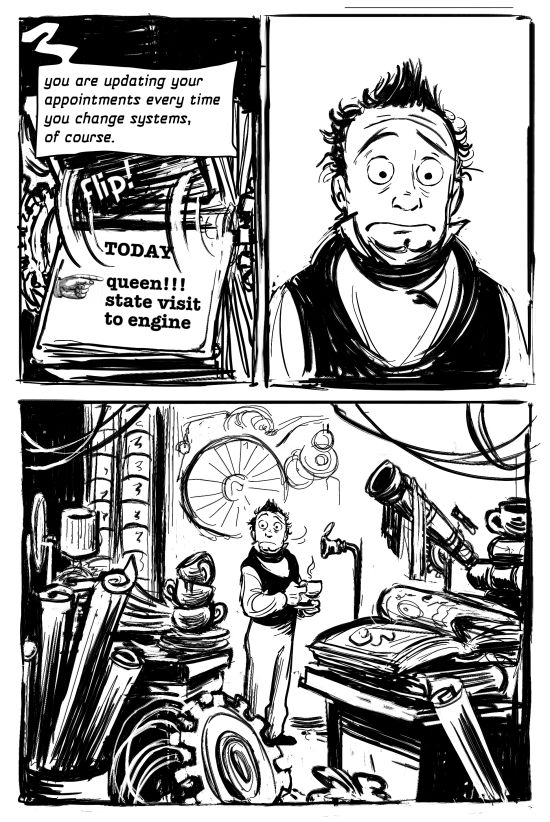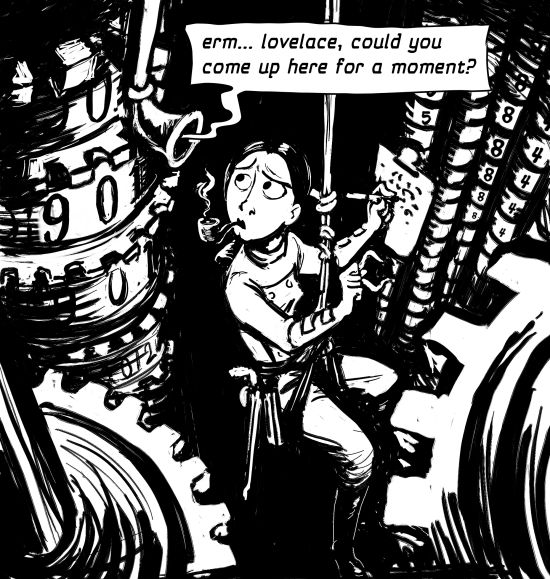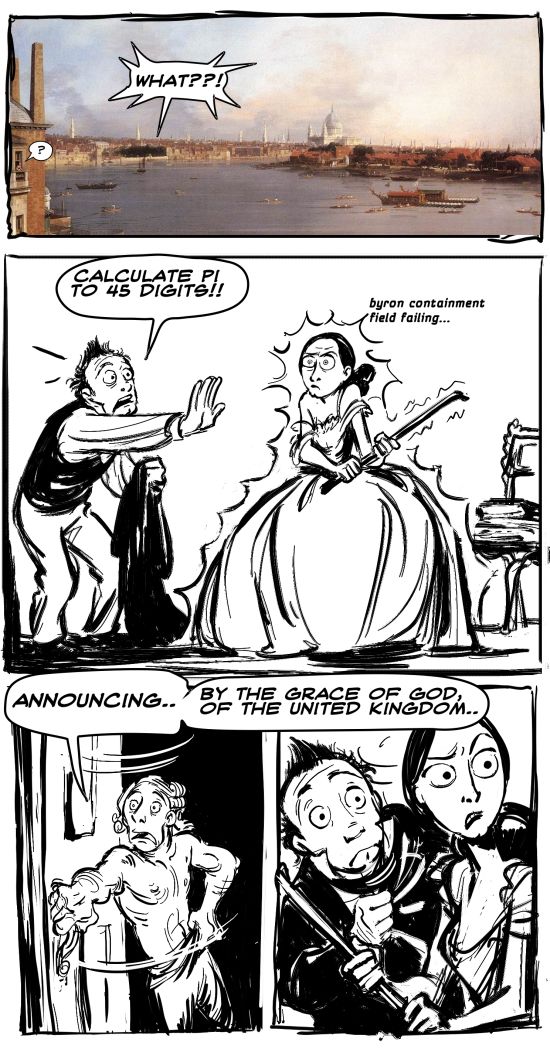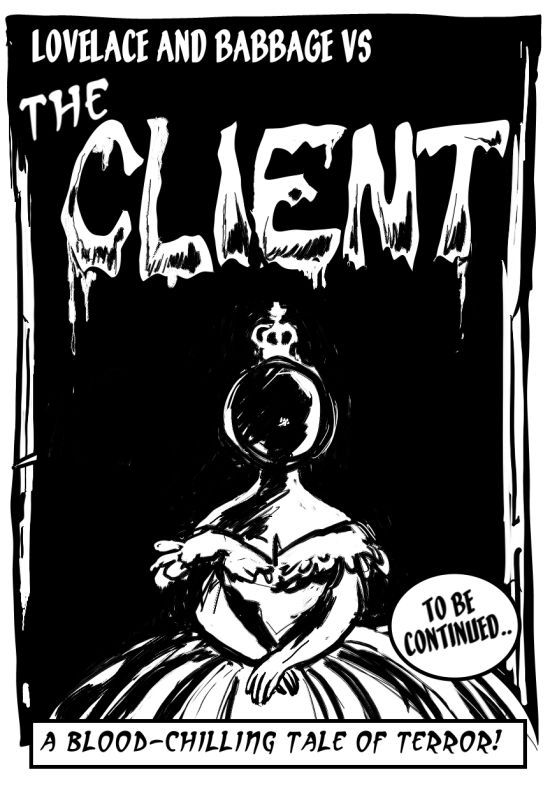 Notes! Beautiful notes!
–Footmen were selected for their fine physiques, so that drawing of Minion is of historical, not prurient interest, or course!
–Speaking tubes! Babbage advocates for them in Machines and Manufactures, along with his proto-twitter signal lights and steeple-borne message zip-lines. Prolific letter writer and relentless socializer Babbage was almost as interested in rapid communication as he was with computation, but his unfortunate location in the time-stream was just as against him there. He died the same year Meucci patented the first telephone. *sigh*
–Did Charles Babbage really try a decimal calendar? Of course not.. he was a perfectly sensible supporter of decimal currency (but if you want to see a truly awesome mechanical calendar have a look at this baby!) I'm also needlessly promulgating absent-minded-professor stereotypes here, as I have a feeling Babbage would actually have been a super-organized neat freak. True though is Babbage's famous and expensive habit of continually improving his inventions halfway through and abandoning the old model.
–That's Canaletto saving me a heck of a lot of annoying drawing there. Thanks Canaletto!
–Ada's Byronic Containment Field– I wasn't making that up in The Origin, about her mother's experiment in using Mathematics to contain poetry. A glance over Lovelace's biography shows this to have been a pretty epic fail. Byron himself, though he never saw his daughter, took a great interest in her and writes the following:
"Her temper is said to be extremely violent– is it so? it is not unlikely considering her parentage– my temper is what it is– as you may perhaps divine."
It's unfortunate that Lady Byron tried this experiment before the genetics work of Mendel, because then this outcome could easily have been predicted. Byron being obviously a dominant trait, we can make the following chart:
Byron X Mathematics produces:
2 x Mad Scientists
1 x Dangerously Repressed Mathematician
1 x Poet Using Experimental Meters
Can't argue with Science! In the pocket dimension in which this comic takes place (thanks Justin in the comments for the proper technical term!) the Ada Experiment may react differently to the allohistorical conditions.. time will tell!! Stay tuned!
Speaking of Rational Explanations, I've discovered why exactly the Difference Engine is that big:
The pocket dimension actually operates on a kind of inverse Moore's law, whereby computers double in size every few years. It is fortunate that the Difference Engine facilitated rapid technological expansion, as when it reached the time parallel to our own they had to colonize the moon just for storage!
In administrative news– By day I'm battling giant monsters (no, really!), so I'm trying to figure out the feasibility of these hijinks. I THINK I can keep a pretty steady pace of an episode every two weeks. I dunno. We'll see what the giant monsters think.
By the way– I'm painfully aware of the navigational mess that is this semi-comic-ish thing… anyone have any bright ideas for organizing this stuff better?