Lovelace and Babbage Vs. The Economy, Pt 2
Warning: this is MASSIVE. It's not proofread. It may well not make any sense. The pacing is weird because I kept coming up with gags halfway through. I didn't get around to the model sheets so Babbage looks different in every panel. Also, may contain nuts.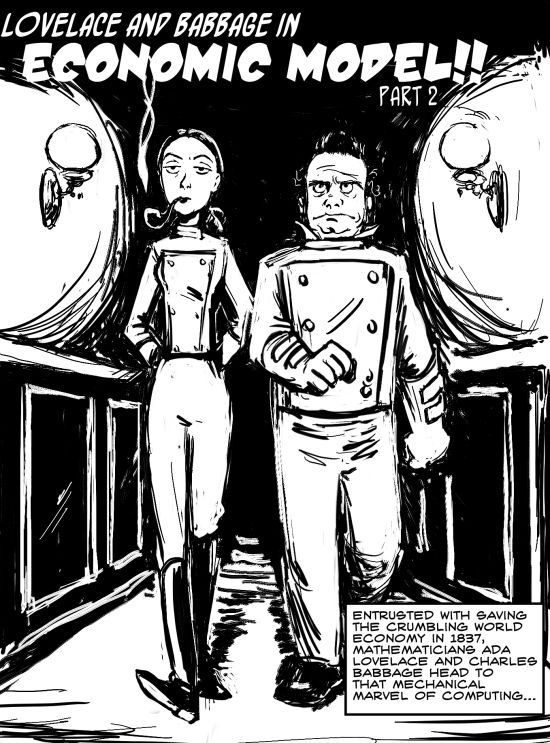 More after the jump INTO HYPERSPACE..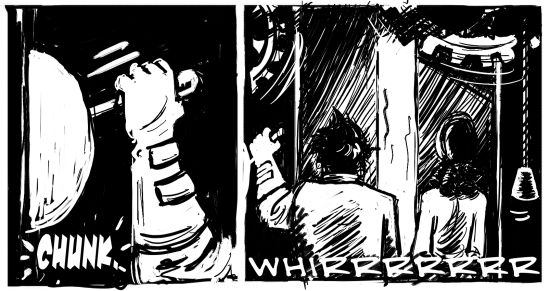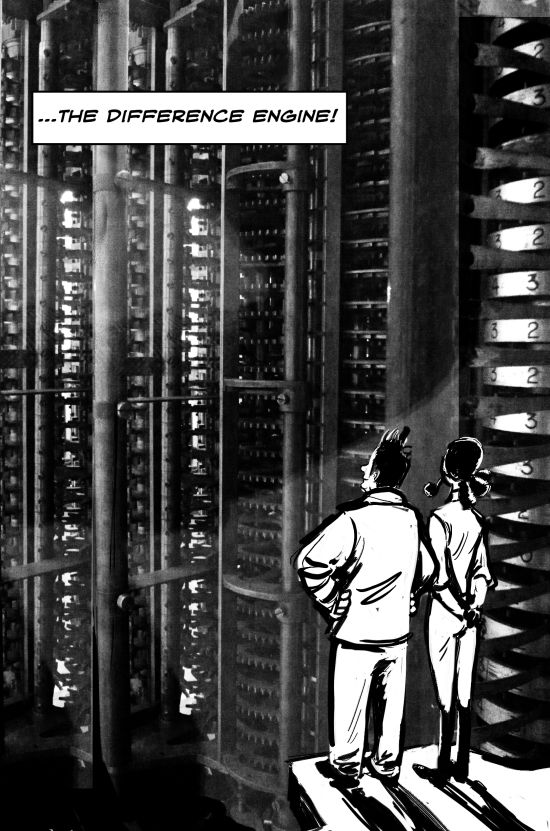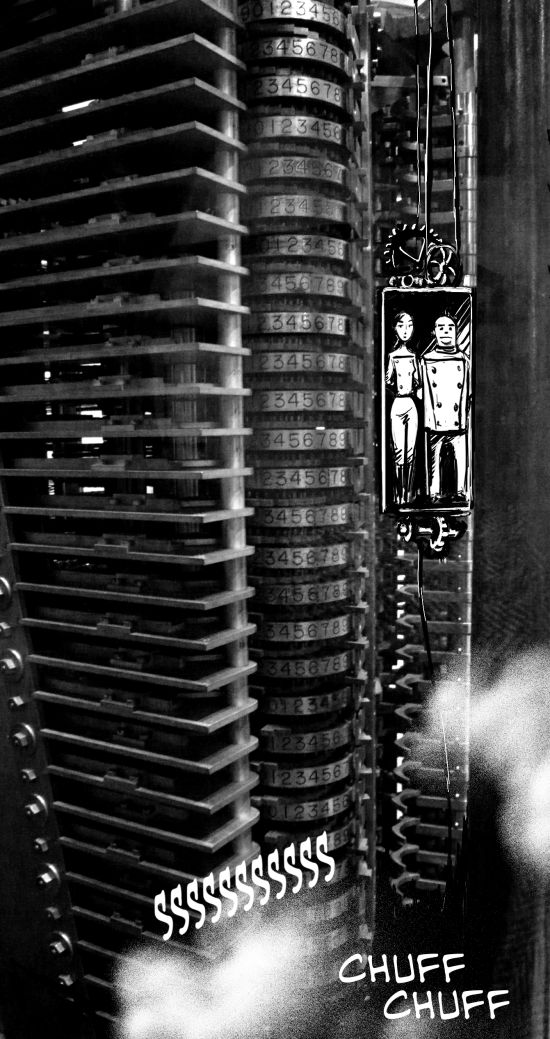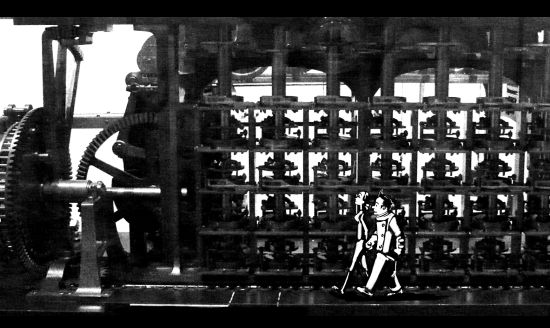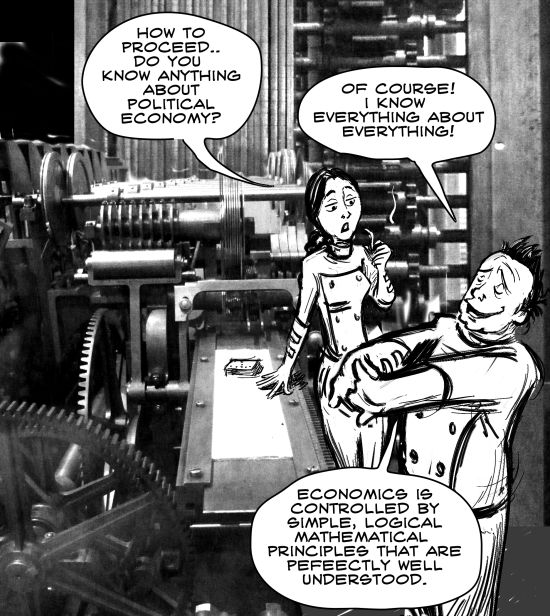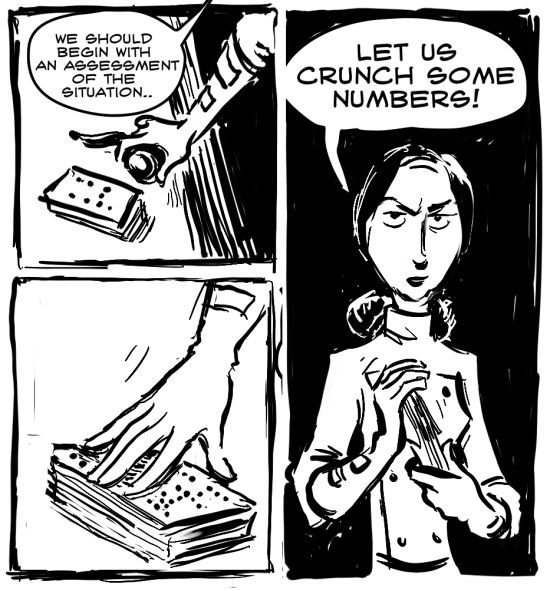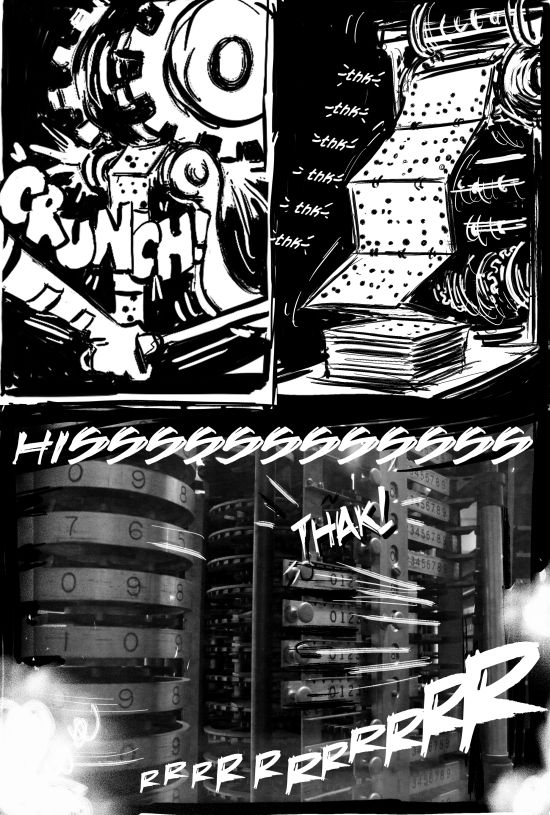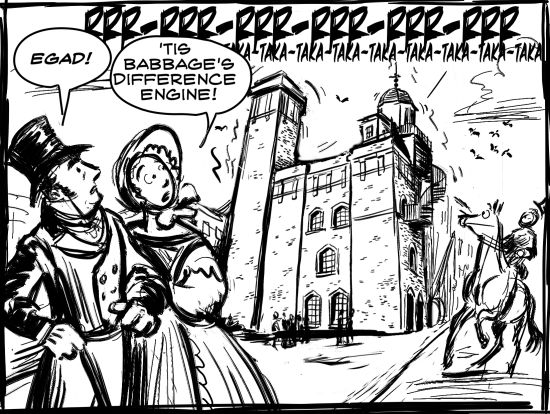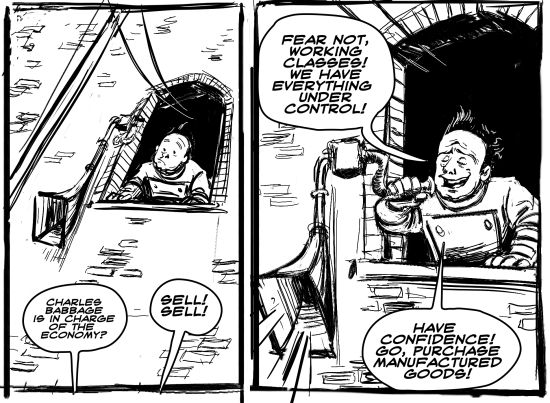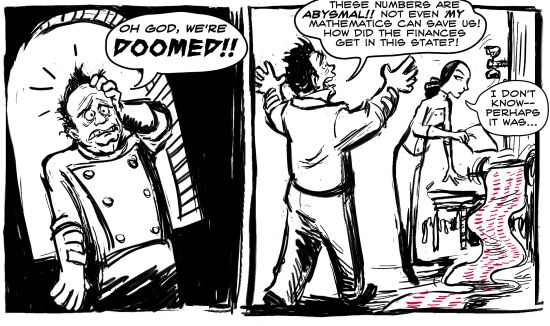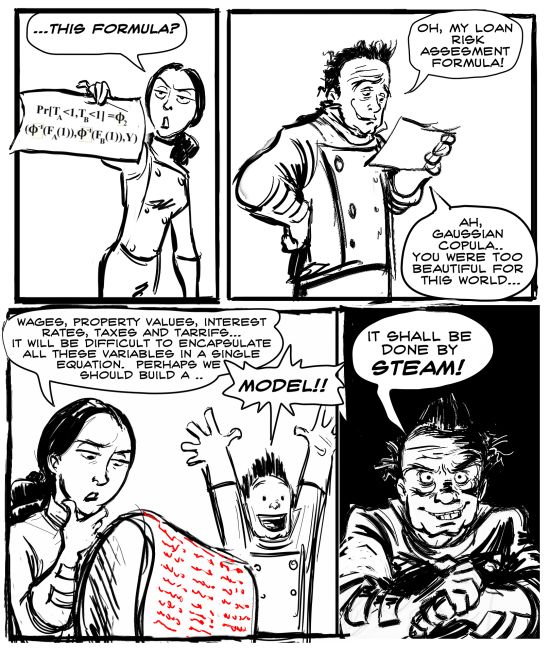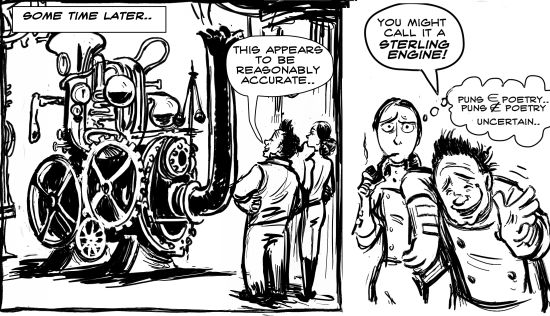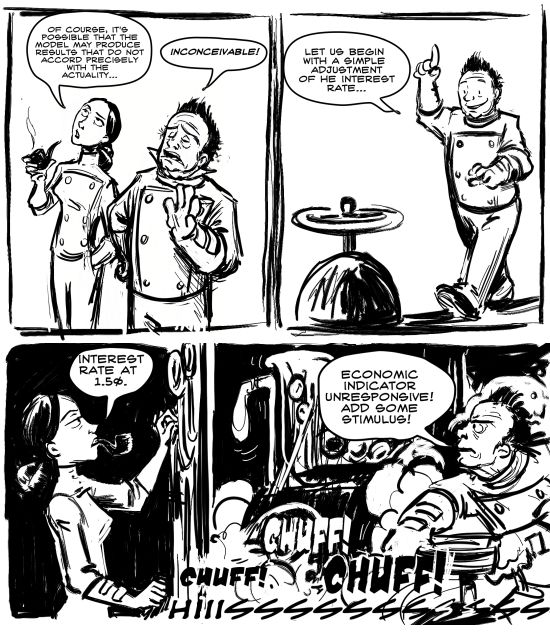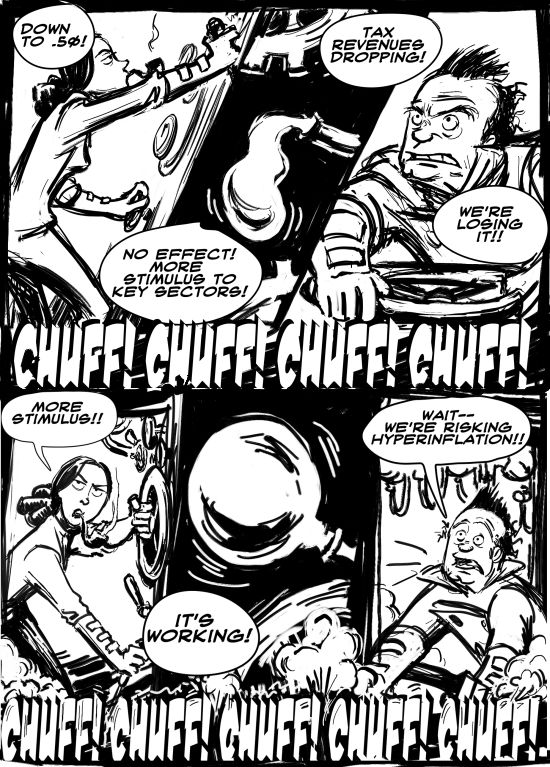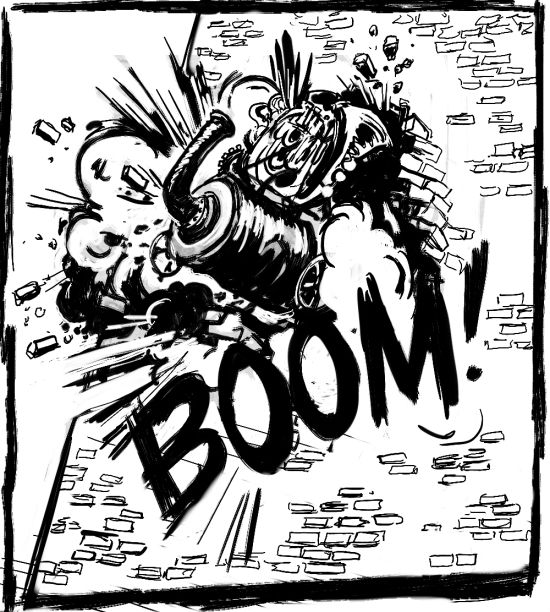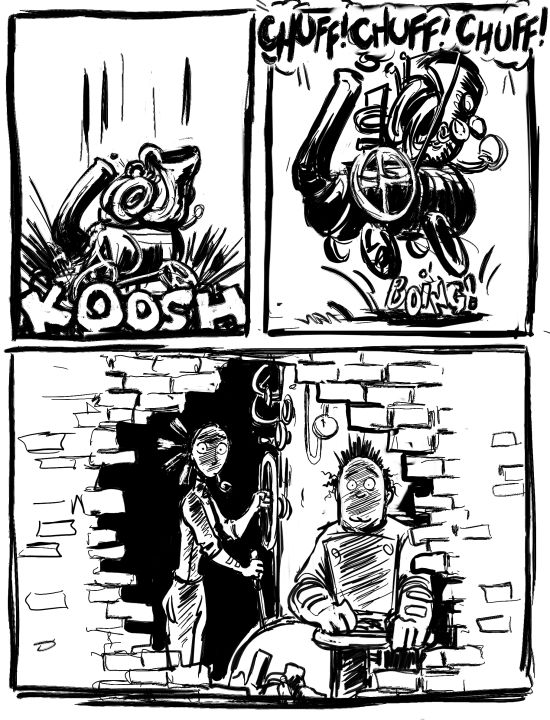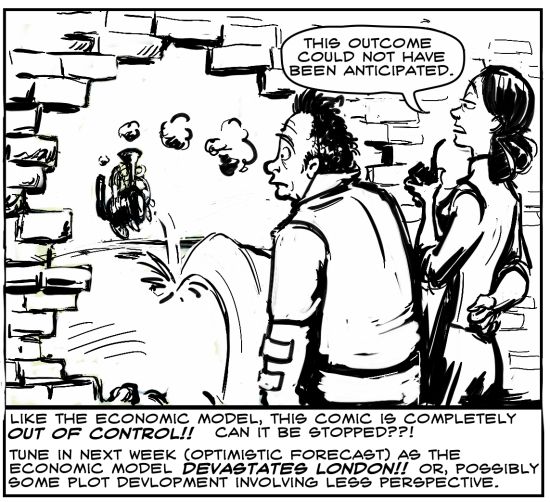 Historical Notes of Interest
–The Difference Engine: Is a very cool thing indeed, but of course it was not meant to be anywhere near that big. The biggest model in the Science Museum is roughly the size of a van. In theory, you could keep connecting together engines to have more and more functions– Babbage's later obsession, the Analytical Engine, was based on this idea. The machine in the comic is, properly speaking, an Analytical Engine as it runs on punchcards; but 'Difference Engine' sounds way cooler. This should have been explained to Babbage and then maybe he could have gotten his funding!
Someone utterly devastated me by informing me that the Giant Difference Engine has already been done, in "The Difference Engine" (which I haven't read) no less. I hate it when people from the past travel forward through time and steal my ideas!! In my defense I should say the idea is pretty irresistibly suggested to anyone pressing a camera up against the glass to take reference photos. In any case now I'm stuck doing at least one other episode because I want to draw Ada climbing around in the engine to fix a bug, like Scotty in the Jeffries Tubes:
–The Gaussian Cupola is apparently the formula that devastated our present economy; I read about in Wired like everyone else. It is not, of course, Babbage's!
–The economic model was inspired by the crazy MONIAC machine, a water-based economic model located almost directly across from the Difference Engine in the Science Museum. Terry Pratchett fans might recognize it from "Making Money"– it is, in fact, an actual thing. This comic does not take any stance on actual economic policy; I don't know anything about economics. Of course, it seems neither do economists, HAH!
What else… I'm worried I'm poking a little too much fun at Charles Babbage, a brilliant man who did in fact know a great deal about economics. He did though have an outsized personality and if nothing else, I'm glad doing this comic gave me a chance to meet him.