Lovelace and Babbage Vs. The Organist, Part 4
Too late have I realized this series should be called "Lovelace and Babbage Vs Organized Crime". Dang it! For the sountrack to the first part of this comic, press play: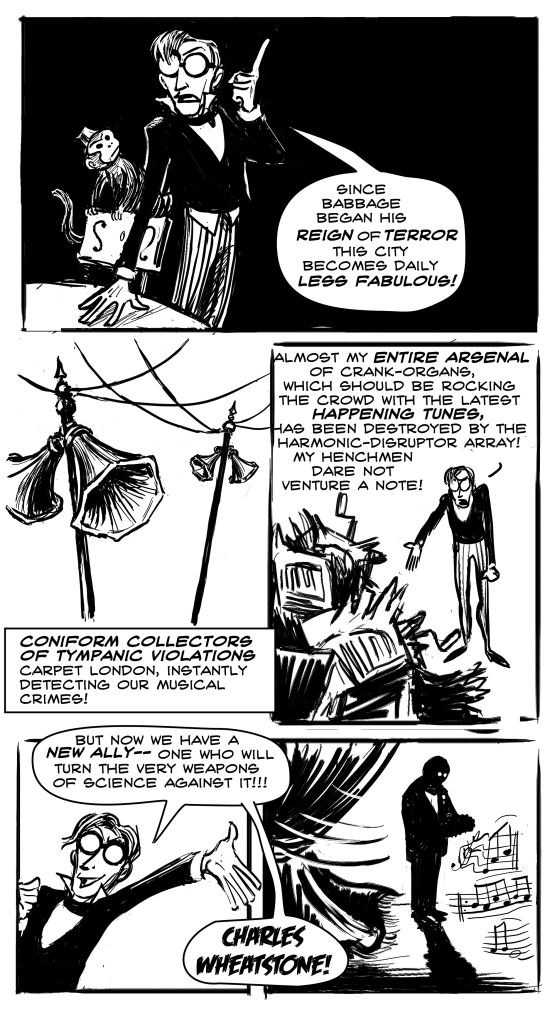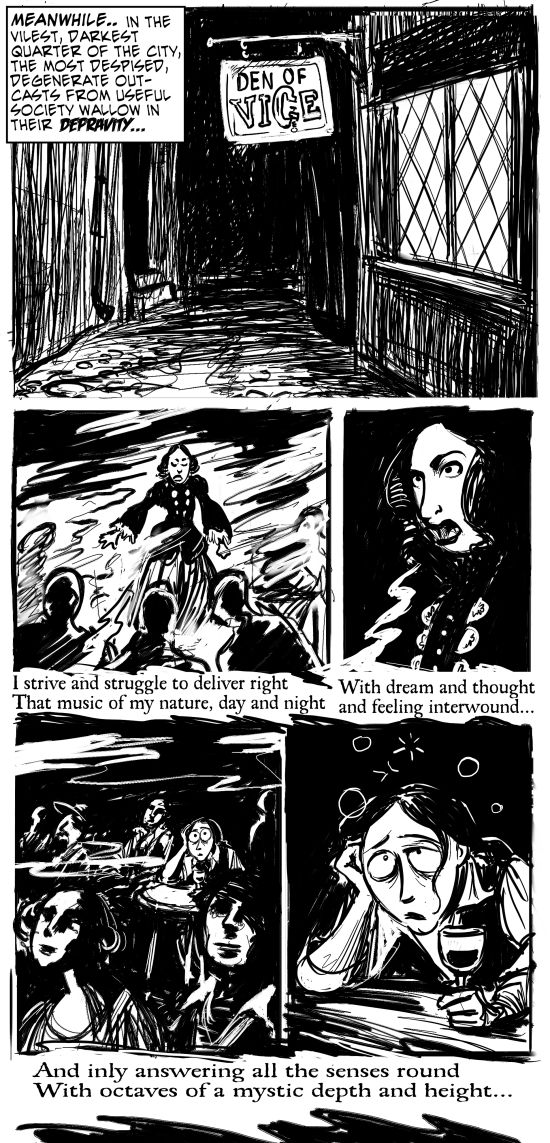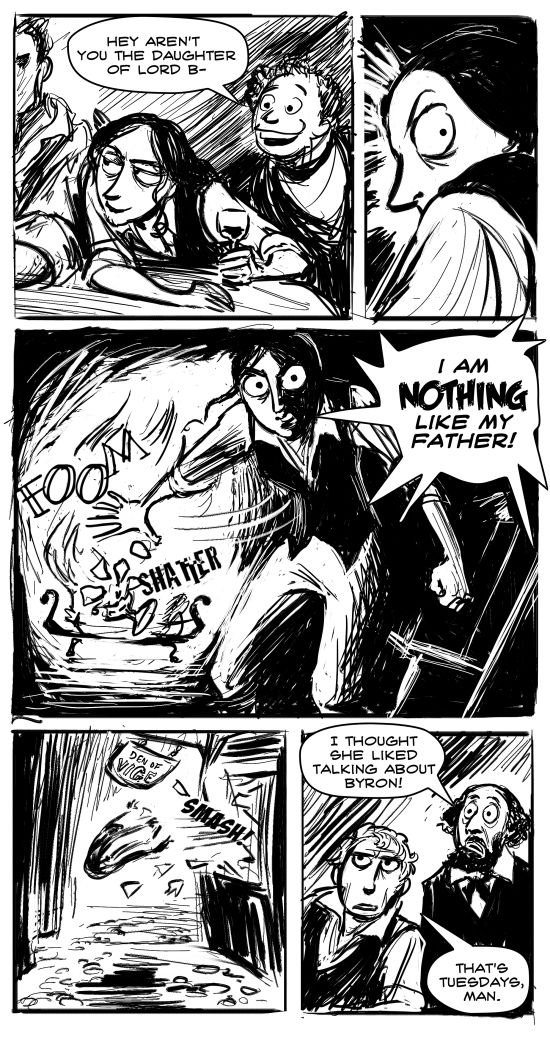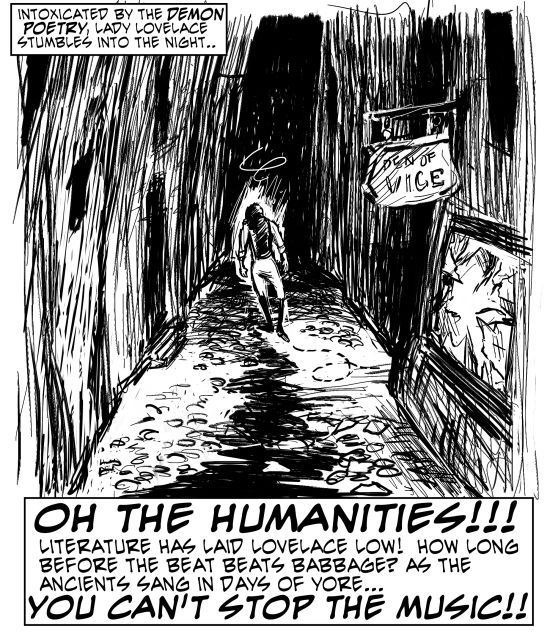 Music is the silence between the notes, they say, just as the comic is the bunch of drawings between these NOTES:
— Obviously the most historically problematic part of the comic is the inclusion of Brunhilde among The Sopranos. This ultimate iconic role wasn't performed until 1876- ALTHOUGH, it was created in the 1850s, so it's not as silly as it may have initially seemed.
— the Lair of the Organist is located in St Louis, Missouri.
— The Assorted Musical Miscreants, otherwise known as the Clockwork Quartet, feed me exquisite chocolates and and are here to raise the fashion tone around this comic.
— The Organist bears a suspicious, and yet Entirely Coincidental resemblance to Mr Bruce of The Correspondents, because every time I see that guy I think, 'that guy NEEDS to be a Super-villain'. Um, I hope that's okay.
Street Organists do in fact seem to have been a bit of a mafia. Babbage was not the only one to claim the organ grinders were a protection racket ("nice quiet street you got here. Shame if someone started playing a really loud organ."). Mostly the organs were owned by a central depot and rented out to hacks, somewhat like taxicabs. According to the Museum of Self-Playing Instruments in Kew, an automatic street-piano would cost 2/6d to rent per day in the 1890s from the Tomasso and Sons company- here's one from that very same nefarious organisation, enjoy!
Business idea: create virus that will autoplay barrel-organ music, with handy pop-up explaining music will stop with a donation to an untraceable account. Include cute monkey icon!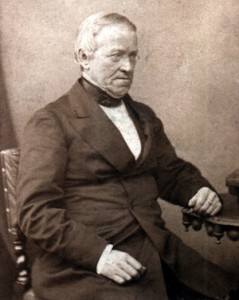 — Charles Wheatstone! So, I knew I wanted him in the comic for various reasons but I have to say he's given me a hard time. It turns out I've been spoiled rotten on the fantastic wealth of entertaining primary documents around Babbage and Lovelace, because would you believe it all I keep getting for this guy is a bunch of interesting scientific papers! What the heck is up with that? The one spark I'm trying to fan into a flame is that, while an inexhaustible talker in private, he was so terrified of public speaking that Michael Faraday used to have to give his lectures for him at the Royal Society. Also, I'm not sure if Babbage ever forgave Wheatstone for inventing the concertina.
With historical basis however is that he was given to Cunning Plans, one of which it involved our very own Lady Lovelace. From a late 1844 letter from Lovelace to her husband:
"I have had Wheatstone with me the last 5 hours.. he has given me much important information, & still more important advice. He is anxious I should take such a position as may enable me to influence Prince Albert, who is, he knows, a very clever young man."
The gist of the Plan was that Lovelace should get close to the Prince Consort and replace him with an evil automaton replica serve him as "a sensible adviser and suggester, to indicate to him the channels for his exercising a scientific influence." A large component of this long-range plan involved slowly building Lovelace's reputation by having her write translations and compendia of scientific papers from the Continent. It was in fact Wheatstone and not Babbage who had first suggested, nearly two years before this meeting, that she publish something on the Analytical Engine. To me it looks like Wheatstone was one of several who was looking to Lovelace as the successor to Mary Somerville, who had been writing similar translations and elucidations a decade or so earlier but had permanently moved to Italy in 1838. Victorian Science being run on the Smurfette principle of gender balance, there was a gap in the market.
Wheatstone's plans were to be cut short by Lovelace's untimely death, but slowed down by other more ambiguous problems, which brings us to:

The Demon Poetry
—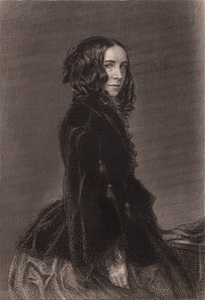 That's Elizabeth Barrett Browning slamming The Soul's Expression there– Here she is rocking a hella goth look. Poetry slams can be very dangerous things, I'm here to tell you. I met my husband at one so let that be a terrible warning to you all.
— Here is a very important historical document about dangerous poets.
–A fear of Lovelace developing a 'poetic' temperament was expressed even by Byron- "I hope the Gods have made her anything save poetical— it is enough to have one such fool in the family." I'm reasonably sure this was a euphemism, and the concern was centred more around the alarming history of what we'd now call mental illness in the Byron line, which was to become something of an obsession for Ada's mother.
It's hard to write anything of medium-blog length about Lovelace, as I'm either forced to handwave or go on for pages.. I wish I could recommend a biography but although there are several, they range from the adequate to the not-adequate, which isn't exactly a ringing endorsement. Oh well!
Diagnosing long-dead people is a harmless and futile hobby (for the five people reading this to whom this means anything, the bipolar thing is pretty much the only thing I agree with in the Stein biography). So, to use technically neutral language, there is a widening streak of weird that starts showing up periodically in Lovelace's letters in her mid-twenties. I have to say if you've ever had a friend with a bipolar disorder these set off the same "Oh, geeeez.." alarm bells as an extremely lengthy and odd email from an otherwise charming friend. I could quote you some stuff but that seems like kind of a jerky thing to do, so, I won't.
In late '43, shortly after she finished the Notes on Babbage's engine, Lovelace's doctor began to attempt to treat an 'illness' of what Lovelace termed 'whims and manias' with a mixture of opium, morphine, and gin. Did it work? Amazingly, no. Noooo, it didn't. Lovelace's history enters an extremely murky period at this point.
A powerful faith in Self-Improvement was pretty much the only Victorian thing about Ada Lovelace– as she wrote: "There has been no end to the manias and whims I have been subject to, & which nothing but the most resolute determination on my part could have mastered." It sure seems like a few years later the weird patches in the letters vanished as mysteriously as they came, not to return at least in the few years she had left to her. She attributes this to the elimination of '1. extravagant stimulating 2. extravagant dosing' and 'the judicious management of a very susceptible temperament'. Pocket-universe Lovelace continues the struggle against her 'hydra-headed monster'.
Anyways, better wind this down! One last note:
– 'that's Tuesdays, man' — Lovelace's attitude to her father fluctuated a fair bit during her life, but we'll go into that in a later comic!
(Incidentally if anyone wants to spend five hours outlining a plan whereby I would gradually ascend to Total Comics Domination I would be delighted to listen, but bring sandwiches. Five hours!)