So,  this took way too long.  Also, it's very disorganized and I'm not thrilled with a lot of the transitions, but I comfort myself with the thought this is not an actual comic, merely a theoretical comic. Anyways, let us not loose sight of what's really important, which is, WE WON THE HOCKEY.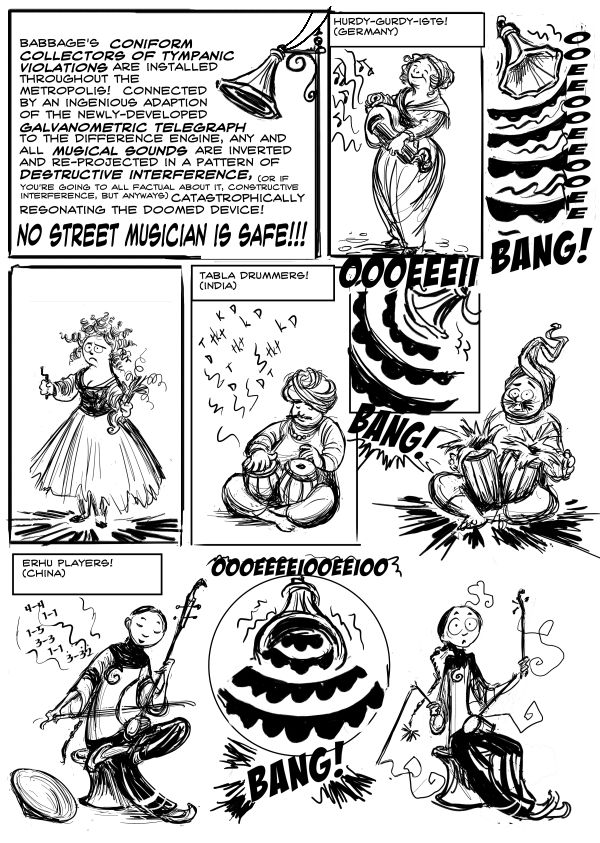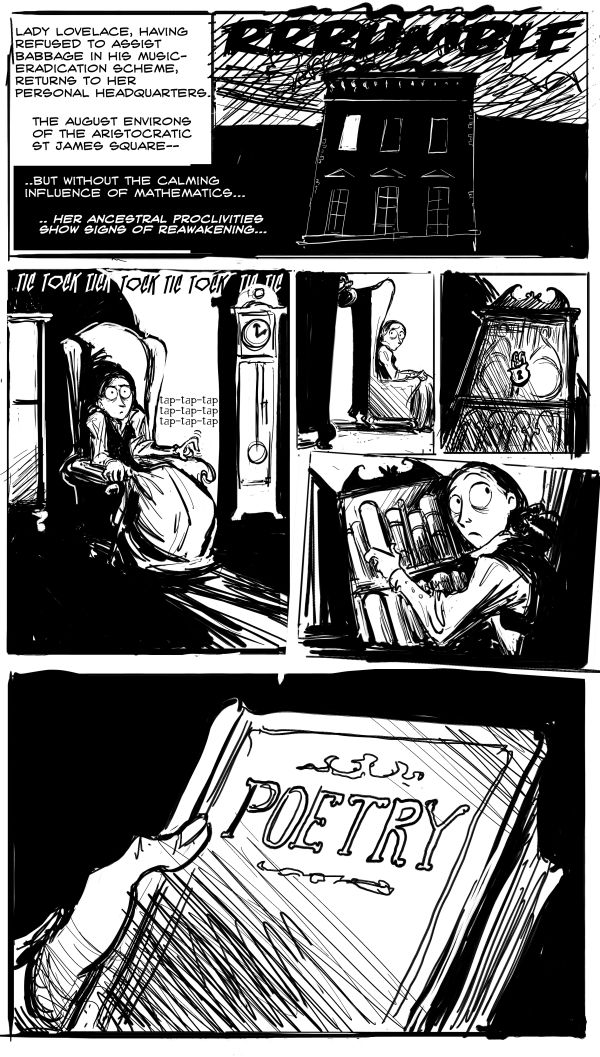 TOO MANY NOTES MY DEAR MOZART!
— The tableau of exploding street musicians is a wee tribute to Toot Whistle Plunk and Boom, possibly the greatest animated short of all time.. it's also notable (Babbage includes this important information in some of his little charts of the street music menace) that a large portion, or at least a visible one, of the street musicians of London were foreigners.
With that in mind, a little 2dgoggles soundtrack for you:
Hurdy Gurdy:

Tabla:

Erhu:

— The modest lineup of scientist there waiting for the Difference Engine includes George Airy, Babbage's real-life nemesis, who I'm happy to say looks suitably Scrooge-like in his caricatures (centre of the 3rd row down). Also Michael Faraday, there's some sort of thing where he was supposedly bad at math that I'm totally running with, at the very least he told told Babbage that he 'could not understand his great work'. Next to Faraday is Mary Sommerville, if anyone in the history of science ever screamed 'KNITTER' it was she.. she was a good friend of both Lovelace and Babbage and there's plenty I could write about her but geez these notes are already huge.
And next to her is Darwin (good call on the beard there Darwin), I couldn't resist that quote of his because it's the most freaking' adorable quotation ever:
I have been much amused with an account I have received of the wars of Don Roderick & Babbage— what a grievous pity it is that the latter should be so implacable, & if one might so call the calculating machine, so very silly.
The only possible response to that is, :D!!!!!!
— You wouldn't think that quote would be toppable but check out this letter from Brunel to some poor bastard:
"Plain gentlemanly language seems to have no effect upon you. I must try stronger language and stronger measures. You are a cursed, lazy, inattentive, apathetic vagabond, and if you continue to neglect my instructions and to show such infernal laziness, I shall send you about your business. I have frequently told you, amongst other absurd, untidy habits, that that of making drawings on the backs of others was inconvenient; by your cursed neglect of that you have again wasted more of my time than your whole life is worth, in looking for the altered drawings you were to make of the station they won't do."

HAHAHA If I worked for Brunel I would be SO FIRED.
— 'confound you all' is from source for all goodness in this comic, Babbage's autobiography, the quotation on the frontsipiece is "I'm a philosopher. Confound them all— Birds, beasts, and men ; but no, not womankind." From, as fate would have it, Byron's Don Juan.
— Just a reminder for those using the comic as a source for their history papers, the Prime Minister during the 1830s and 40s was actually Robert Peel, helpfully pre-caricatured for me by various Punch cartoonists (which is good because he's not very funny looking as Victorians go). Robert Peel is most famous for founding the first (non-mathematical) police force, which is why the London Constabulary are known as "Bobbies" or "Peelers". I guess Babbage and Lovelace are therefore referred to as "Wellies".
Wellington's explanation of being more prominent in this comic on account of being 'cooler' shows his rudimentary understanding of the physics of the Pocket Universe– our current advanced understanding of this subject can best be expressed by the well-known equation that applies also to our own universe:
E=mc2
except in the Pocket Universe the 'E' represents 'Entertainment Value'. It is thus not surprising that the massiest objects in the PU are Charles Babbage and Ada Lovelace, because they are really, REALLY entertaining. Incidentally this provides an explanation for what some of you may be wondering, viz., what has become of Lovelace's husband, Lord Lovelace. After exhaustive investigations I have determined that his Entertainment Value or E is precisely zero. Hence, according to the above equation, either his mass, or the speed of light, must therefore also be zero, and if the speed of light was zero then you wouldn't be able to see the comic.
Work is picking back up so comic production remains MOST INEFFICIENT and full of ERRORS, but then you all knew that didn't you? But at some point, we finally meet The Organist: