Lovelace and Babbage Vs. The Organist Pt 2
Howdy Kids!
I drew a special comic last week for the upcoming The Story conference, the theme of which was Wilkie Collins' famous motto, "Make 'em laugh, make 'em cry.. and make 'em wait." I have the last part NAILED!
Without further ado! ANGST!!! DRAMA!!!!! CHARTS!!!!!!!!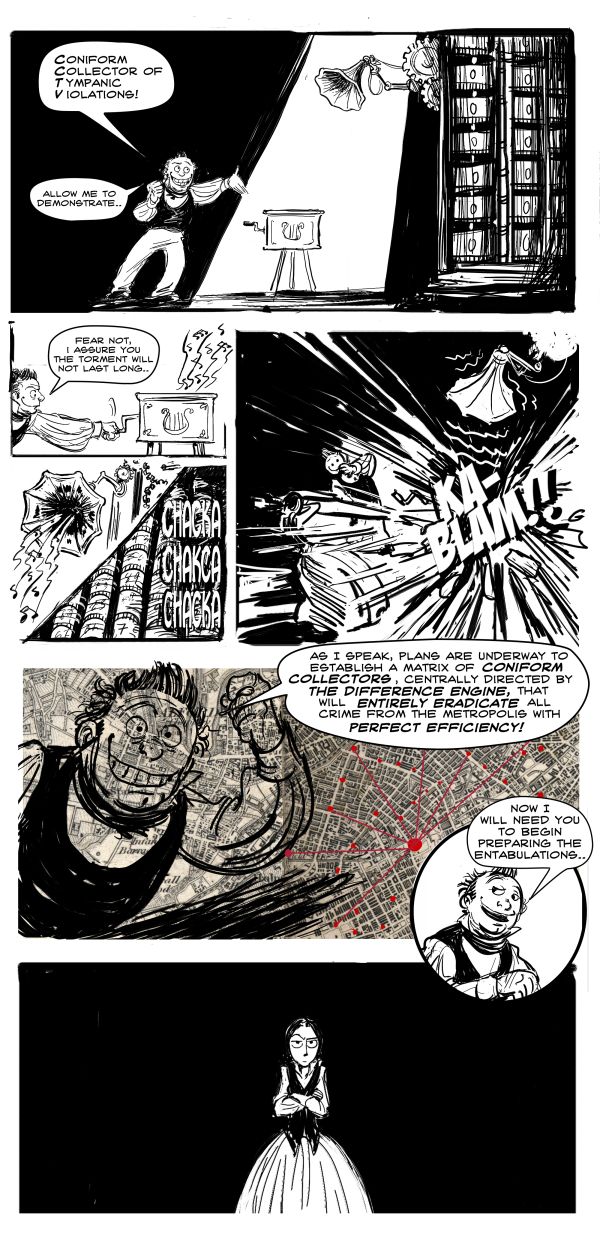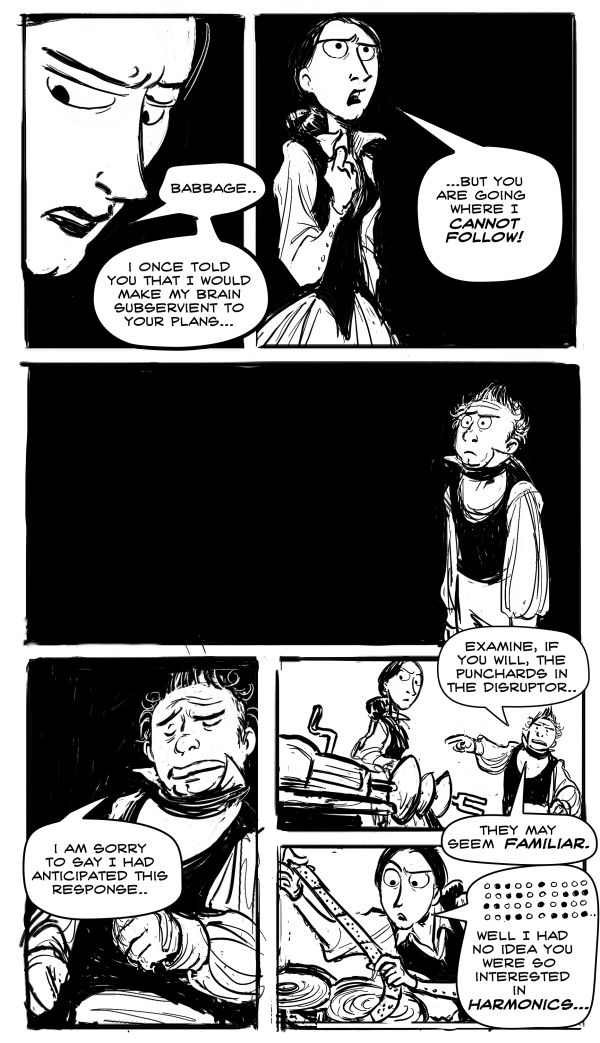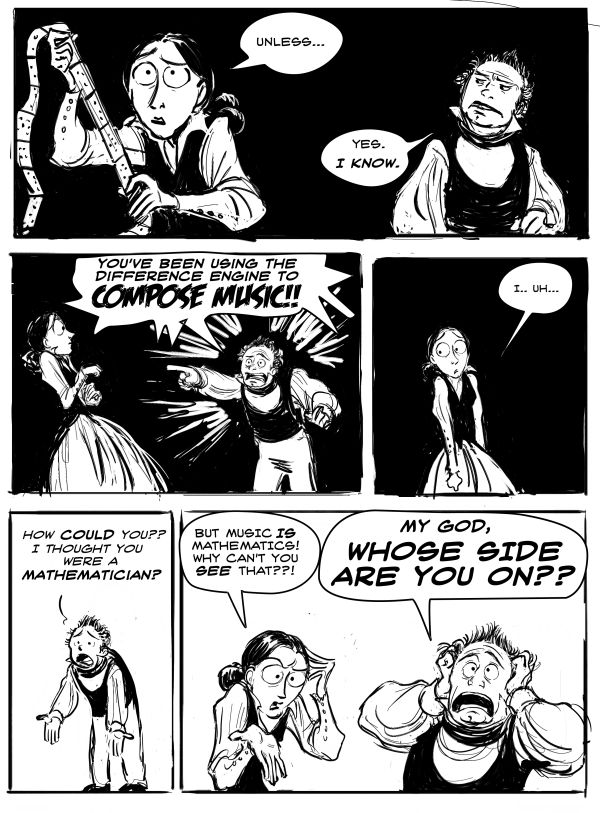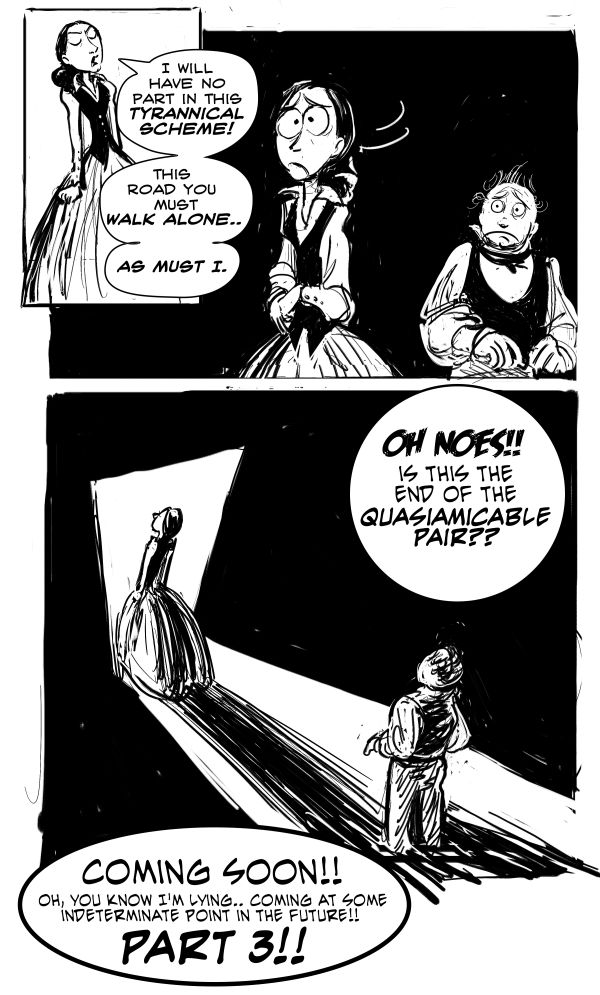 NOTES:
— Quasiamicable Pair. Man I get so many gags from Wolfram Alpha..
— I am extremely excited to introduce Adolphe Quetelet to this comic. A man after Babbage's own heart, he began like Babbage in the field of Life Insurance, before expanding his interests to Crime-Fighting. No, really! Although Quetelet lived in Brussels two such twinned souls were bound to be aware of each other and they show up together in plenty of documents. Babbage credits Quetelet with inspiring him to form the Statistical Society, which is I suppose what Quetelet refers to when he schoolgirlishly squees over Babbage's 'gigantic plan' to compile statistics on, uh, EVERYTHING. It was to Quetelet that Babbage seems to have made his first official announcement of his plans for the Analytical Engine, in 1835— although, he must have been talking about it to Lovelace earlier than that, as possibly the first written reference to punchcard computing would be from a letter she wrote when she was still Ada Byron in 1833, when looking upon the Jaquard Loom: "This Machinery reminds me of Babbage and his gem of all mechanism."
— There was of course no 'Babbage Act' proper, but he figures prominently in the events leading up to the "Street Music (Metropolis) Bill", which I've slightly amended to ensure the absolute banning of all street music, not even excluding Punch and Judy shows which the original bill shockingly allowed. In the public's mind it might as well be the Babbage Act however– nearly every parliamentary debate I can find on the subject has a mention of him:
The Mr Bass arguing for the bill in that debate was the founder of the still-chugging Bass Brewery, and publisher of "Street Music in the Metropolis".
I feel obliged to reassure everyone that, although I'll be producing a parade of entertaining documents regarding Babbage and Street Music, there is no need to form a Tragic Picture of Charles Babbage, Unacknowledged Genius, unjustly known by his ungrateful age only as the enemy of street music. Babbage himself might have indulged himself with such a picture, but in my opinion the Victorians on the whole did themselves credit here. At least going by the popular press, the contemporary view of Babbage seems to have been, "Charles Babbage, that super-genius who invented some sort of amazing calculating machine, that has unfortunately run into technical and financial difficulties, but still! super-genius!" Even I, who have become accustomed to running across his name everywhere, was taken aback the other day to see someone refer to him as more famous than Newton!
Anyways, just in case that's been keeping anyone up at night. Worrying about Babbage I mean.
— The lengthy section in which Lovelace discusses the potential for the Analytical Engine to manipulate symbols as well as numbers (Note A) uses the example of music as such an application:

"Supposing, for instance, that the fundamental relations of pitched sounds in the science of harmony and of musical composition were susceptible of such expression and adaptations, the engine might compose elaborate and scientific pieces of music of any degree of complexity or extent."
Given that she was well aware that Babbage couldn't stand music (he 'tolerated it in its exquisite form' is the best he can claim), and given that the both of them had a lamentable habit of joking around in their private correspondence, I have feeling she put that in to kind of yank his chain a little bit– especially from the use of that otherwise mysterious word 'extent'. If a cartoonist may be allowed an opinion.
— That's actually a map of Manchester in 1843 that Babbage is looming over; I couldn't find a public-domain one of London. Curses!
Well I don't know about you but I'm STARVING. Enjoy the comic!
EDITED TO ADD:
Oh geez I can't believe I forgot a Most Important Note!!!
Ada Lovelace did indeed once tell Babbage that she would make her brain subservient to his plans– well, what she actually wrote (in 1841, at a guess, she hardly ever dated her letters) was:
"It strikes me that at some future time (it might be even within 3 or 4 years, or it might be many years hence), my head may be made by you subservient to some of your purposes & plans. If so, if ever I could be worthy or capable of being used by you, my head shall be yours. And it is on this that I wish to speak most seriously to you. You have always been a kind and real & most invaluable friend to me; & I would that I could in any way repay it, though I scarcely dare so exalt myself as to hope however humbly, that I can be intellectually worth to attempt serving you."
It's always helpful when people already talk like comic books, so their dialogue is much easier to write! That is quoted by the way from the most invaluable source of Babbage/Lovelace correspondence, the lengthy 1980 article Lady Lovelace and Charles Babbage. It crams loads of primary documents into 30 pages, has a minimum of the Helpful Editorializing that so wearisomely burdens this subject, is refreshingly capable of admitting to ambiguity and downright unknowability, and has the additional interest of being written by computer pioneer Harry Huskey and his wife Velma. I've found this more useful than all the books on the subject of Lovelace put together, to be absolutely honest for a fraction of a second. Unfortunately you have to cough up 19 bucks for it, unless you belong to a subscribing institution. The things I do for this comic!