Metaphysical Speculation Into The Nature of This Comic, or: Lovelace and Babbage vs The Salamander People
In case any neurologists out there are studying the creative process, I thought it might be interesting to post the following enlightening non-episode.
As I mentioned earlier my Accomplice and I went to this steampunk shindig the other day. The theme for this shindig was "Journey To the Center of the Earth", so of course I had to point out to Mr V, "Did you know that Charles Babbage once went into Mount Vesuvius, where he set his walking stick on fire, and almost lost his barometer?"  (True!  and an AWESOME story –Babbage get out of the Volcano!! Babbage?  Babbage??!).
Of course then I do a doodle: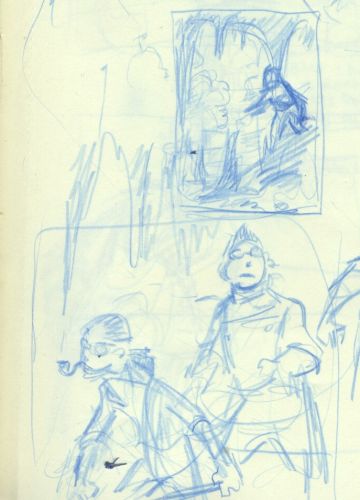 This is just the sort of contextless tableau I like to draw, so I worked it up when I got home: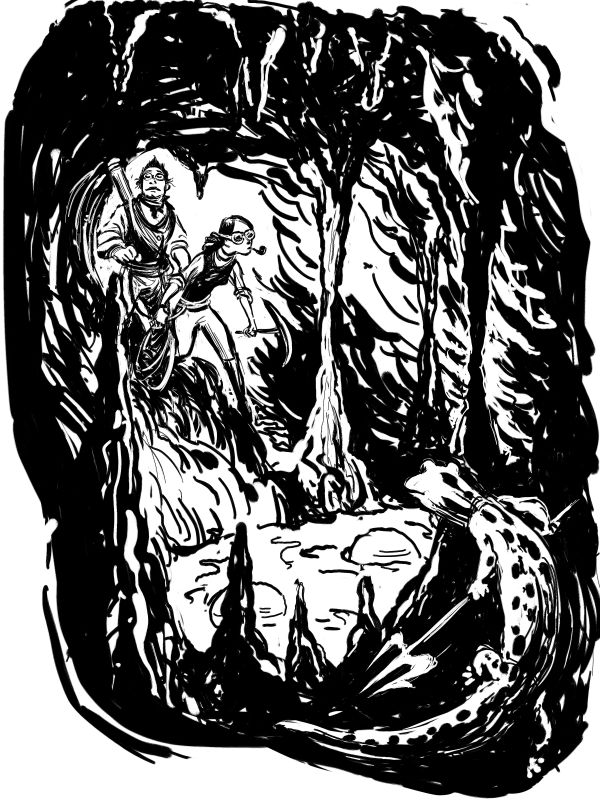 Then I think of the caption– "Charles Babbage once went into Mount Vesuvius, where he battled the salamander people offered some guy a drink."
But surely the amiable Charles Babbage, that most affable of men, wouldn't battle the Salamander People, unless they were playing street music or refusing to fund the Difference Engine?  For although fearless in defense of their subterranean flame-caverns, they have never been know to instigate hostilities against the human race (fact!).  What he WOULD do of course is offer them a drink, which would make a great (if ancient) gag: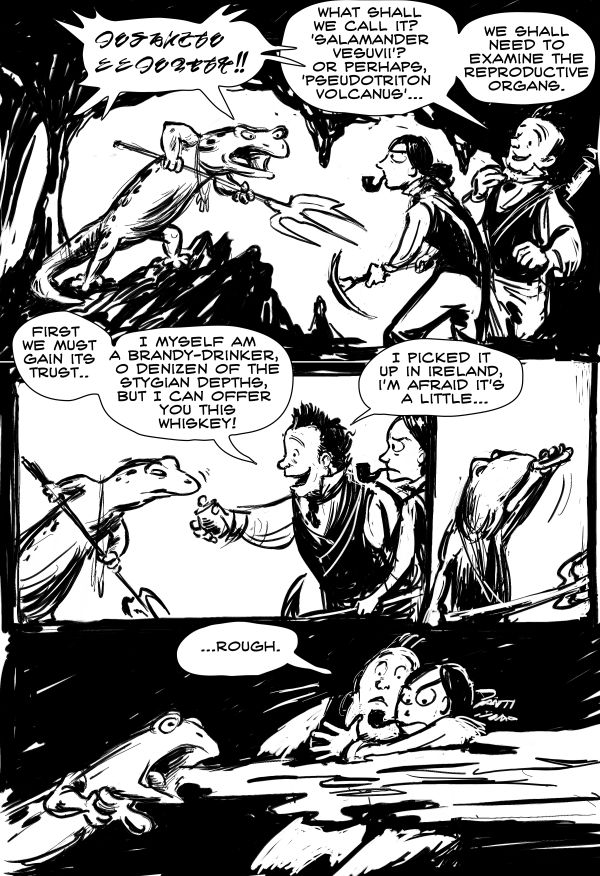 Which would fit really well into an actual plot-line… quick glance at wikipedia turns up a plethora of potential — salamanders are the only vertebrates that can re-grow limbs! they lay their eggs in hidden caches suspended by mucus tendrils!  Many are poisonous or capture prey with sticky tongues!  They can see ultraviolet light!  Also… volcanoes.. sacrifices.. barometer.. Hattifatteners… and this where I've stopped myself because I already have enough episodes at this stage of "wouldn't it be cool if…"  Diagram: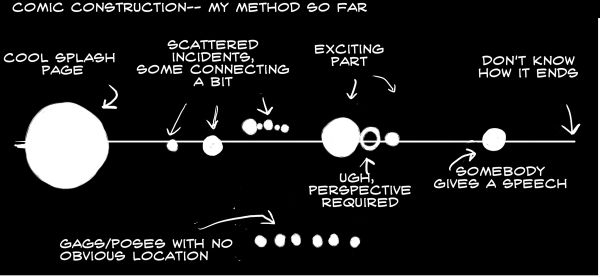 And anyways, are there even salamander-people in this universe?!  That's not very Educational!!  There's vampires possibly at some point.. if a universe contains vampires does it follow it also contains salamander-people?  Are there any statistics on this?  Should I take a poll?  That's all 'social media' or something.
Final note:  in doing the original drawing I had to ask myself if Babbage would be wearing a hat.  For most of western history a man would sooner go outside without his trousers as without a hat, so this is pretty important.  This raises the question:  is an underground cavern 'inside' or 'outside'?  You wouldn't think this would be an easy question to answer except that if you go to the Brunel museum, conveniently located where he built the world's first underwater tunnel, you see this: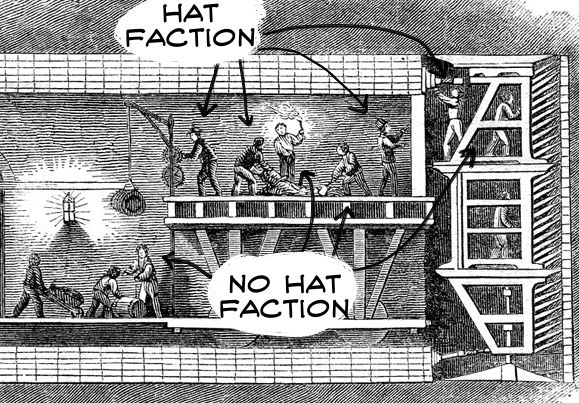 See, opinion is clearly divided even then.  (Note to the 19th century–  That's TOTALLY 'inside', because it's a man-made structure.  That's just plain logic.)  Anyways it messes up my composition, plus Babbage goes really off-model with the hat.  Possible solution: sequence where hat catches fire?  Not sure why I put in this digression except I love those guys in the tunnel with their hats.