I'm currently holed up in my hidden mountain base in the wilds of Canada, where I'm enjoying being chased into lakes by enraged elk. In my devotion to this proto-comic, I am nobly forgoing 20-mile hikes through bear- and elk-infested trackless wastes to dedicate myself to curling up on the couch and drawing.
The temporal discontinuity problem of the Person from Porlock episode has been profoundly troubling to me. Strict adherence to truthiness is my watchword here, so a gag, however irresistible, that depends on a 40-year piece of ahistoricity is hard for me to endure.  My husband suggested the Difference Engine could have been used to tear a hole in the space-time continuum. I'm sorry, but we here at 2dgoggles do not indulge in such fancies. The Difference Engine prints large tables of numbers without error. If that is not cool enough for you, you are reading the wrong comic my friends. It does battle vampires at some point but it has its own way of doing that thank you very much.
To my enormous relief I was able to come up with a Rational Scientific Explanation for the Porlock Episode: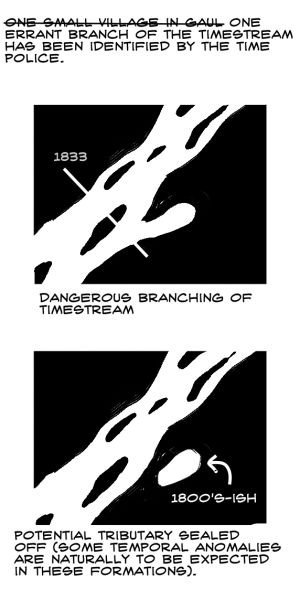 Sorted! This is especially convenient as for Important Comedy Reasons I may need to bring some people in from slightly incorrect areas in the Timestream. Heck this may even explain the Salamander-people.
In other random news, my attention is brought to this: How To Maintain a Difference Engine. I can add from inside information that some issues are cleared up by hitting it with a crowbar, something I intend to try out on Maya next chance I get.
The comments are interesting, and I'm glad some people point out the important (unimportant… important.. unimportant…) distinction between the Difference Engine and the Analytical Engine. Babbage designed two machines:
–One that COULD possibly theoretically have been built in the period, that WASN'T a computer (if you define a computer as something that could be programmed), called the Difference Engine. EDITED TO ADD: …for some reason a mass-amnesia has developed over the fact that a working Difference Engine was actually built in Babbage's lifetime and put to use.  Weirdly the Smithsonian Magazine has two articles on Babbage, one about how the Difference Engine was never built until 1991, and one about the Difference Engine that was built in 1853 that they actually have right there in the Smithsonian.  WTF?
and,
–One that COULDN'T HAVE BEEN BUILT IN A MILLION YEARS (EDITED TO ADD:  IN MY HUMBLE YET IGNORANT OPINION) but that WAS a computer, as it could be programmed with punchcards, called the Analytical Engine.  It was (in the imaginary space where it existed) powerful enough that Babbage calculated that it could play a game of chess. A little thing called "physics" is the reason no one is trying to build a replica of this one (again, I'm only an imaginary physicist so grain of salt here). 2DGOGGLES CONTEST!  Build a working Analytical Engine to Babbage's designs, win a tshirt!!  Deadline: One million years from today.
EDITED TO ADD:  Fantastic piece explaining the difference between the, er, Difference Engine and the Analytical Engine, and why the 19th century wasn't taken over by cyborg cuckoo-clocks.
What else.. just so no one is thinking I'm using my last days of freedom idly, proof that 2dgoggles takes meticulous research extremely seriously: